Regular price
Sale price
$34.66
Unit price
per
Sale
Sold out
Strong-working Liquid Dishwashing Soap, made from renewable plant + Earth mineral-derived ingredients.
Cuts Grease + Removes Food
100% biodegradable
No harsh chemicals
Gentle on hands
Our customers love our dish soap because so good for hand-washing dishes! You only need a little bit for each pot or pan you are hand-washing — watch it foam right up with bubbles when scrubbing only for a moment. Get ready to see those tough food stains vanish! Cleans anything you would hand-wash in your kitchen sink: plates, bowls, cups, glasses, crystal, and fine china. 
Toxin + Irritant Free | Ditch the toxins and irritants found in most soaps. Our Liquid Dishwashing Soap is hypoallergenic and completely dye-free ∙ perfume-free ∙ SLS-free ∙ SLES-free ∙ sulfate-free ∙ paraben-free ∙ phthalate-free ∙ 1,4-dioxane-free ∙ ethoxylated alcohol-free ∙ optical brightener-free ∙ filler-free ∙ petroleum-free ∙ palm oil-free ∙ gluten-free ∙ hormone disruptor-free ∙ carcinogen-free — and simply worry-free.
Small Batch Fresh | Our Dishwashing Soap is produced daily in small-batch, at our family-run factory in The Ozarks, USA — arriving to you made the same week.
Kindly Note | Custom scents are your own creation. We do not accept returns if you are not satisfied with the scent you have made. If you are unsure about your potential scent combination, we recommend you trial a half-gallon before committing to larger. Or you can ask what our scent specialists think of your combination at customercare@rusticstrength.com
How Do I Custom Build My Scent?

It's pretty simple! 

In the drop down menus you'll be able to select two of our 50+ available scents

We compound these two scents together and make sure they are compatible with/perform in our product. Our fragrance department has nearly a decade of experience working with scents, and will make sure that the two scents you chose can be smelled equally in the product you ordered

There is no restriction on what scents can be ordered together- we aren't the smell police! We've built many unique scent combos and haven't gotten one that smells bad yet, so let your imagination run wild.
Need Inspiration?

Some best sellers are:

Grapefruit + Bergamot

Tangerine + Lime

Fir Needle + Orange

Peppermint + Rosemary

Like goes with like...Citruses smell great with other citruses, herbals blend well with other herbals.
What Gives My Soap Its Scent?

Your choice of –

Pure essential oils • hand selected by us from small farms all around the world.

and/or

Phthalate-free fragrance oils • aromatic compounds made of GRAS safe synthetics. Certified free of the 624 carcinogens and 323 reproductive/developmental toxins listed under the Prop 65 act.
Truly Sensitive Skin ∙ Pregnant ∙ Breastfeeding?
Washing Directions

Scrape off food. Fill sink with clean, warm water and add a squeeze of Dishes Great Soap to the running water. Scrub the dishes under the water and then rinse off the suds. Towel dry or leave on clean, drying rack.
Ingredients

Charcoal Filtered Deionized Water • High-purity water.

Sodium C14-C16 Olefin Sulfonate • Derived from coconuts, palm-free, this mild-surfactant helps to lift dirt and debris from surfaces, so the water can whisk them away. Biodegradable. 

Cocamidopropyl Hydroxysultaine • Naturally derived from coconut, palm-free, it is an environmentally friendly and biodegradable surfactant with high foaming and mild chemistry.

Decyl Glucoside • A plant-derived, biodegradable surfactant. It is mild and safe for sensitive skin.

Vegetable Glycerin • Derived from vegetables. It is a biodegradable, powerful moisturizer that can increase skin hydration. Food-grade & Kosher.

Sodium Chloride • Salt

Capryl Caprylyl Glucoside • A biodegradable plant-based surfactant which increases lather potential with mild chemistry for sensitive skin.

Polysorbate 20 •  Plant-based performance stabilizer. Helps in the spreadability of liquids and stabilizes the formula when adding essential oils and phthalate-free fragrances. Biodegradable. Dioxane-free.

Sodium Benzoate & Potassium Sorbate • Food-Grade, biodegradable preservatives which decrease the growth of bacteria, fungi, and mold. Increases shelf life of the product. 
Close The Loop Refill Program
View full details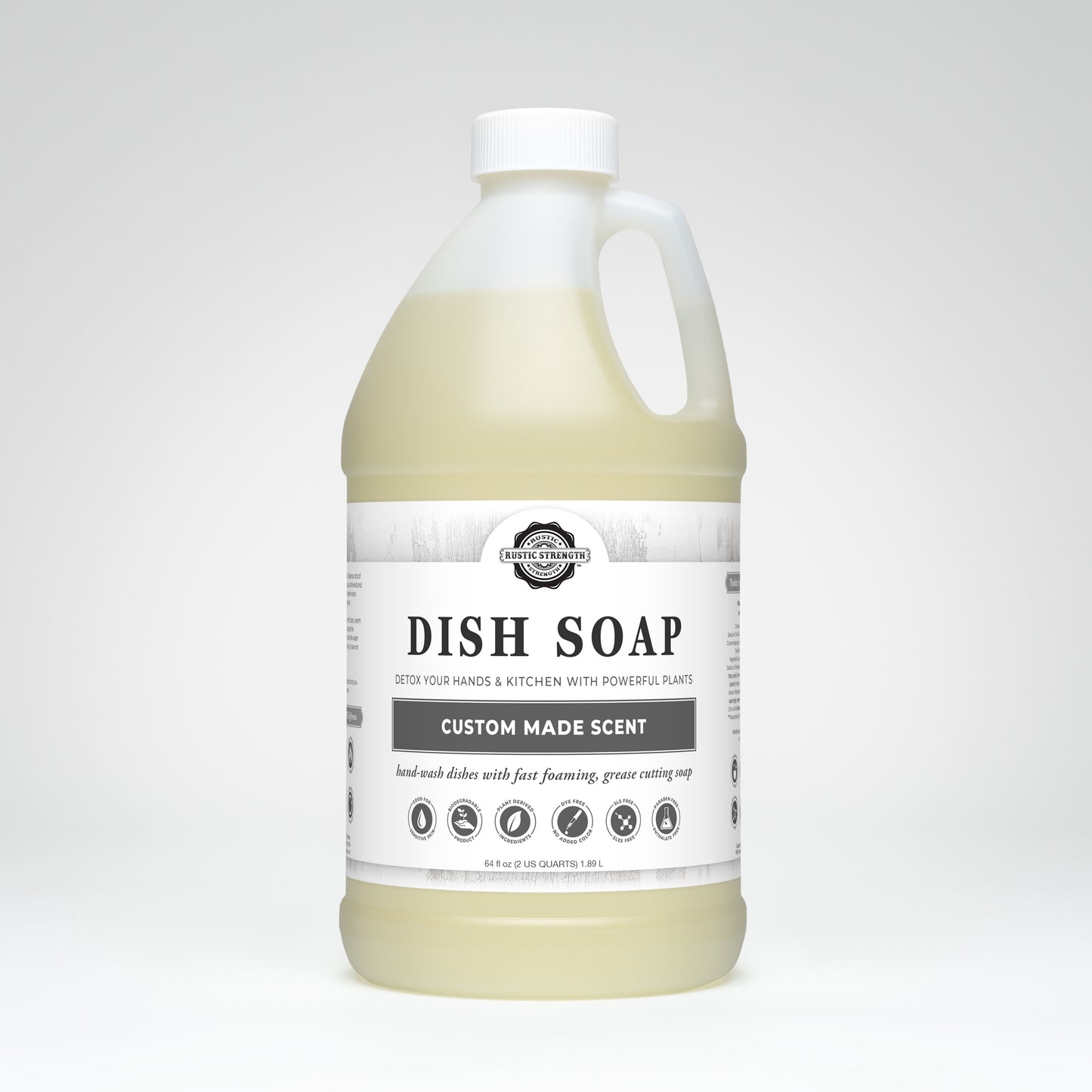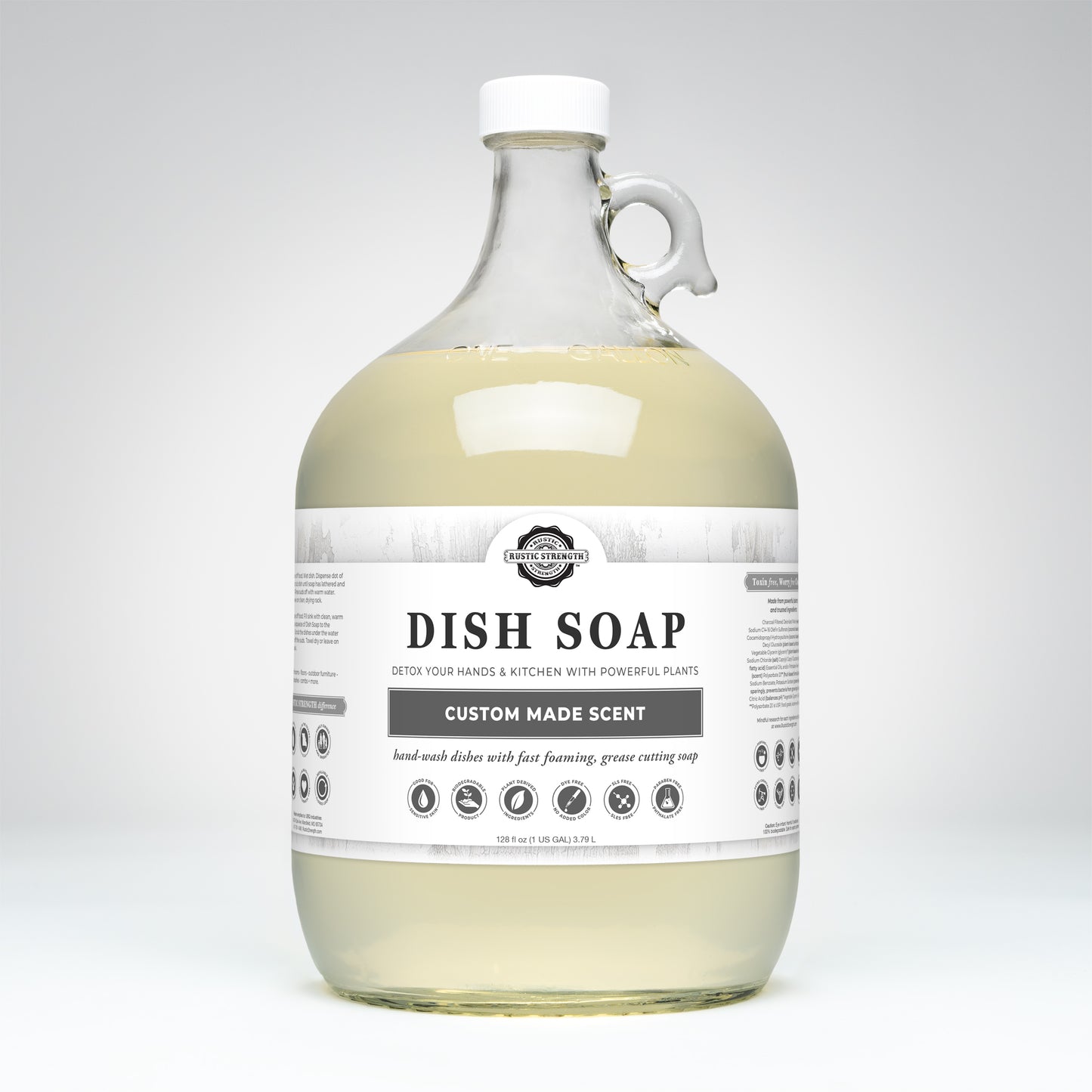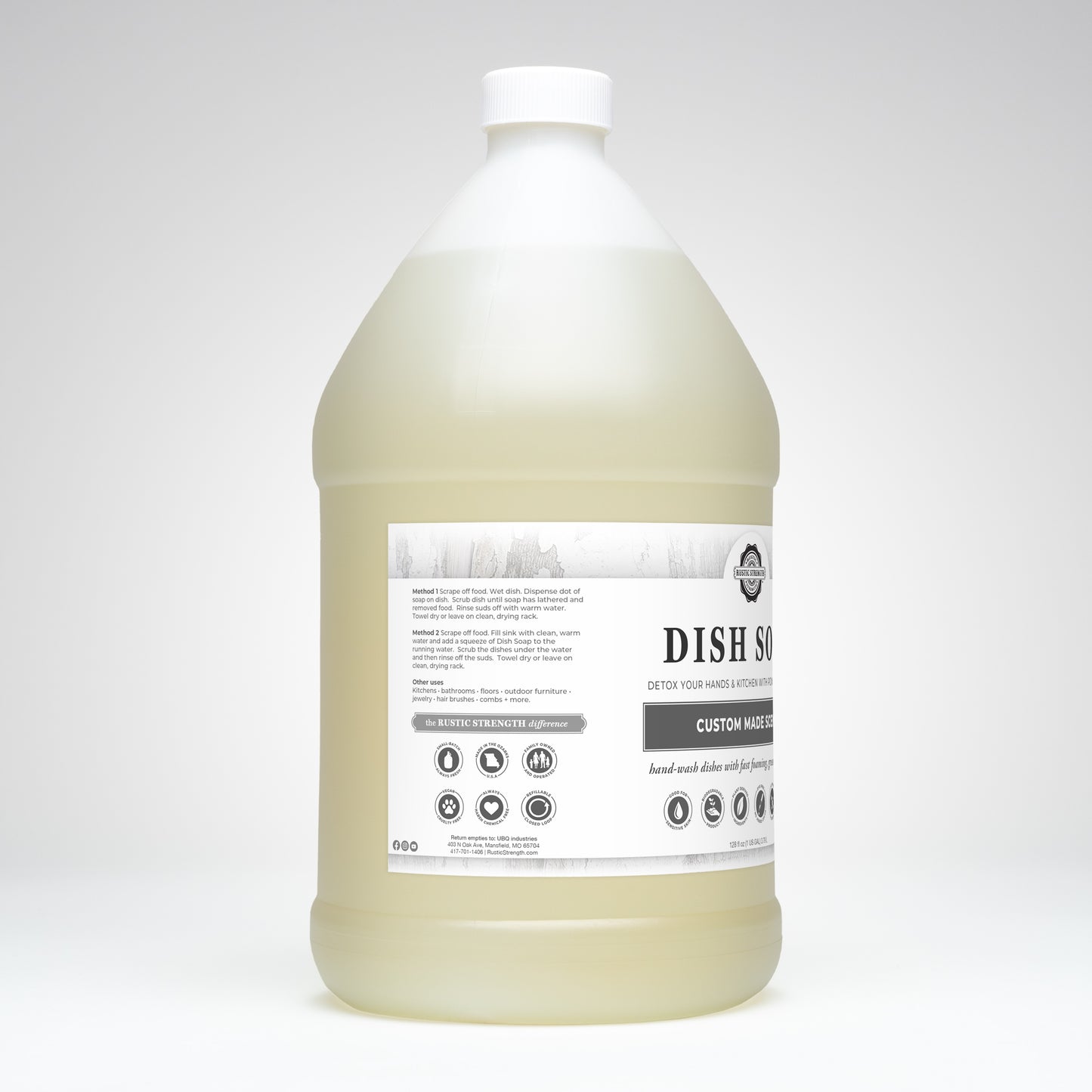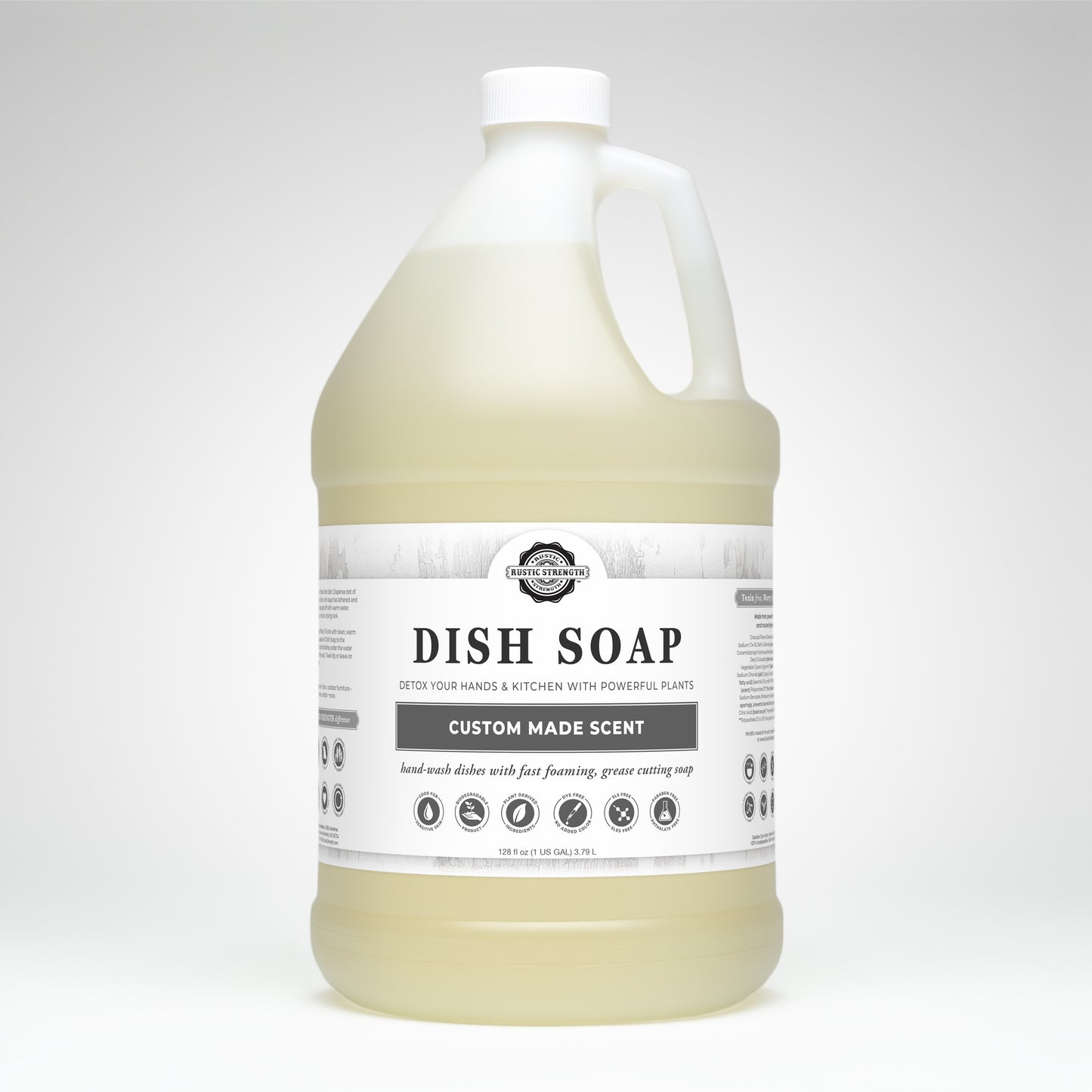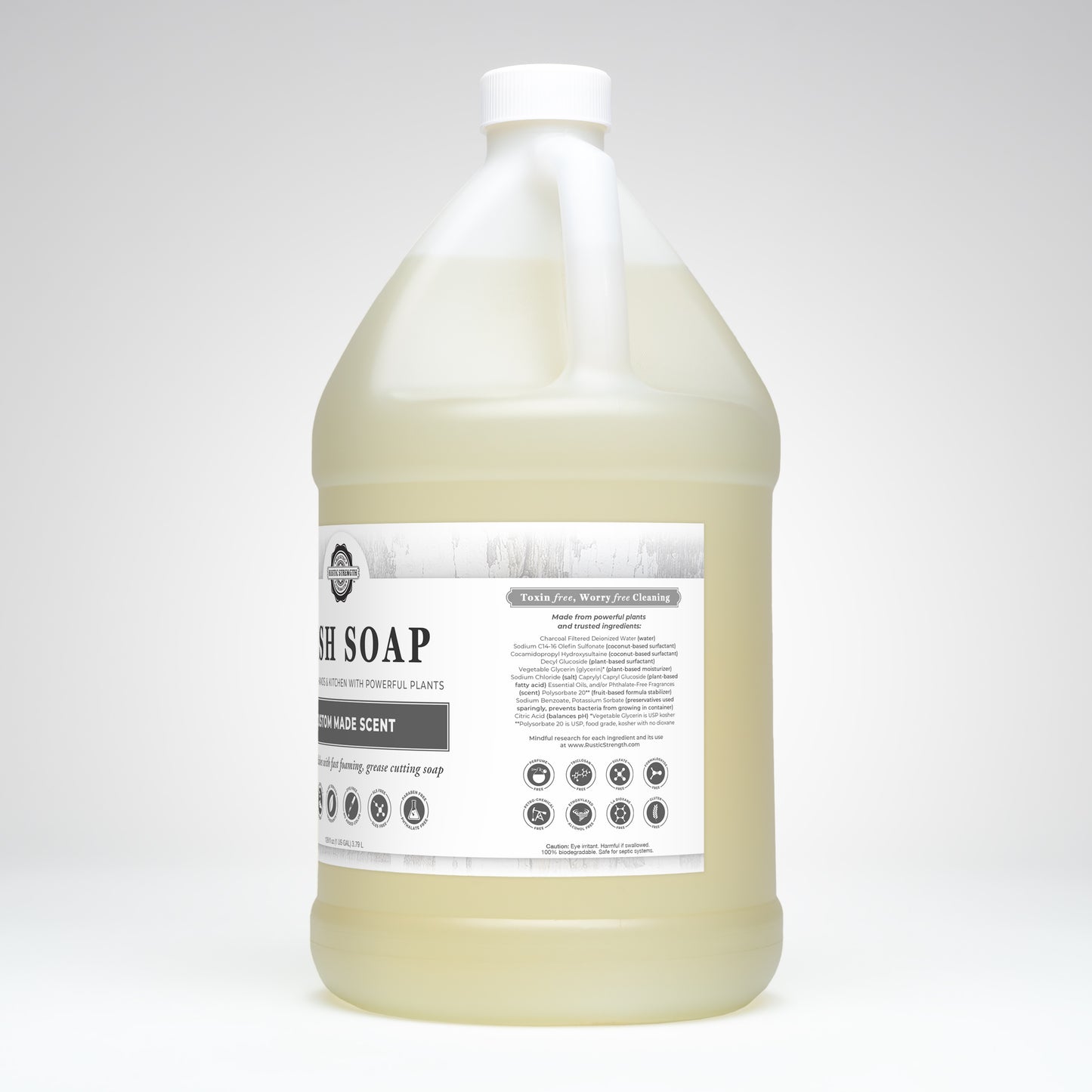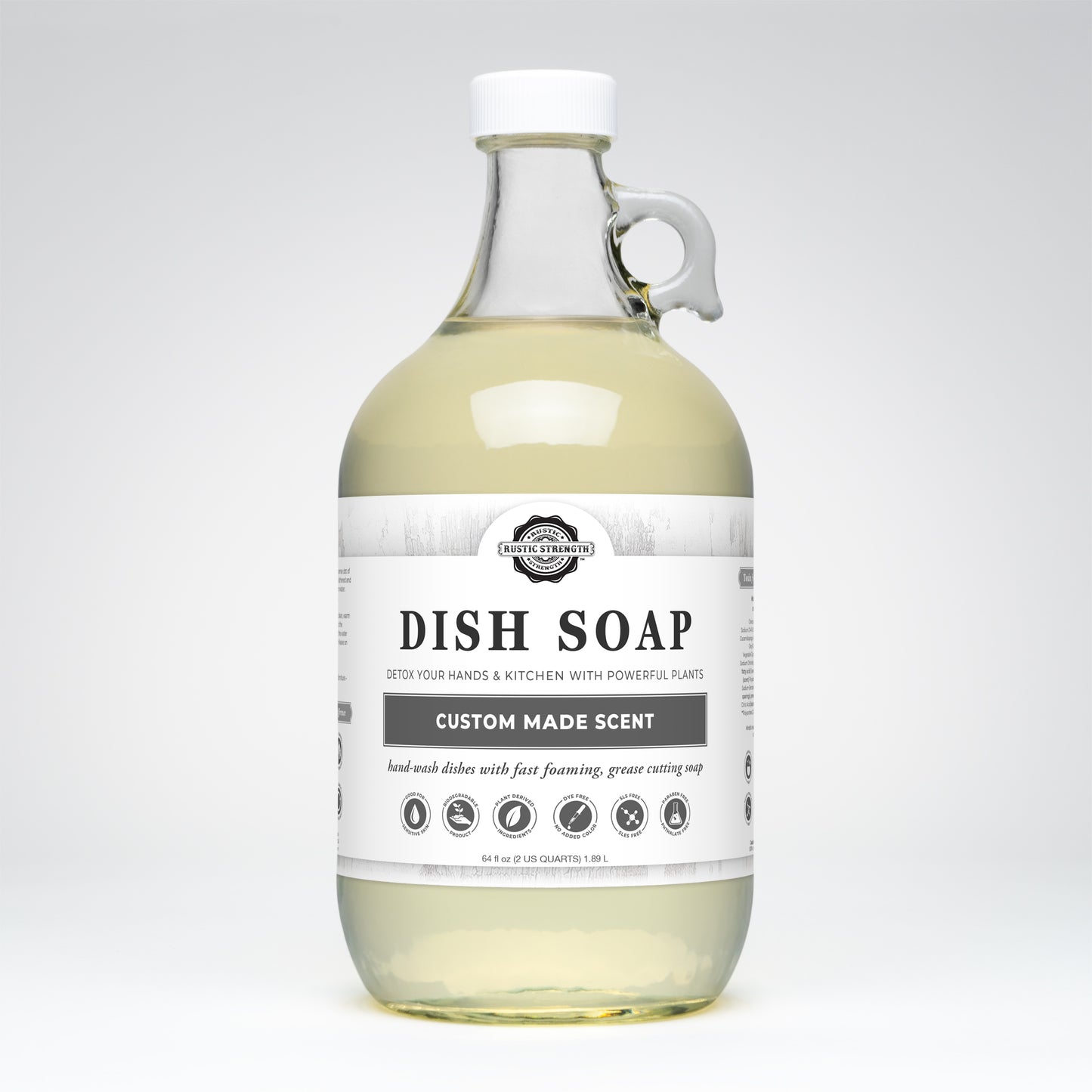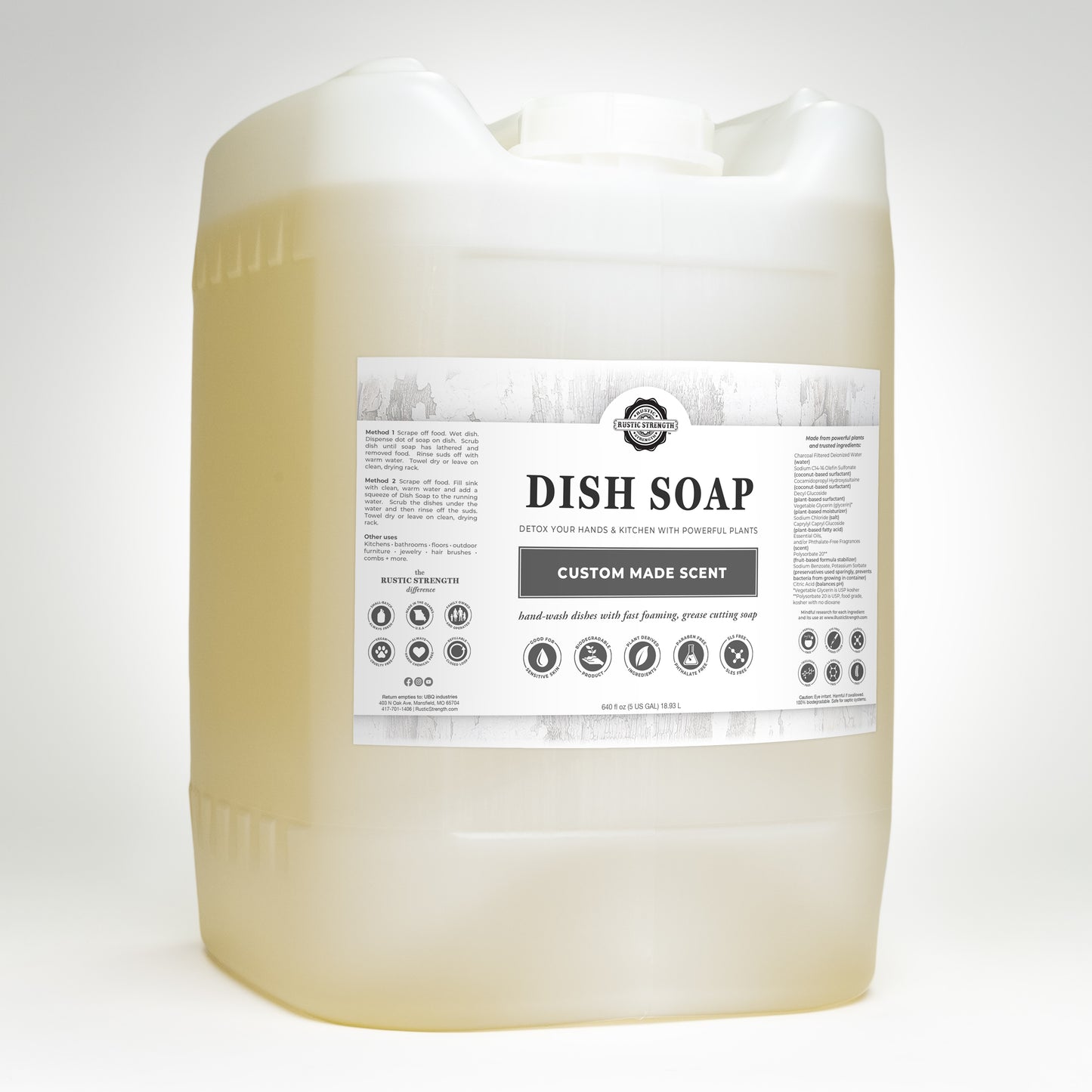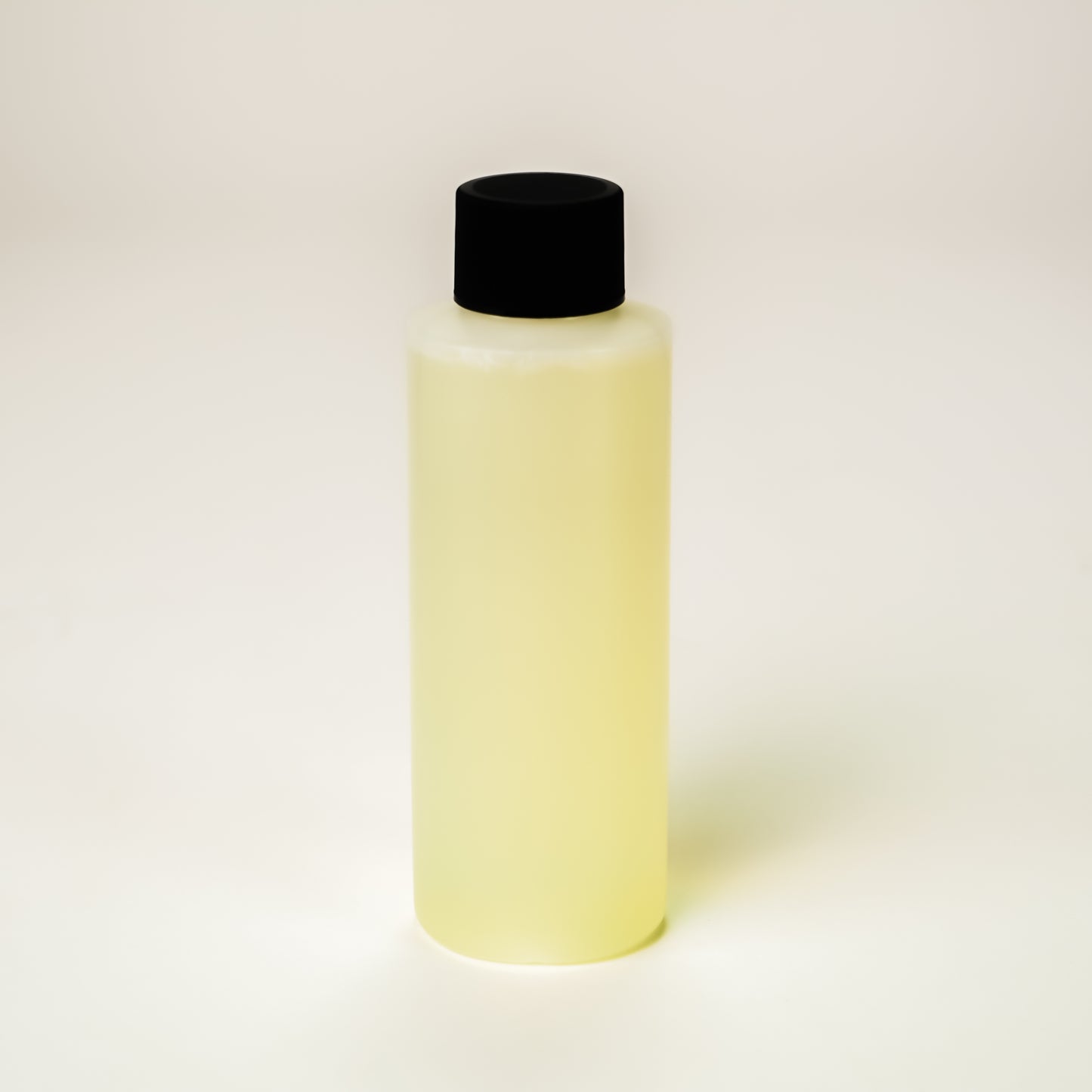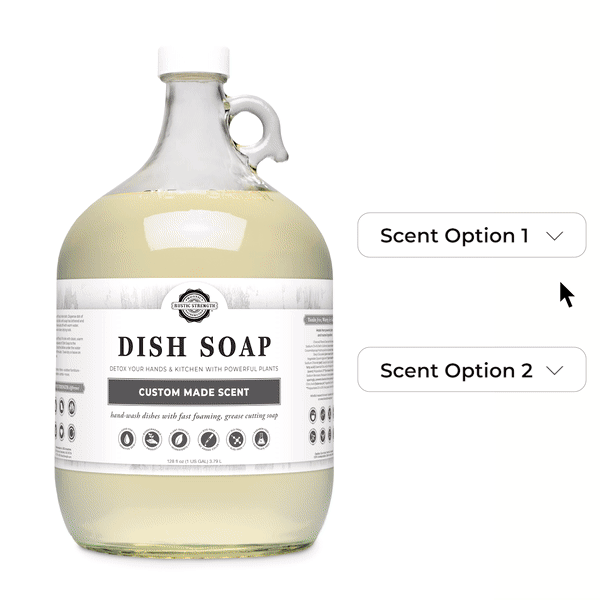 Your Perfect Aroma Awaits
– Mix & match –
over 50 essential oils & phthalate-free fragrance oils
Love it!
It cleans very good! Knowing it's not filled with crazy chemicals is a plus!
Great dish soap! Love the pink grapefruit!
I absolutely love this dish soap and the pink grapefruit essential oil is a bonus for me!
NO GREENWASHING HERE!
I switched from Mrs. Meyers after learning about their greenwashing advertising and I could not be happier. Rustic Strength is truly powerful and works so well. I have three kids and this dish soap is gentle enough to wash my cast iron but strong enough to get off dried oatmeal and whatever else the kitchen presents for the day. The glass jug is an added aesthetic that I truly admire on top of being able to reuse it. I've had quite a few folks notice the bottles and ask me about the brand. I'm so happy I found this stuff!
Best Soap Ever
Absolutely love this dish soap, you've got a lifetime customer here! And I love that I can customize the scent, I got it in my favorite which is Sage and Lavender!
Best dish soap ever
I have been looking for safe alternative to what you can buy in store that's not full of artificial colors, smells and ingredients… this is perfect and I love the clean orange smell! It cuts right through grease and grime and does an amazing job at cleaning everything I have thrown at it!