Regular price
Sale price
$15.00
Unit price
per
Sale
Sold out
Deep-cleaning, powerful Powder Laundry Detergent.
Gentle on fabrics and the people they touch
Safe for

the most

sensitive skin
Dissolves invisible dirt & grime
Works in any washing machine
People + planet safe | People looking to distance themselves from toxins and allergens found in commercial detergents will find relief here.  Our detergent is hypoallergenic and completely dye-free, perfume-free, SLS-free, SLES-free, sulfate-free, paraben-free, phthalate-free, 1,4-dioxane-free, optical brighteners-free, filler-free, palm oil-free, gluten-free, hormone disruptor-free, carcinogen-free — and simply Worry Free. 
Mama + Baby safe | Babies have sensitive skin that can easily become irritated by the residue left behind on their clothes, blankets, and cloth diapers from commercial laundry detergents. Our Powder Laundry Detergent is made without harsh chemicals or added scents. Unscented is the best choice for babies because even mild cause irritation. Unscented is also the safest for pregnant and breastfeeding mamas! To see our other unscented baby-safe products, visit Mama + Baby Safe. 
Fully biodegradable | Because it will break down naturally it is safe to use anywhere...camping, adventuring, RVing, hiking, traveling abroad, or just at home our detergent will do the job! It is color-safe, septic-safe, and gray-water-safe. The rinse water is not toxic to aquatic life. Compatible with he (high efficiency) or standard machines. 
Small Batch Fresh | Our Powder Laundry Detergent is produced daily at our family-run factory in The Ozarks, USA — arriving to you made the same week.

Washing Directions

Directions
Do not overfill the laundry tub with garments.  It is best to work with a medium size load and about 4 oz of laundry detergent.  This was the garments tumble/swish around in the tub and get plenty of water and detergent to ensure a proper cleaning with no residue left behind. 

Small load -
2 oz (1/4 cup) of detergent

Medium load - 
4oz (1/2 cup) of detergent

Large load - 
8 oz (1 cup) of detergent
Stain Removal + Laundry Tips
Ingredients

Sodium Percarbonate • non-chlorine bleach, whitener

Sodium Carbonate • detergent

Sodium Bicarbonate • odor remover

Sodium Gluconate • binds metals together

Sodium Chloride • buffer, water softener
Close The Loop Refill Program
View full details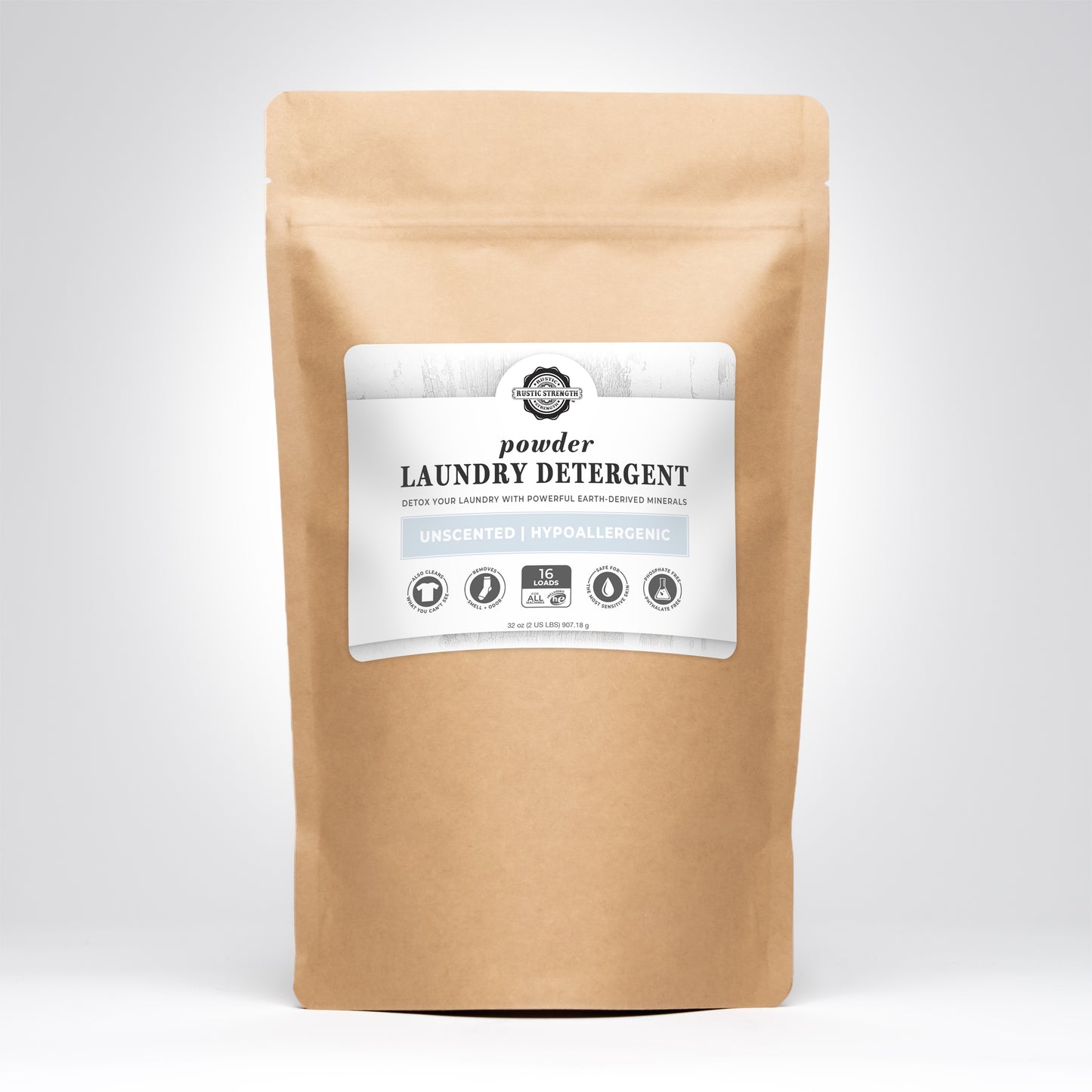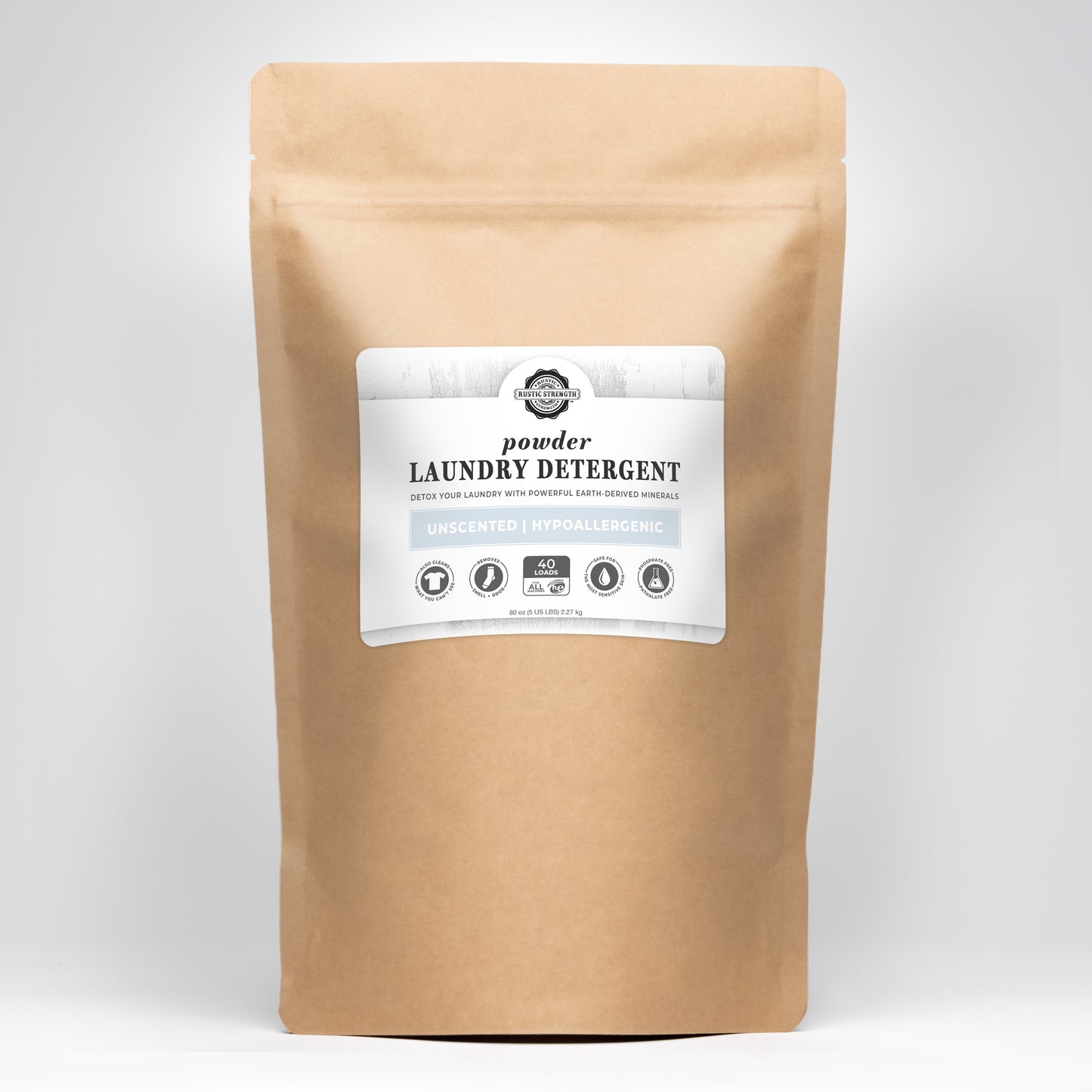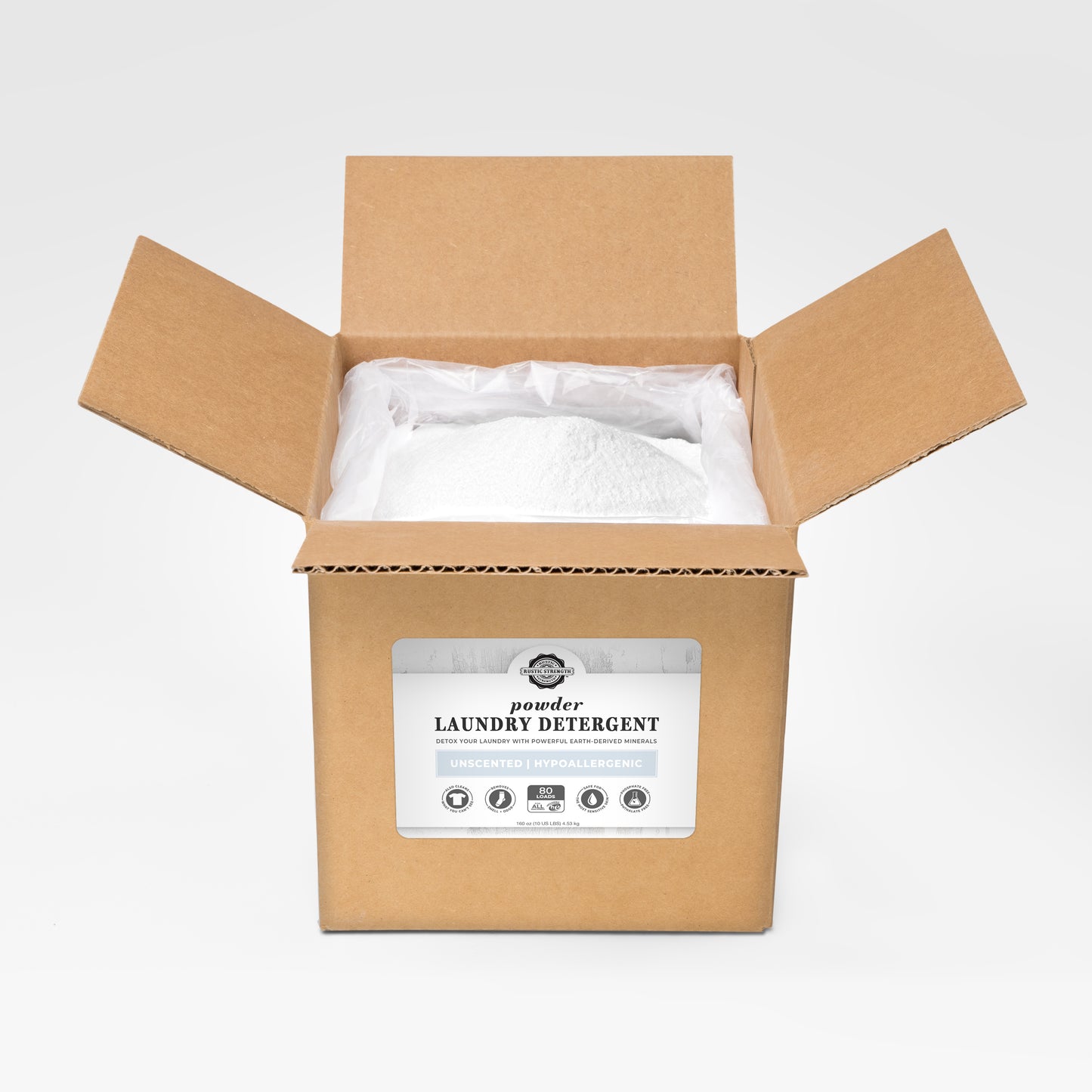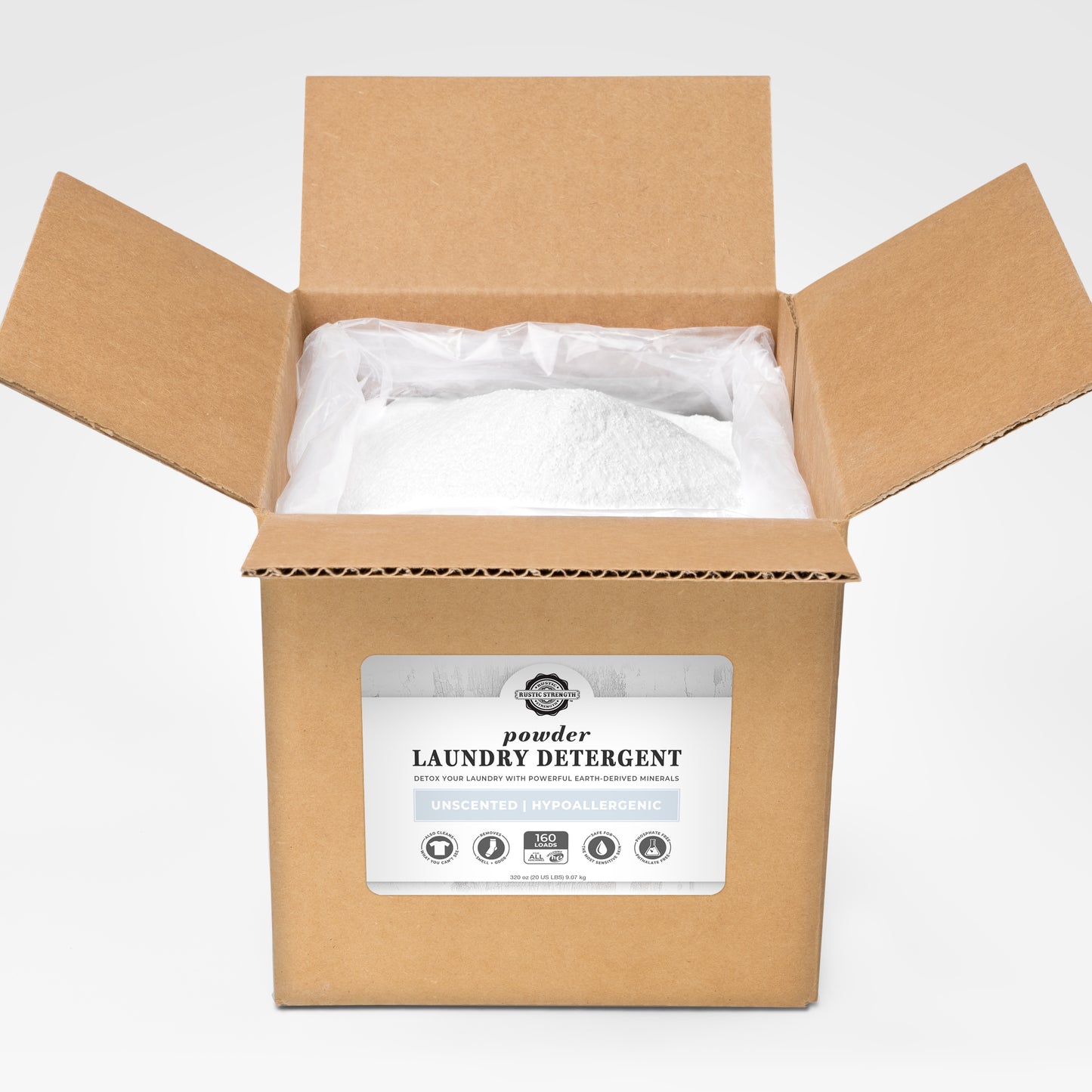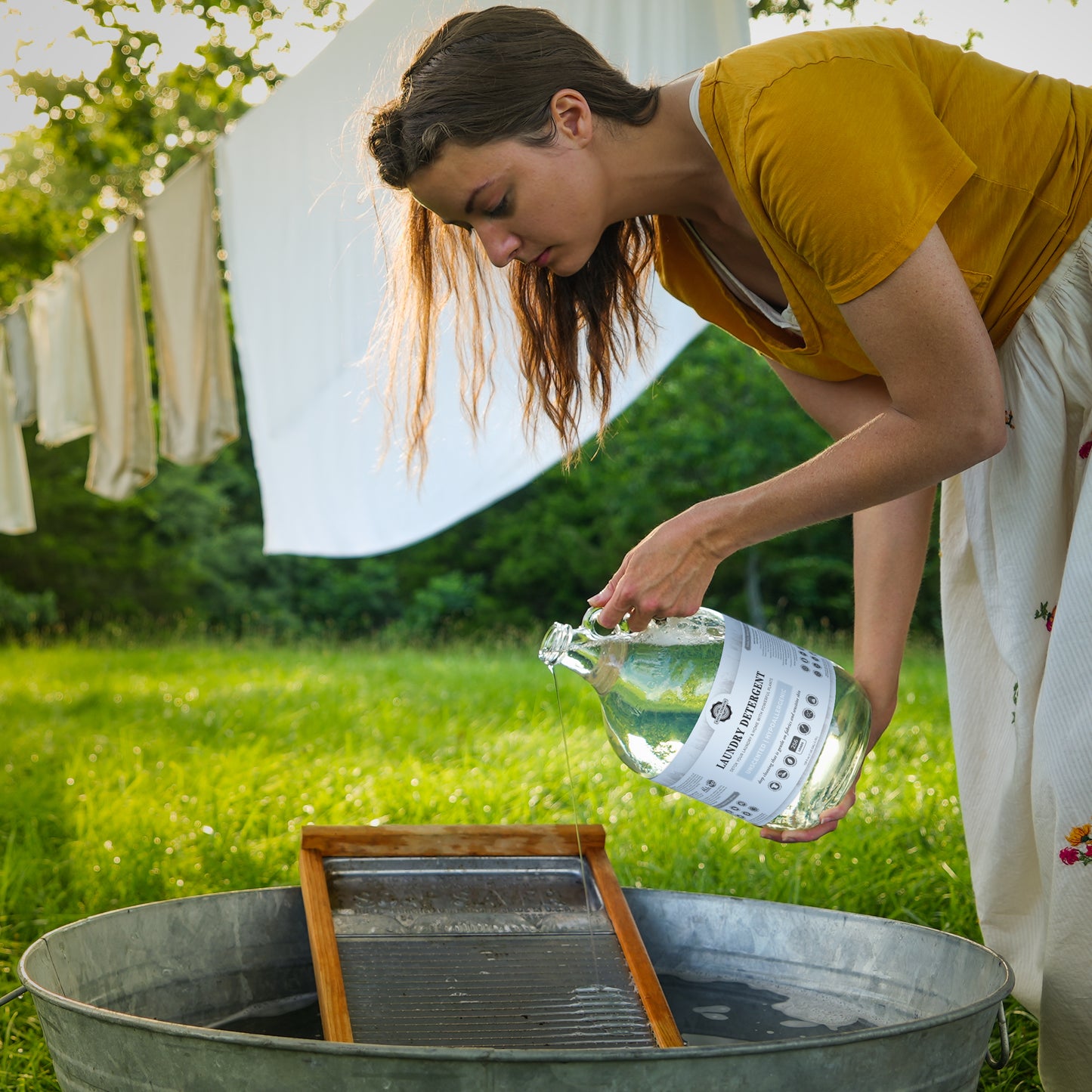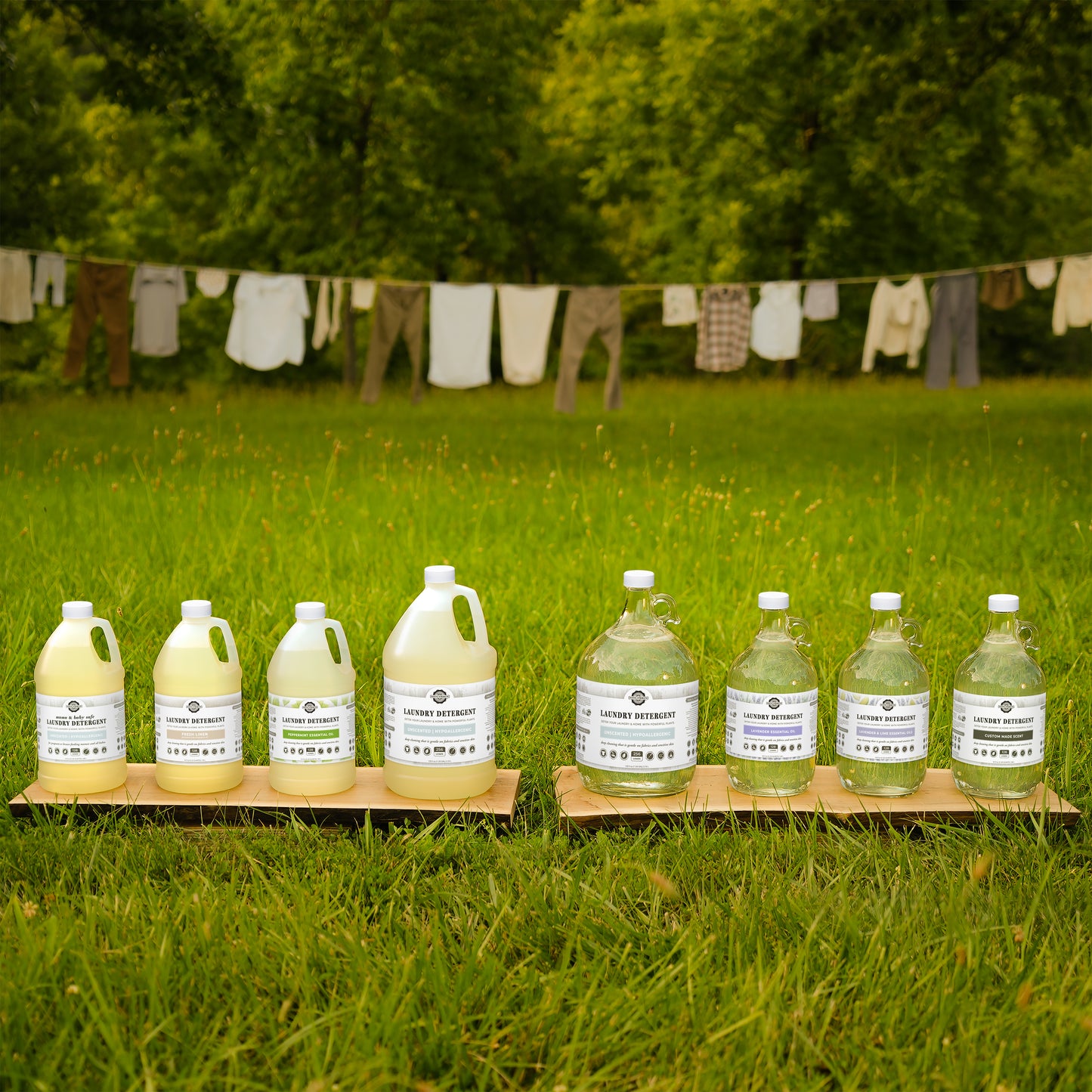 Green Cleaning Powdered Laundry Detergent
Firstly, I love the packaging. Secondly, this product cleans my laundry very nicely. I did discover that I need to wait until the tub has finished filling and then spread the detergent around the tub while swishing. If I put it in while the tub is filling it turn into a rock formation in the tub. I will buy this production again.
Great stuff
You cannot go wrong with any of the laundry soap options. It's all clean ingredients and great for my sons sensitive skin. We love rustic strength!
Not as ideal for front loading washers
For front loaders, do not use on the dispenser, itll clump up, rather sprinkle on clothes. Also, it may be to early to tell but it seems like our clothes does come out cleaner, with less detergent.
Love
I have been using this for about 2 weeks and love it. No residue left on my dishes.
Works great
I love that it cleans my clothes but leaves no scent or residue. My clothes, towels and sheets feel fresher too! Going through chemo right now so that pushed Ned to look for healthier options for everything and I'm so glad that although this is healthier it is also very effective!!