Regular price
Sale price
$30.90
Unit price
per
Sale
Sold out
Concentrated, deep-cleaning, Liquid Laundry Detergent. Made from renewable plant + Earth mineral-derived ingredients. 
Color-safe
Safe for the most sensitive skin
Can be used in regular or he (high-efficiency) washers. 
100% biodegradable
Toxin + Irritant Free | Ditch the toxins and irritants found in most detergents. Our Liquid Laundry Detergent is hypoallergenic and completely dye-free ∙ perfume-free ∙ SLS-free ∙ SLES-free ∙ sulfate-free ∙ paraben-free ∙ phthalate-free ∙ 1,4-dioxane-free ∙ ethoxylated alcohol-free ∙ optical brightener-free ∙ filler-free ∙ petroleum-free ∙ palm oil-free ∙ gluten-free ∙ hormone disruptor-free ∙ carcinogen-free — and simply worry-free. 
Small Batch Fresh | Our Liquid Laundry Detergent is produced daily at our family-run factory in The Ozarks, USA — arriving to you made the same week.
Kindly Note  | Custom scents are your own creation. We do not accept returns if you are not satisfied with the scent you have made. If you are unsure about your potential scent combination, we recommend you trial a half-gallon before committing to larger. Or you can ask what our scent specialists think of your combination at customercare@rusticstrength.com
How Do I Custom Build My Scent?

It's pretty simple! 

In the drop down menus you'll be able to select two of our 50+ available scents

We compound these two scents together and make sure they are compatible with/perform in our product. Our fragrance department has nearly a decade of experience working with scents, and will make sure that the two scents you chose can be smelled equally in the product you ordered

There is no restriction on what scents can be ordered together- we aren't the smell police! We've built many unique scent combos and haven't gotten one that smells bad yet, so let your imagination run wild.
Need Inspiration?

Some best sellers are:

Grapefruit + Bergamot

Tangerine + Lime

Fir Needle + Orange

Peppermint + Rosemary

Like goes with like...Citruses smell great with other citruses, herbals blend well with other herbals.
Truly Sensitive Skin ∙ Pregnant ∙ Breastfeeding?

For truly sensitive skin and those pregnant, or breastfeeding we recommend our hypoallergenic, unscented detergents: 

To see our all unscented baby-safe products, visit Mama + Baby Safe.
Washing Directions

1/2 oz light soiled / small load
1 oz activewear / medium load
2 oz heavy soiled/large load


With our highly concentrated active ingredients, we do NOT recommend overfilling your laundry tub with clothes.  It is best to work with a medium size load and about 1 oz of detergent.  This way your laundry tumbles/swishes around in the tub and gets plenty of water and detergent on all the garments to ensure proper cleaning.

If you have lots of bubbles in your washing machine, decrease how much detergent you use.

If you have hard water use our Oxy Boost to help soften the water so the detergent can work more efficiently.

Septic and gray water safe.

When to use Hot Water
Hot water is good for whites, typical dirty clothes, sweaty active wear and diapers.  Hot water is best to remove germs, kill dust mites and heavily soiled items.

When to use Warm Water
Warm water  is good for cleaning most man-made fibers, knits and jeans.  It will clean without fading or significant shrinking.

When to use Cold Water
Cold water is best for dark, bright colors that bleed or delicate fabrics.  Pre-treat or pre-soak your clothes if items are heavily soiled.
Laundry Tips

Stain removal. Simply place a little detergent directly on the stain and scrub the fabric together.  Some stains respond better with cold-water vs hot water.  For more details on a specific stain removal, please see our blog posts.

Remove the toughest stains with Oxy Boost and Un-Bleach. 

Soften hard water and clean with Epic Washing Soda. 

Soften fabrics and remove odors with Organic Fabric Softener. 

Remove wrinkles and static with Alpaca Dyer Balls. 

Dilute our Castile Soap with distilled water for a re-useable baby wipe solution. 
Ingredients

Charcoal Filtered Deionized Water • High-purity water.

Cocamidopropyl Hydroxysultaine • Naturally derived from coconut, palm-free, it is an environmentally friendly and biodegradable surfactant with high foaming and mild chemistry.

Sodium C14-C16 Olefin Sulfonate • Derived from coconuts, palm-free, this mild-surfactant helps to lift dirt and debris from surfaces, so the water can whisk them away. Biodegradable. 

Decyl Glucoside • A plant-derived, biodegradable surfactant. It is mild and safe for sensitive skin.Vegetable Glycerin• Derived from vegetables. It is biodegradable and helps the plant surfactants do their job. Food-grade & kosher.

Dimethyl 9-Decenamide • A plant-based, biodegradable nonionic surfactant that helps clean and removes grease and other substances.

 Capryl Caprylyl Glucoside • A biodegradable plant-based surfactant with mild chemistry and sensitive skin compatibility.

Pentasodium Pentetate • Salt of Pentetic Acid. Pentasodium Pentetate is a cleaning power booster. Biodegradable.

Polysorbate 20 • Plant-based performance stabilizer. Helps in the spreadability of liquids and stabilizes the formula when adding essential oils and phthalate-free fragrances. Biodegradable. Kosher. Food-Grade. Dioxane-free. 

Methylisothiazolinone & Benzisothiazolinone • These preservatives are used in the lowest concentrated form to help decrease the chance of bacteria, fungi, and mold. Increases shelf life of the product. Antibacterial. Biodegradable. 
What Gives My Soap Its Scent?

Your choice of –

Pure essential oils • hand selected by us from small farms all around the world.

and/or

Phthalate-free fragrance oils • aromatic compounds made of GRAS (generally regarded as safe) synthetics. These fragrances do not contain any chemicals on the California Prop 65 list known to cause cancer or reproductive harm ( such as phthalates, parabens, dyes, formaldehyde and more ).
Close The Loop Refill Program
View full details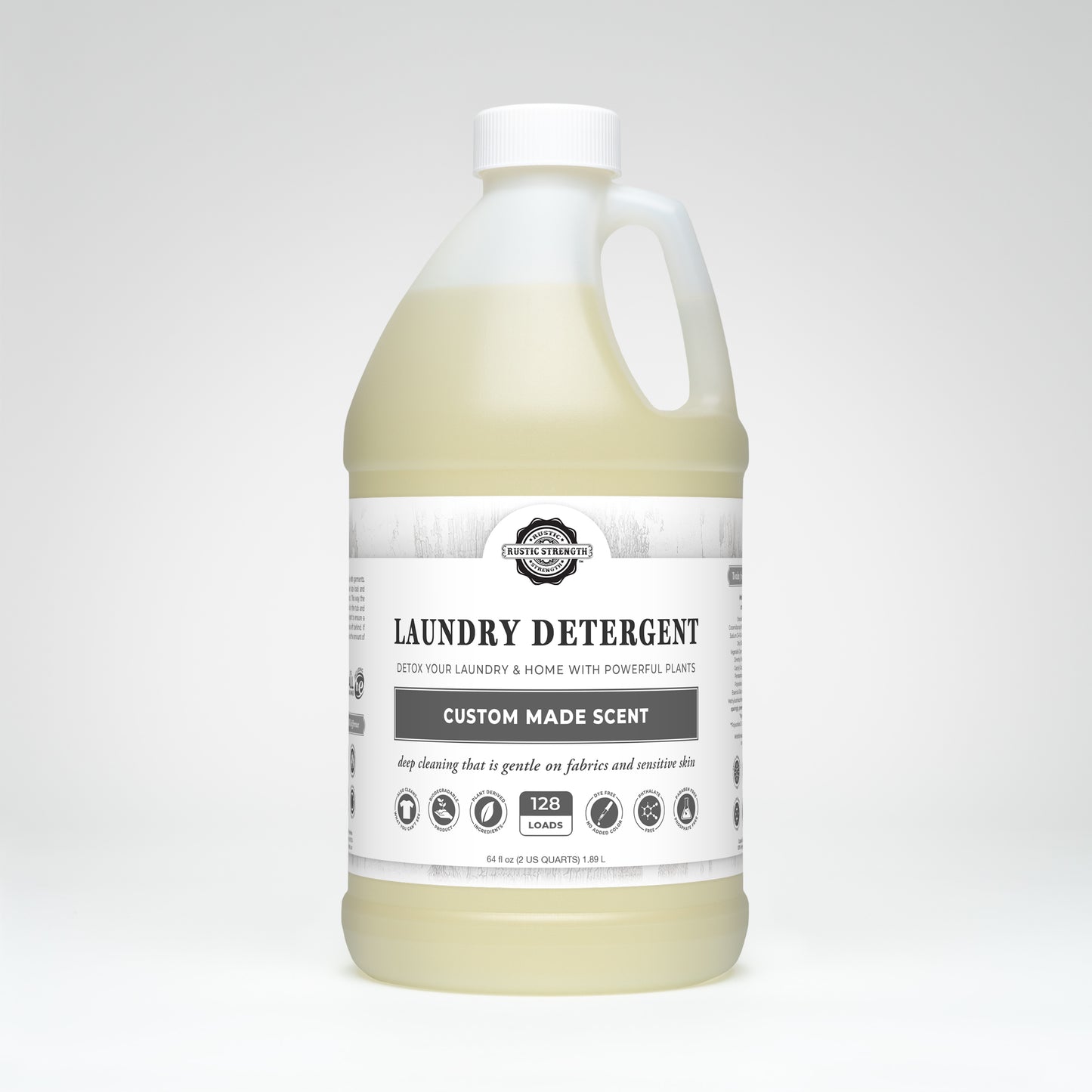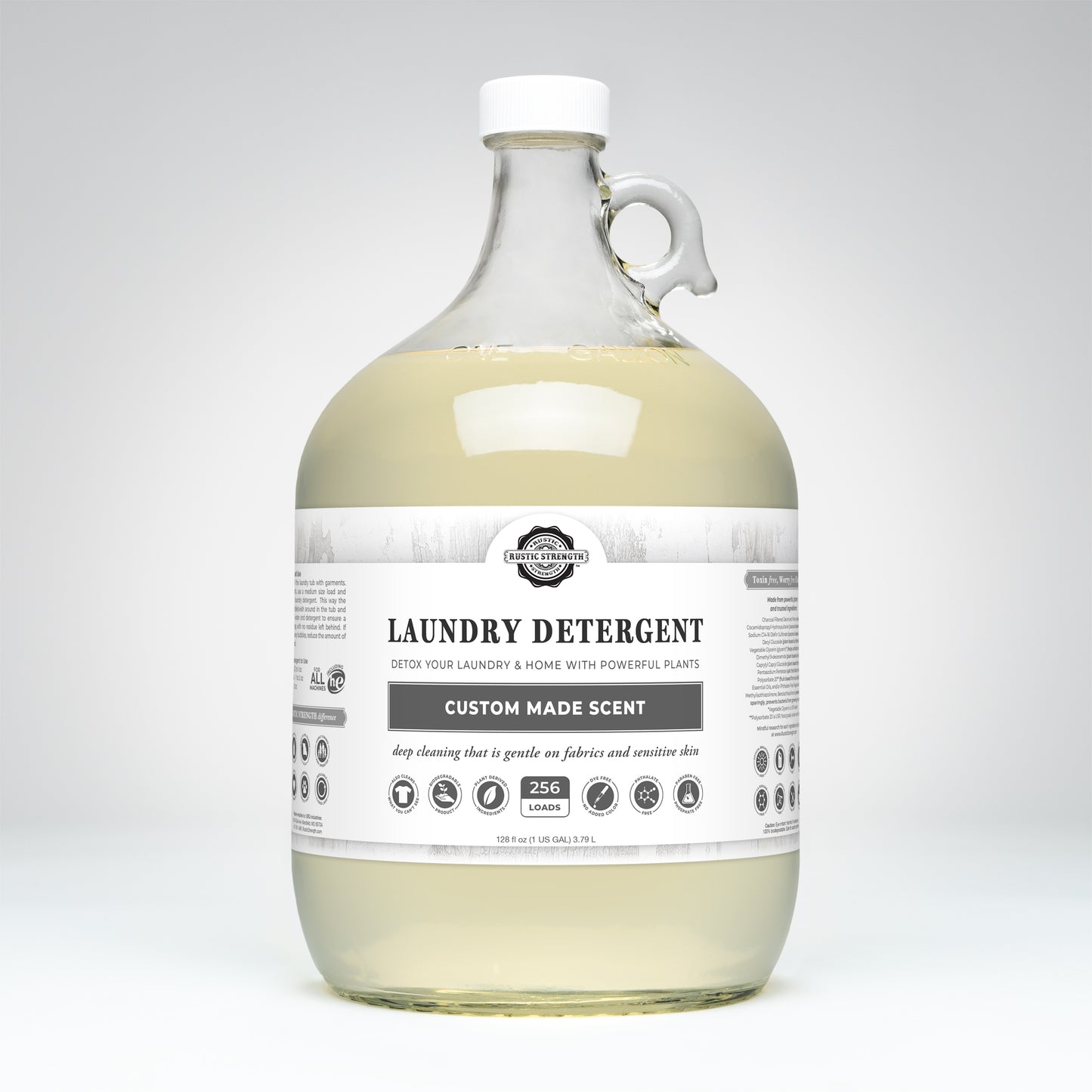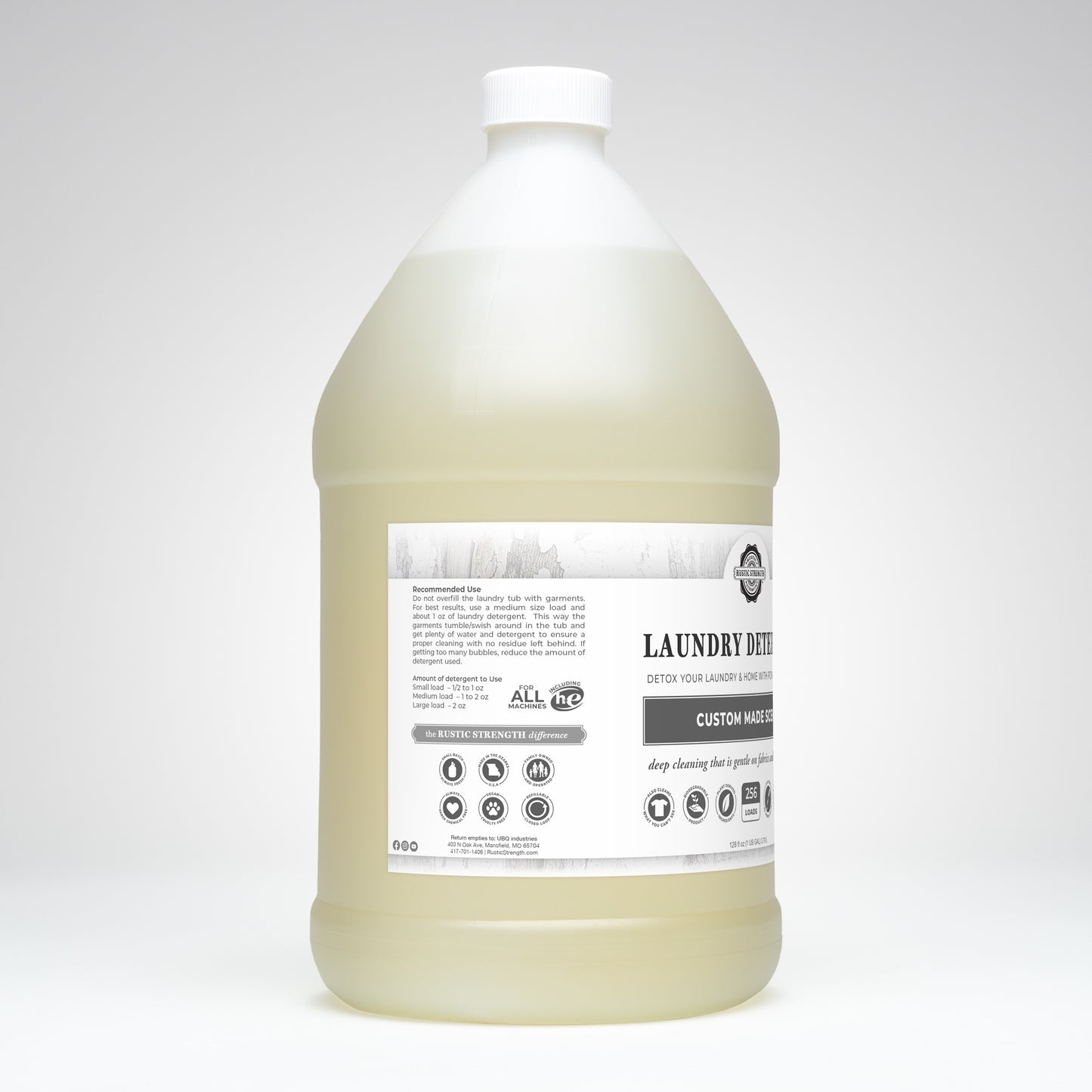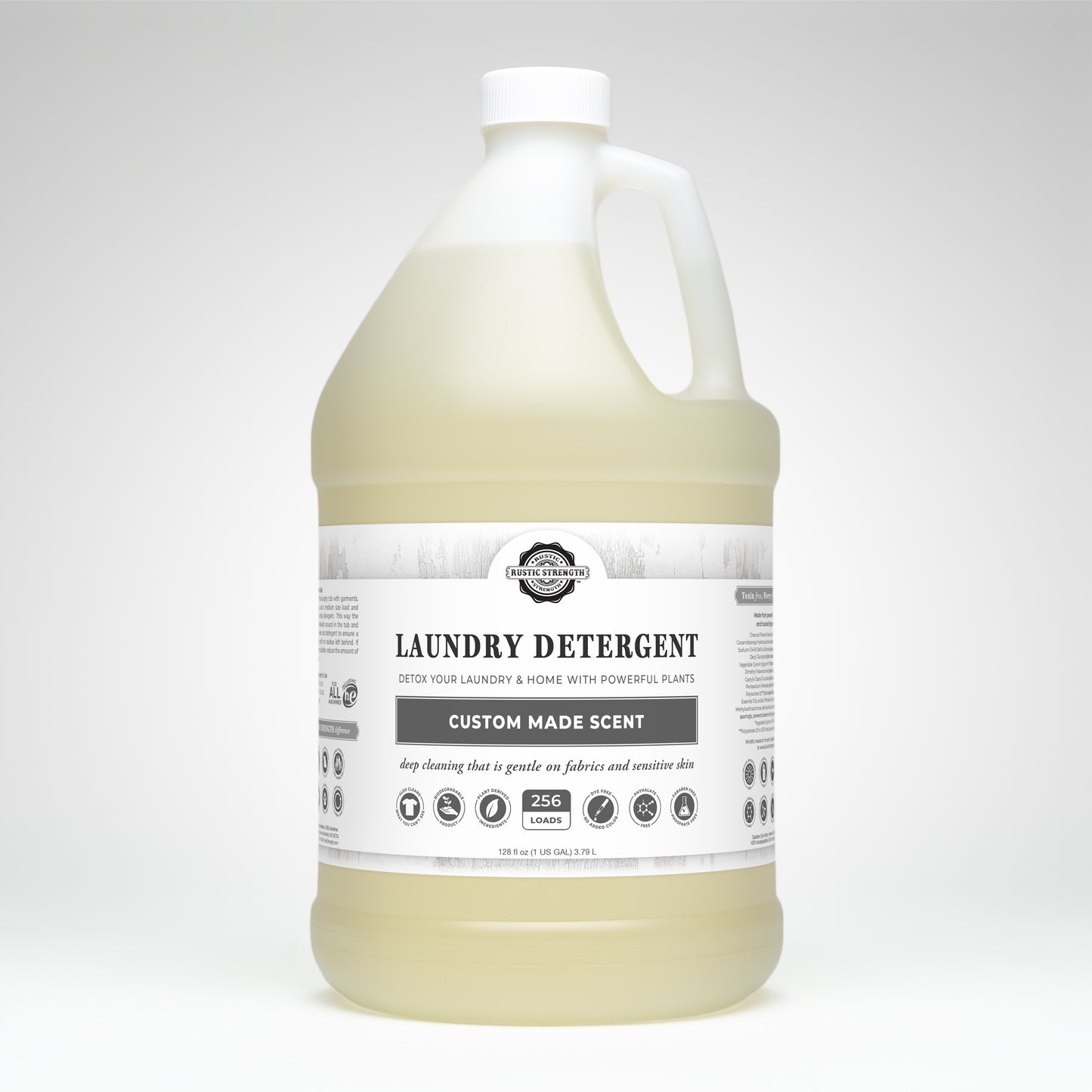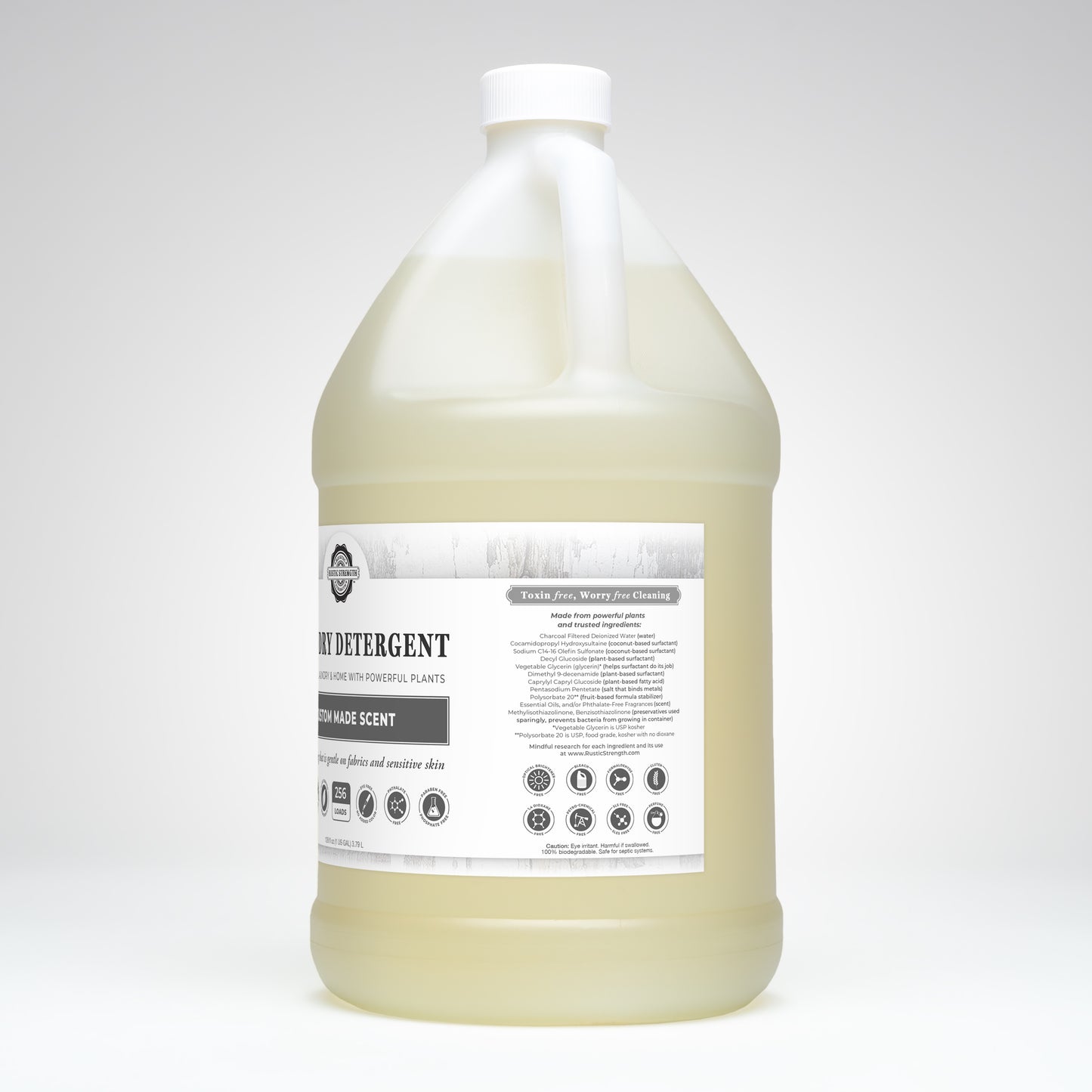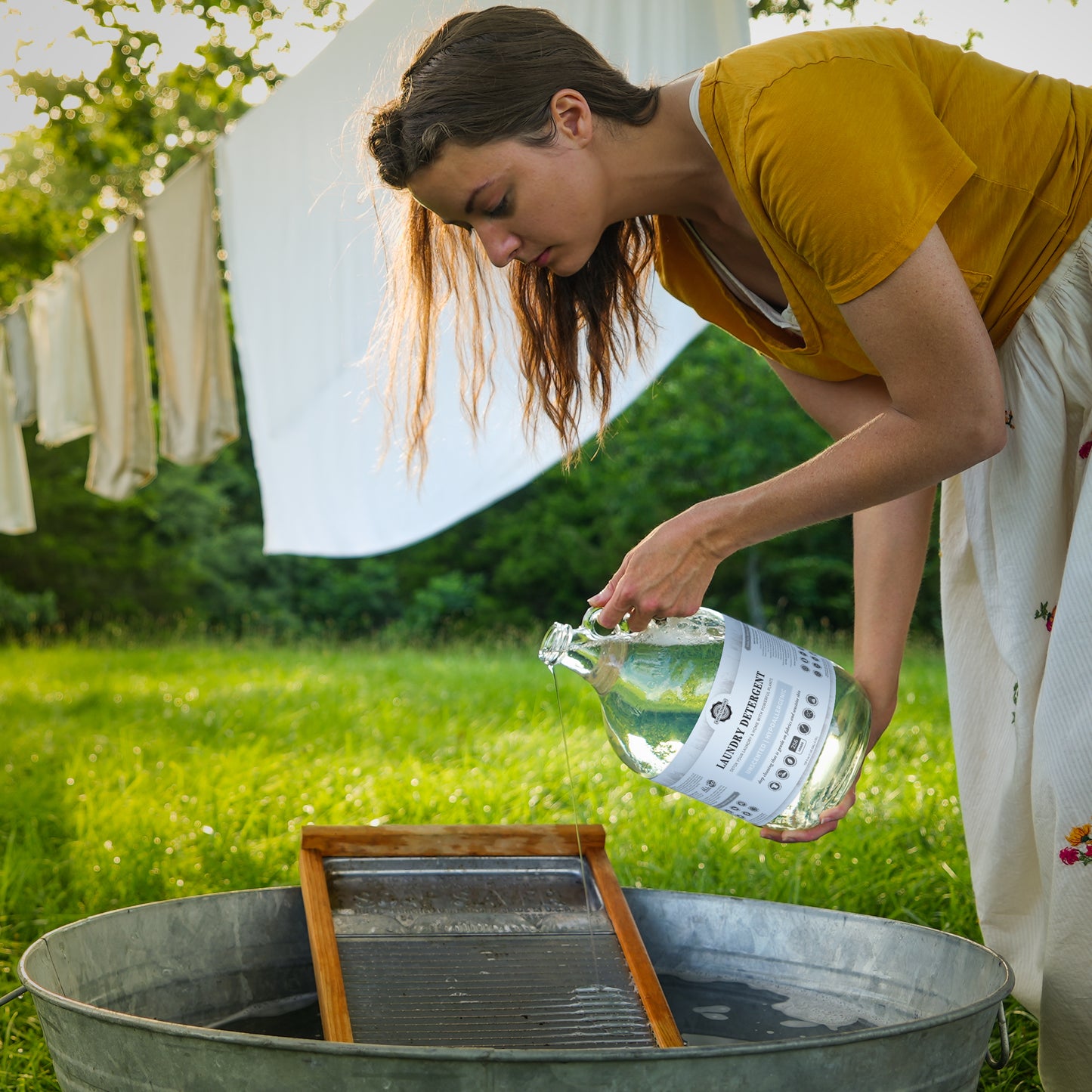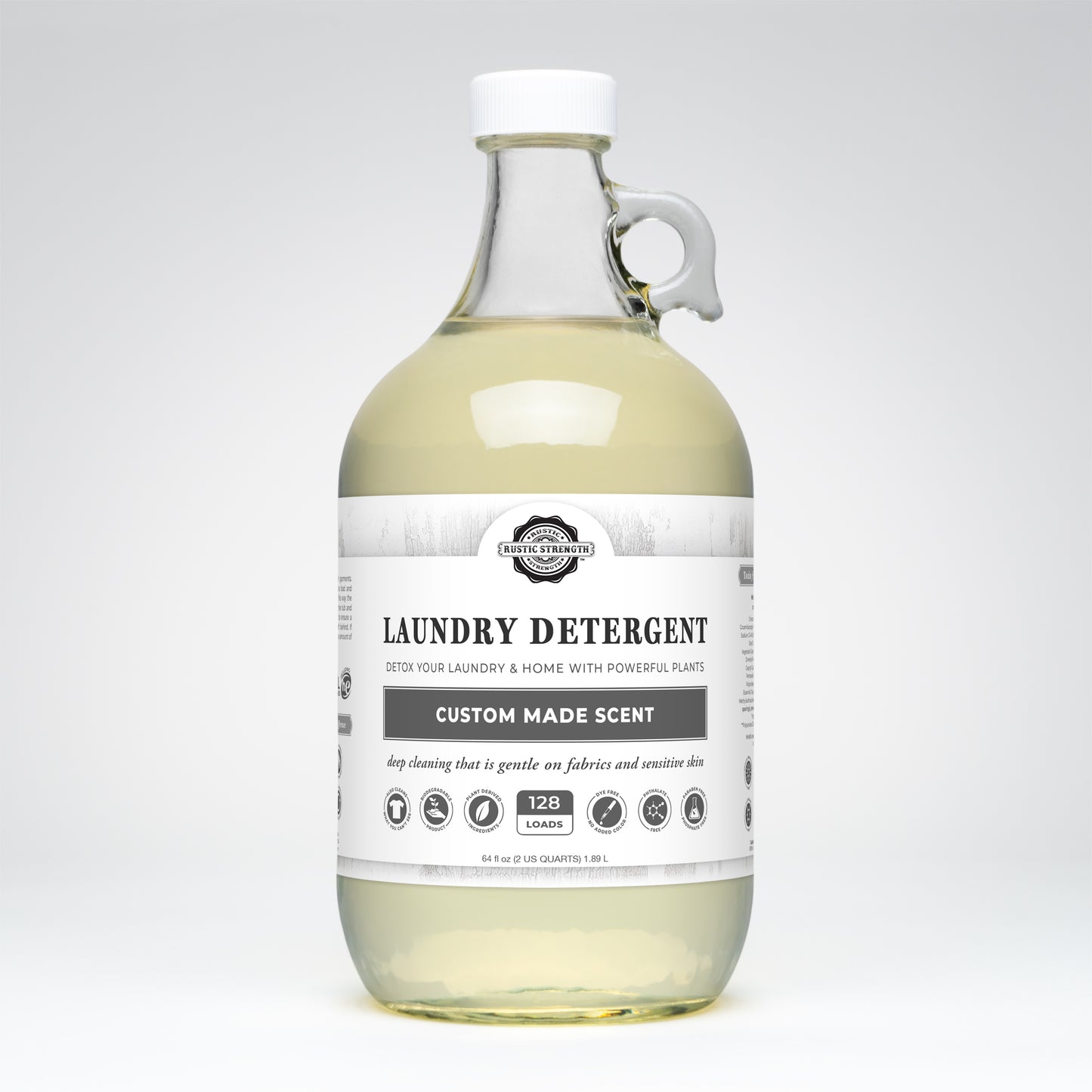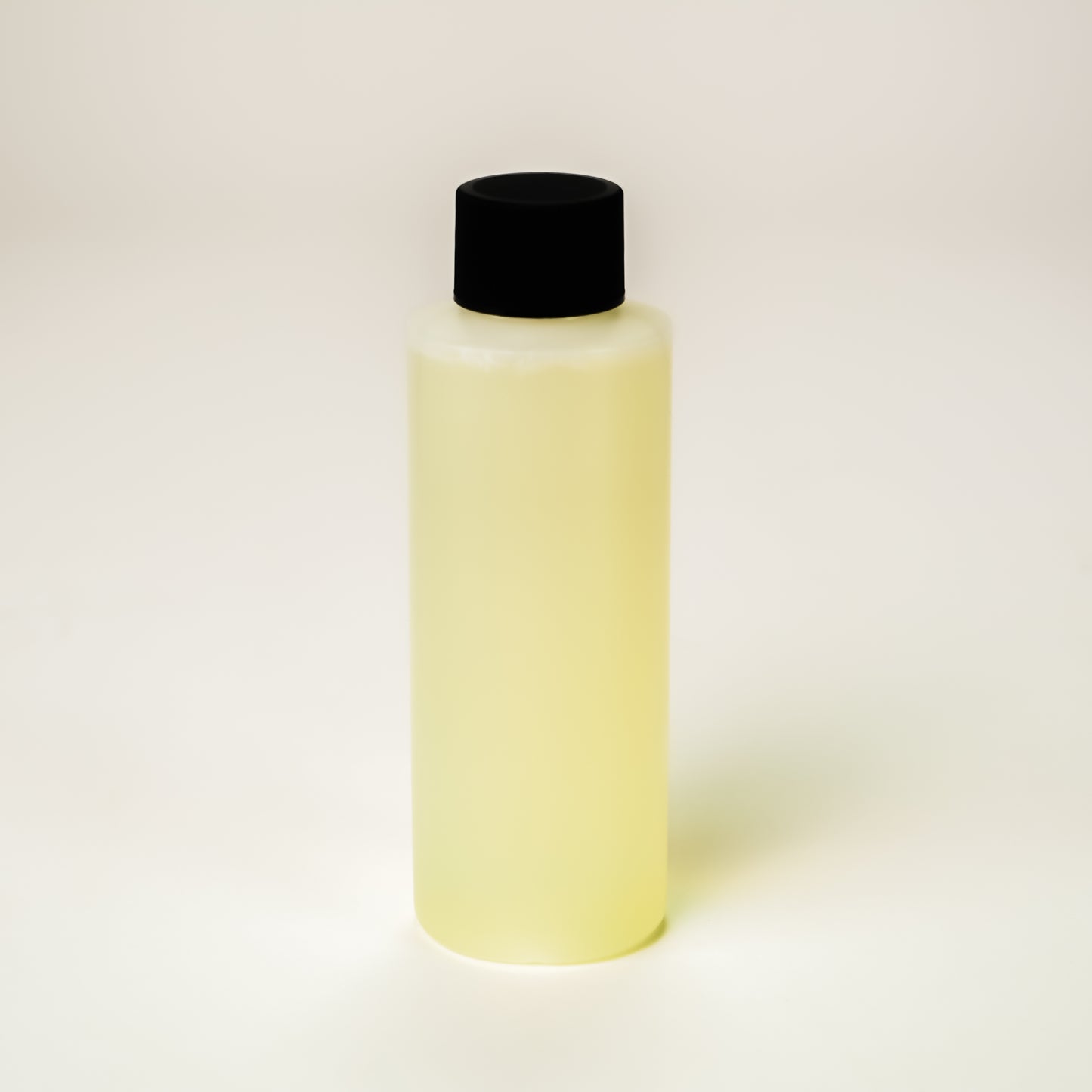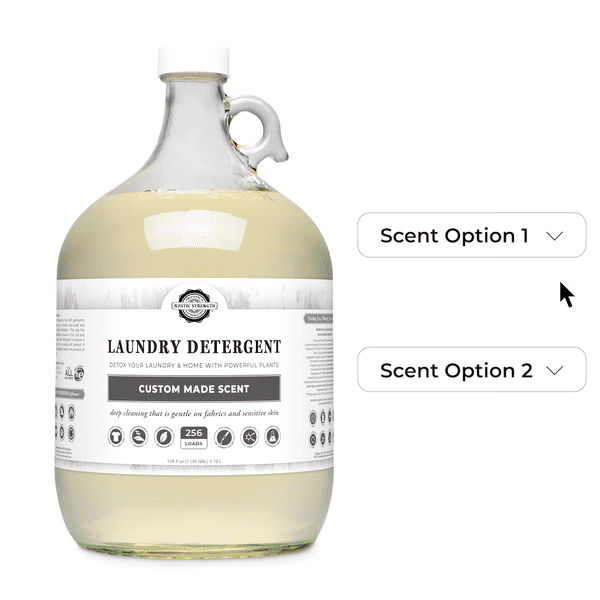 Your Perfect Aroma Awaits
– Mix & match –
over 50 essential oils & phthalate-free fragrance oils
Smell
I love the smell of the magnolia scented laundry soap!
Okay
I was looking forward to having a clean detergent that smaller good. But the smell does not stay on the clothes. They come out of the dryer smelling like nothing. I enjoy scent to my laundry.
Our products are lightly scented for mass appeal, on top of this, essential oils tend to dissipate in high temperatures. If you order just a phthalate-free fragrance it has a higher chance of lingering on clothes after using heat, but it will never be a strong scent.
If you would like your clothes to retain scent, we recommend washing in cool water (if you're comfortable with that) and air drying. This will give you the highest chance of your scent sticking! However, we are soon releasing a laundry scent booster for strong scent lovers.
You can also purchase our dryer balls and essential oils, these can replace dryer sheets and help scents stick to clothes!
Gentle on the skin
I like that this is gentle on my son's skin and cleans well. Although I do wish the scent was a bit stronger
Feels clean
I do love this laundry detergent but I used it way faster than anticipated. I'm not sure 1oz is enough for a load. Maybe I'm conditioned for more? It's supposed to have 138 (?) loads…I'm at probably 20 and half way through the bottle. Seems also necessary to use more to get the scent. Maybe a measuring cap would be nice to be included or as a purchasing option??
Hi Angela.
Depending on what size you have, our laundry detergent lasts up to 256 loads. We recommend using anywhere between a half oz and 1oz for a smaller or medium load. For a heavily soiled large load, you only need about 2oz. However, you can use more or less based on personal preference.
You can also order the pump that we offer for our detergents, 1 full pump = 1oz.
As for the scent, our laundry detergent is truly designed to clean. This means when products come out smelling faintly of scent or not smelling at all, you can know it is a true clean and not just cover-up fragrance like some big brands use. We lightly scent our products for your safety.
We use essential oils and/or phthalate-free fragrance oils. Oils tend to dissipate in heat, and will always leave a light scent (or possibly no scent.)
To combat this and get a lingering scent, you can wash your clothes in cool water and air-dry or use your dryer's cool dry option.
However, we recommend using our dryer balls and essential oils to add scent to your clothes during the drying cycle.
Happy with product
So far I'm really liking this detergent, I recently began using this brand because I was looking for a more natural product. My clothes come out clean and smell great, very happy so far.