Regular price
Sale price
$12.84
Unit price
per
Sale
Sold out
Epic Washing Soda - a century old tradition.
Gives your laundry and cleaning an epic boost
Whitens & brightens fabrics, surfaces + more
Neutralizes & deodorizes
Fully biodegradable
Epic uses
|
 Laundry ∙ Tiles ∙ Sinks ∙ Bathrooms ∙ Stainless Steel ∙ Refrigerators ∙ Pots ∙ Pans ∙ Cutting Board Residue ∙ Remove Hard Water Stains ∙ Toilets ∙ Washing Shower Curtains ∙ Spot Treating Carpet Stains ∙ Wine Stains ∙ Trashcans ∙ Restore Silverware and Silver Jewelry ∙ Grill Cleaner ∙ Blind Cleaner ∙ Oven Cleaner ∙ Range Hood Degreasing + more
People + planet safe | Those distancing themselves from known toxins and allergens found in commercial stain removers and cleaners will find relief here.  When used as directed, our Epic Washing Soda is hypoallergenic and completely dye-free
∙ perfume-free
∙ SLS-free
∙ SLES-free
∙ sulfate-free
∙ paraben-free
∙ phthalate-free
∙ 1,4-dioxane-free
∙ optical brightener-free
∙ filler-free
∙ gluten-free
∙ hormone disruptor-free
∙ carcinogen-free — and simply Worry Free. 
Mama + Baby safe | Soften hard water, Epicly clean babies' cloth diapers, and more. Babies have sensitive skin that can easily become irritated by harsh surfactants and chemicals in commercial cleaners. Our Epic Washing Soda is made without added scents and leaves behind no harsh chemicals to irritate. Unscented is the best choice for babies because even a mild scent can cause them irritation. To see all unscented cleaning products, visit Mama + Baby Safe.
How To Use

For Laundry Use this in addition to the laundry detergent.  Add around a 1/2 cup to the machine and wash according to garment directions. 

Presoak Laundry Fill a basin with 1 gallon of water and 2 TBSP of washing soda.  Let soak overnight.  Then follow the directions above.  Do Not use on wool, wilk, leather or dry clean only garments. 

Cleaning To clean surfaces, tiles, sinks, bathrooms, stainless steel, refrigerators, etc.  Dissolve 1/2 cup of Epic Washing Soda into 1 gallon of warm water.  Be sure to wear cleaning gloves when handling solution. To clean stuck on food from pots, pans or surfaces.  Scatter Epic Washing Soda on area and then scrub with a wet cloth.  Wipe surface until area is clean and no residue is left behind. 
Close The Loop Refill Program
View full details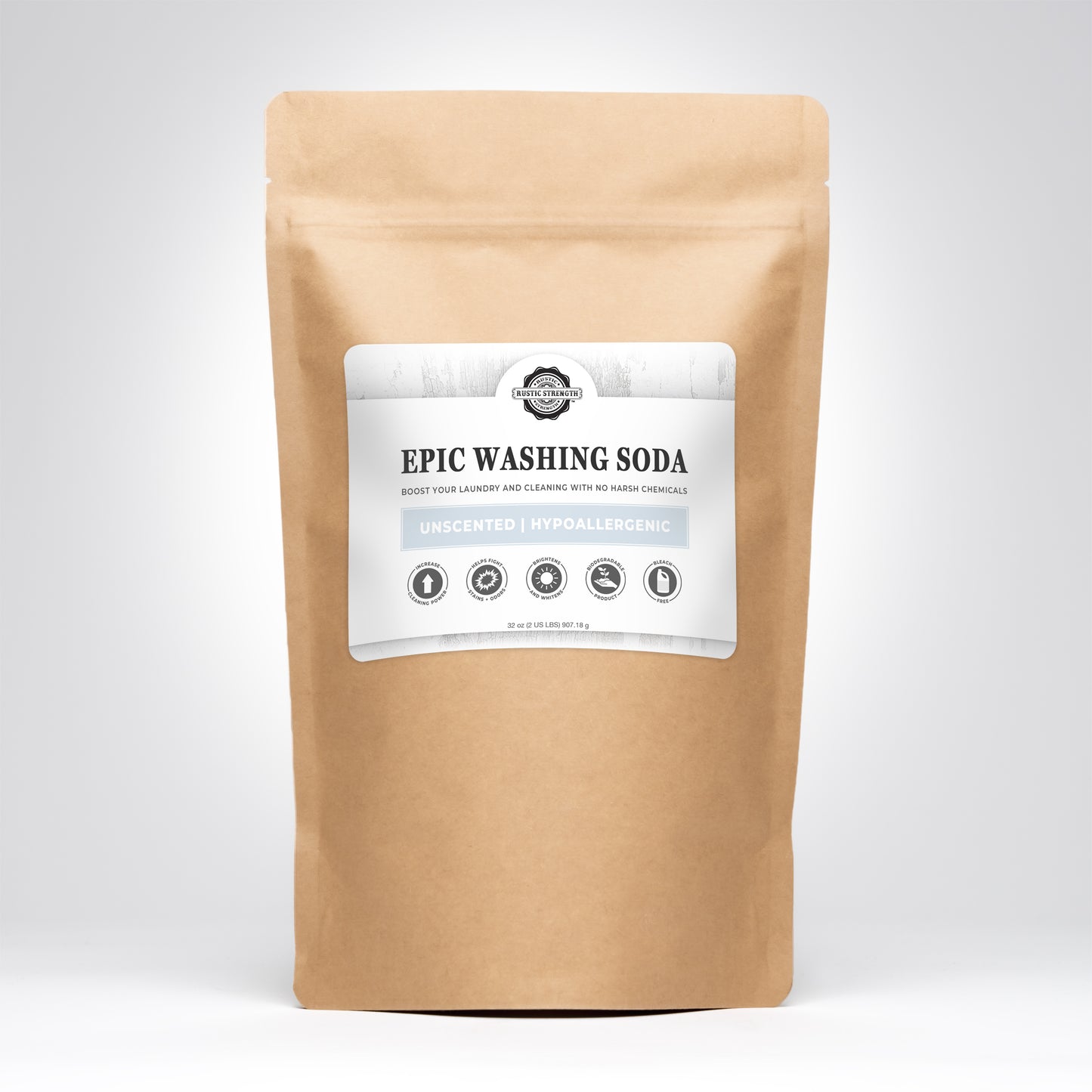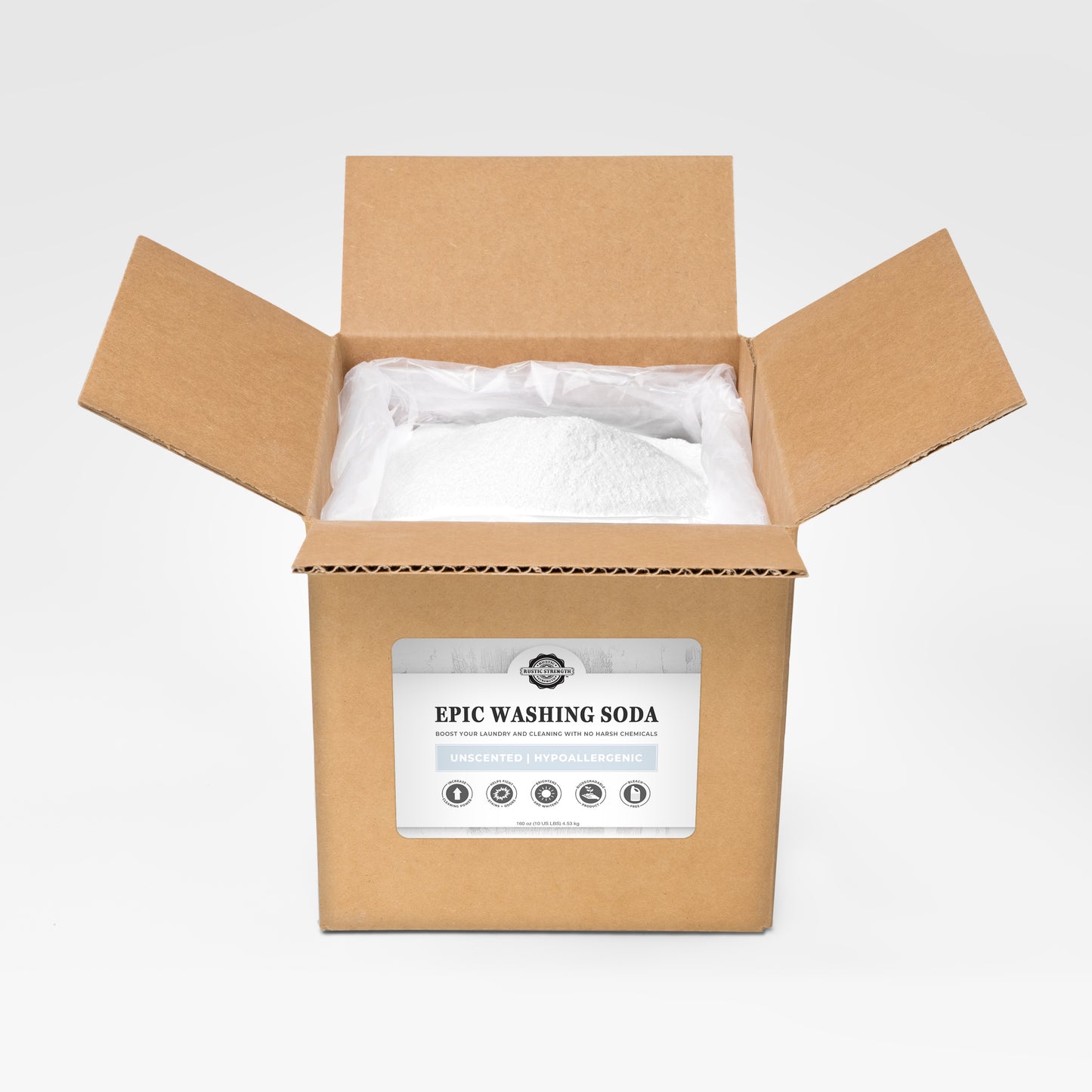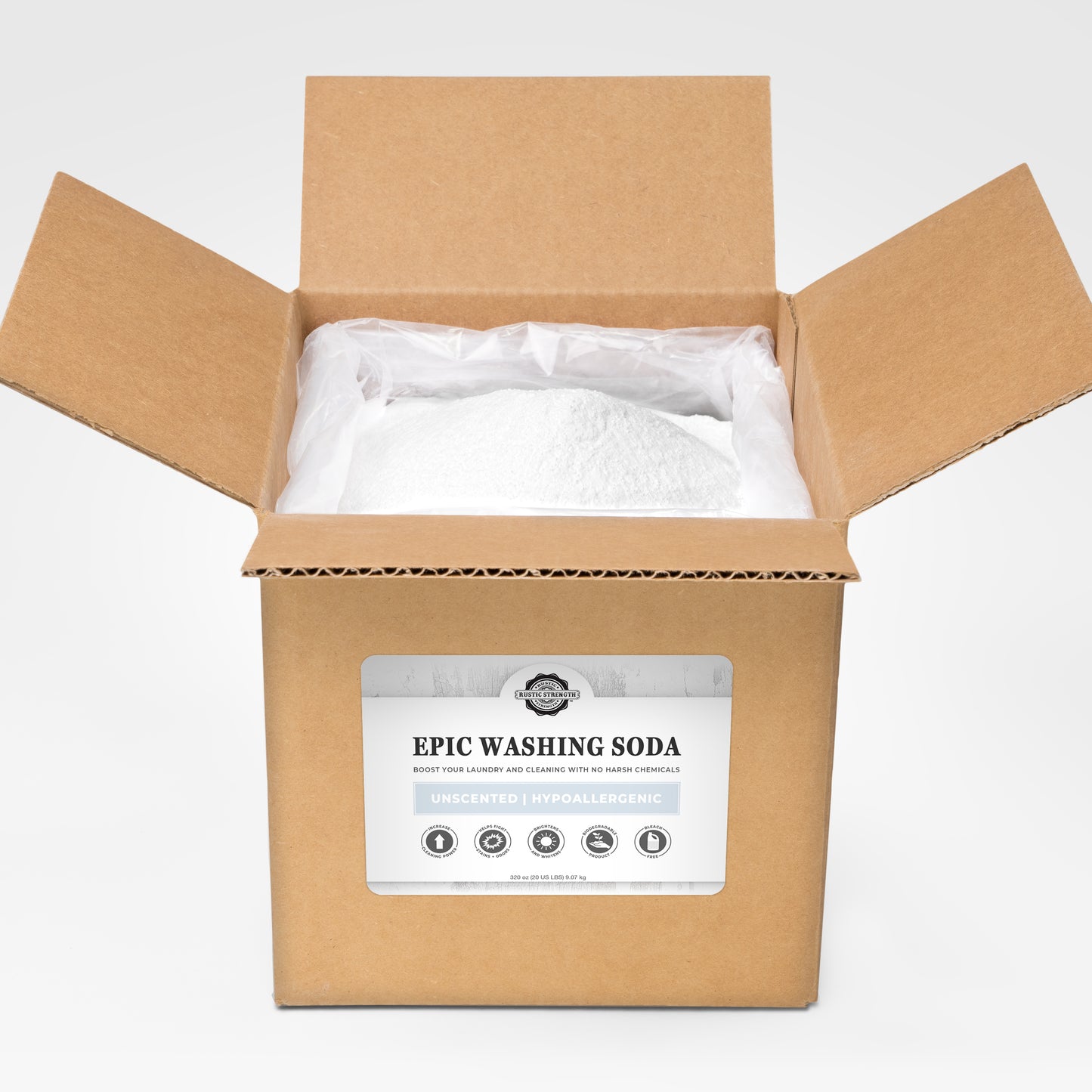 Great buy
Love adding this for an extra clean.
LOVE
I absolutely love this product. It made my clothes FEEL completely different. My clothing has never been so clean and soft feeling.
Get this!
I always add this to my husband's work clothes. It cleans deep and if his clothes are extra greasy I add the unbleached to! You will want these 2 products they work very well together