Regular price
Sale price
$30.90
Unit price
per
Sale
Sold out
Deep-cleaning, hypoallergenic liquid laundry detergent. Made from renewable plant + Earth mineral-derived ingredients. 
Mama + Baby Safe | Babies' sensitive skin can easily become irritated by harsh chemical residue left on clothes, blankets, and cloth diapers from most laundry detergents. All of our laundry detergent is made without those harsh chemicals.

Why Unscented? Unscented is the best choice for babies because even a mild scent can cause them irritation. Hormone balance is also very important in the development of babies, as well as in pregnant and breastfeeding mamas. Even select essential oils may disrupt these hormones, so unscented is recommended for this group. This is not yet mainstream knowledge, so that is why we re-labeled our popular Unscented Laundry Detergent to help mindful mamas make great choices.
To see our other unscented baby-safe products, visit Mama + Baby Safe. 
Color-safe
Cloth diaper-safe
Safe for the most sensitive skin
Can be used in regular or he (high-efficiency) washers
100% biodegradable
Toxin + Irritant Free | Ditch the toxins and irritants found in most detergents. Our Liquid Laundry Detergent is hypoallergenic and completely dye-free ∙ perfume-free ∙ SLS-free ∙ SLES-free ∙ sulfate-free ∙ paraben-free ∙ phthalate-free ∙ 1,4-dioxane-free ∙ ethoxylated alcohol-free ∙ optical brightener-free ∙ filler-free ∙ petroleum-free ∙ palm oil-free ∙ gluten-free ∙ hormone disruptor-free ∙ carcinogen-free — and simply worry-free. 
Small Batch Fresh | Our Liquid Laundry Detergent is produced daily at our family-run factory in The Ozarks, USA — arriving to you made the same week.
How Long Will This Last?

Half Gallon — 128 loads

Gallon — 256 loads

5 Gallon — 1280 loads

(based on a small load of laundry)
Washing Directions

1/2 oz light soiled / small load
1 oz activewear / medium load
2 oz heavy soiled/large load

With our highly concentrated active ingredients, we do NOT recommend overfilling your laundry tub with clothes.  It is best to work with a medium size load and about 1 oz of detergent.  This way your laundry tumbles/swishes around in the tub and gets plenty of water and detergent on all the garments to ensure proper cleaning.

If you have lots of bubbles in your washing machine, decrease how much detergent you use.

If you have hard water use our Oxyboost to help soften the water so the detergent can work more efficiently.

Septic and gray water safe.

When to use Hot Water
Hot water is good for whites, typical dirty clothes, sweaty active wear and diapers.  Hot water is best to remove germs, kill dust mites and heavily soiled items.

When to use Warm Water
Warm water  is good for cleaning most man-made fibers, knits and jeans.  It will clean without fading or significant shrinking.

When to use Cold Water
Cold water is best for dark, bright colors that bleed or delicate fabrics.  Pre-treat or pre-soak your clothes if items are heavily soiled.
Laundry Tips

Stain removal. Simply place a little detergent directly on the stain and scrub the fabric together.  Some stains respond better with cold-water vs hot water.  For more details on a specific stain removal, please see our blog posts.

Remove the toughest stains with Oxy Boost and Un-Bleach.

Soften hard water and clean with Epic Washing Soda.

Soften fabrics and remove odors with Organic Fabric Softener.

Remove wrinkles and static with Alpaca Dyer Balls.

Dilute our Castile Soap with distilled water for a re-useable baby wipe solution. 
Ingredients

Charcoal Filtered Deionized Water • High-purity water.

Cocamidopropyl Hydroxysultaine • Naturally derived from coconut, palm-free, it is an environmentally friendly and biodegradable surfactant with high foaming and mild chemistry.

Sodium C14-C16 Olefin Sulfonate • Derived from coconuts, palm-free, this mild-surfactant helps to lift dirt and debris from surfaces, so the water can whisk them away. Biodegradable. 

Decyl Glucoside • A plant-derived, biodegradable surfactant. It is mild and safe for sensitive skin.Vegetable Glycerin• Derived from vegetables. It is biodegradable and helps the plant surfactants do their job. Food-grade & kosher.

Dimethyl 9-Decenamide • A plant-based, biodegradable nonionic surfactant that helps clean and removes grease and other substances.

 Capryl Caprylyl Glucoside • A biodegradable plant-based surfactant with mild chemistry and sensitive skin compatibility.

Pentasodium Pentetate • Salt of Pentetic Acid. Pentasodium Pentetate is a cleaning power booster. Biodegradable.

Polysorbate 20 • Plant-based performance stabilizer. Helps in the spreadability of liquids and stabilizes the formula when adding essential oils and phthalate-free fragrances. Biodegradable. Kosher. Food-Grade. Dioxane-free. 

Methylisothiazolinone & Benzisothiazolinone • These preservatives are used in the lowest concentrated form to help decrease the chance of bacteria, fungi, and mold. Increases shelf life of the product. Antibacterial. Biodegradable. 
Close The Loop Refill Program
View full details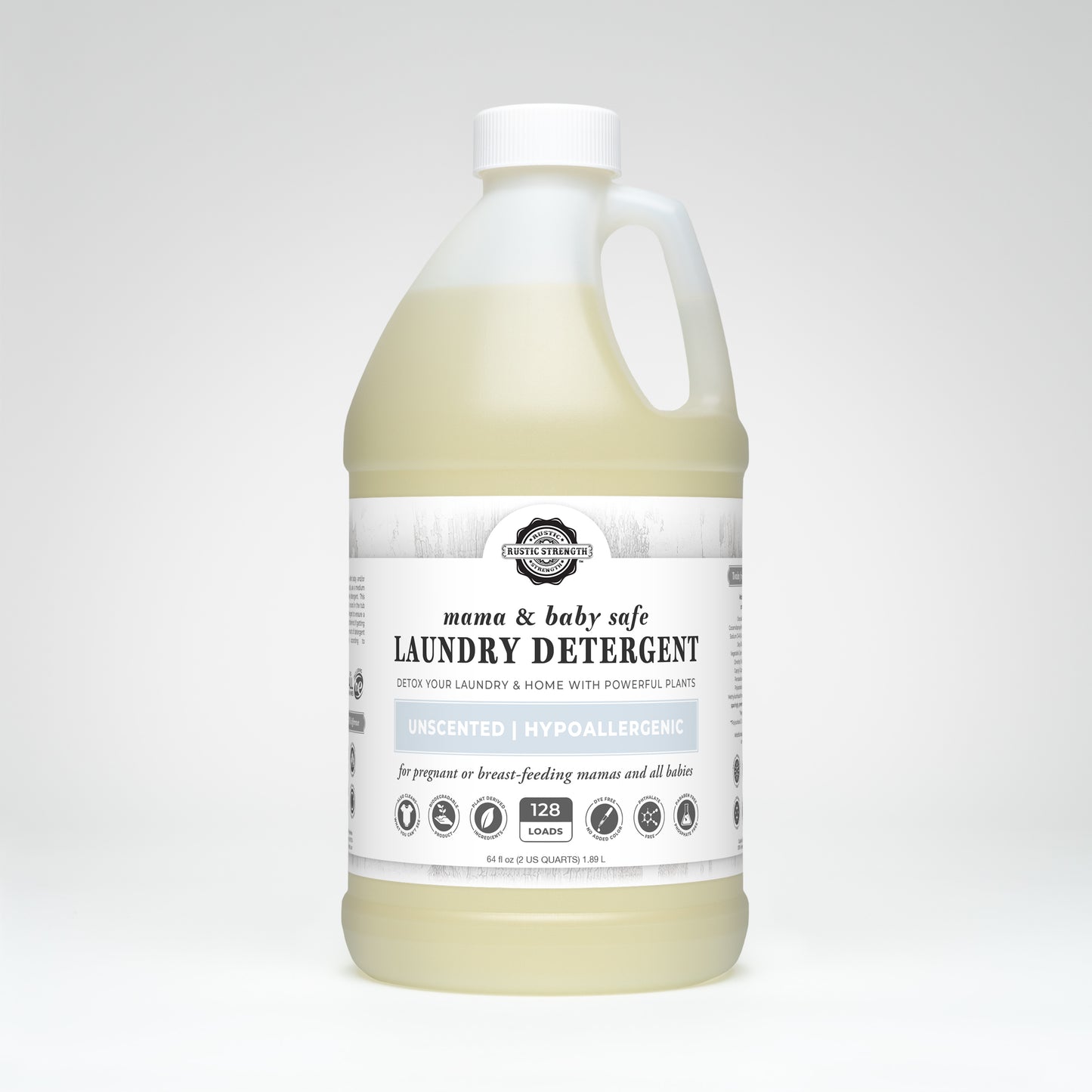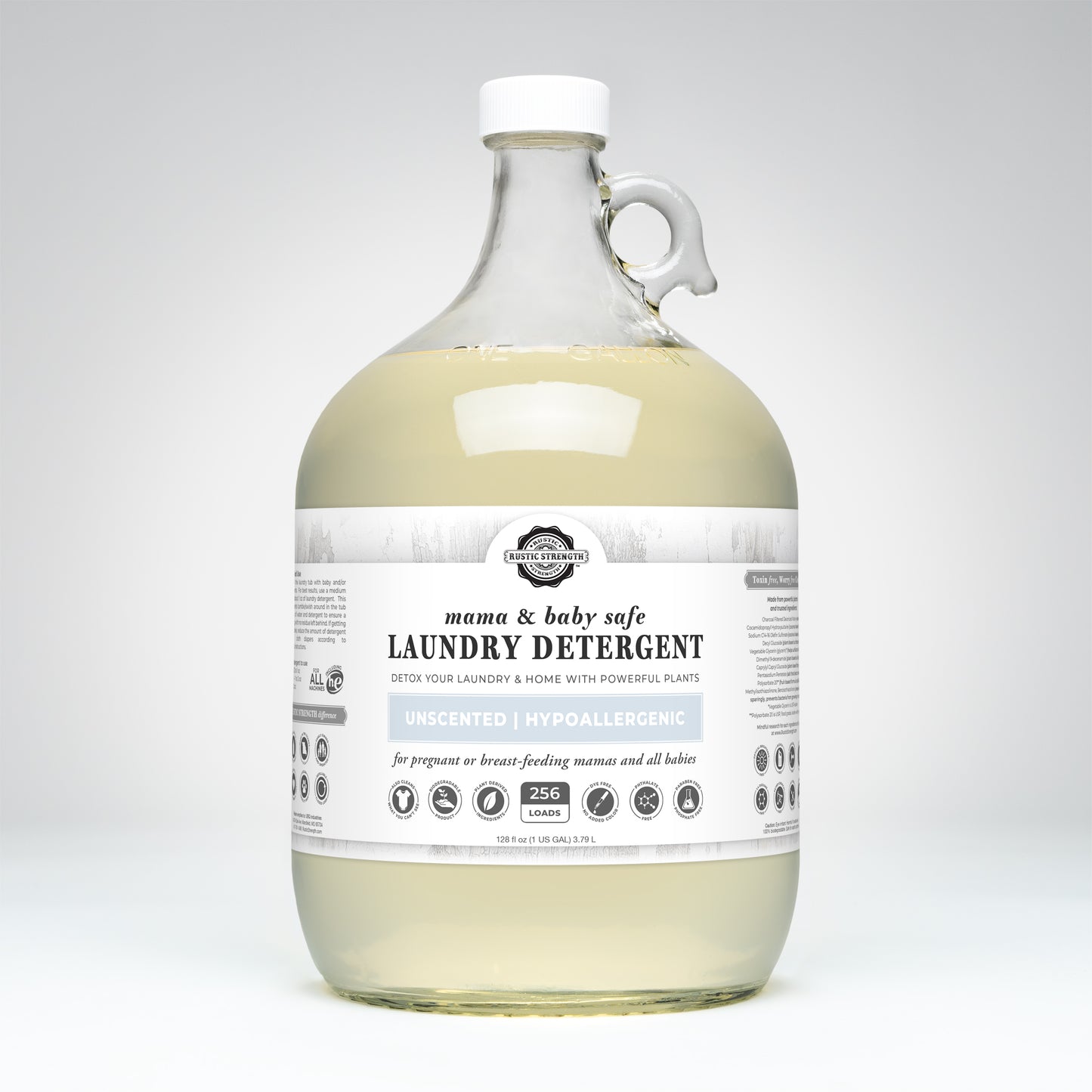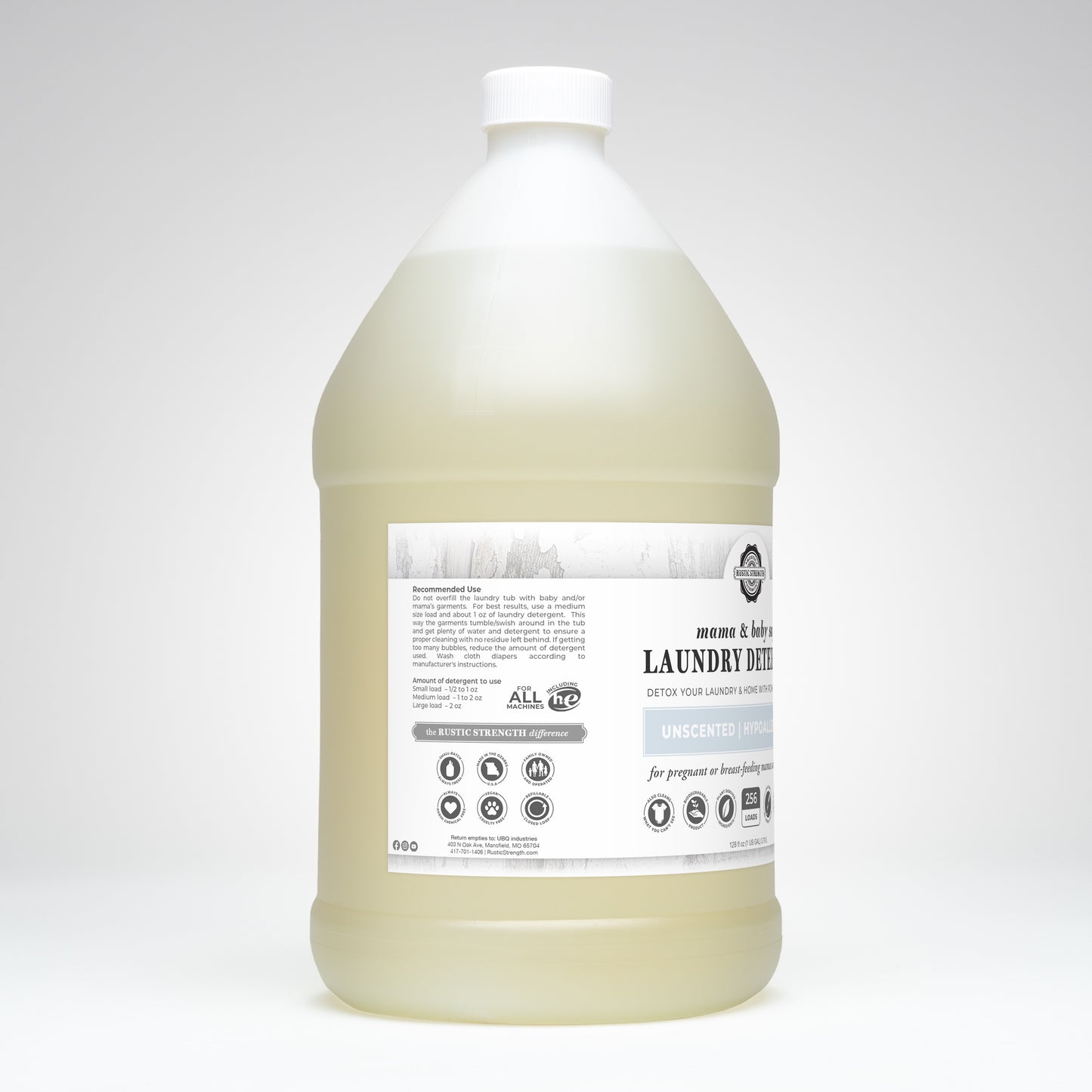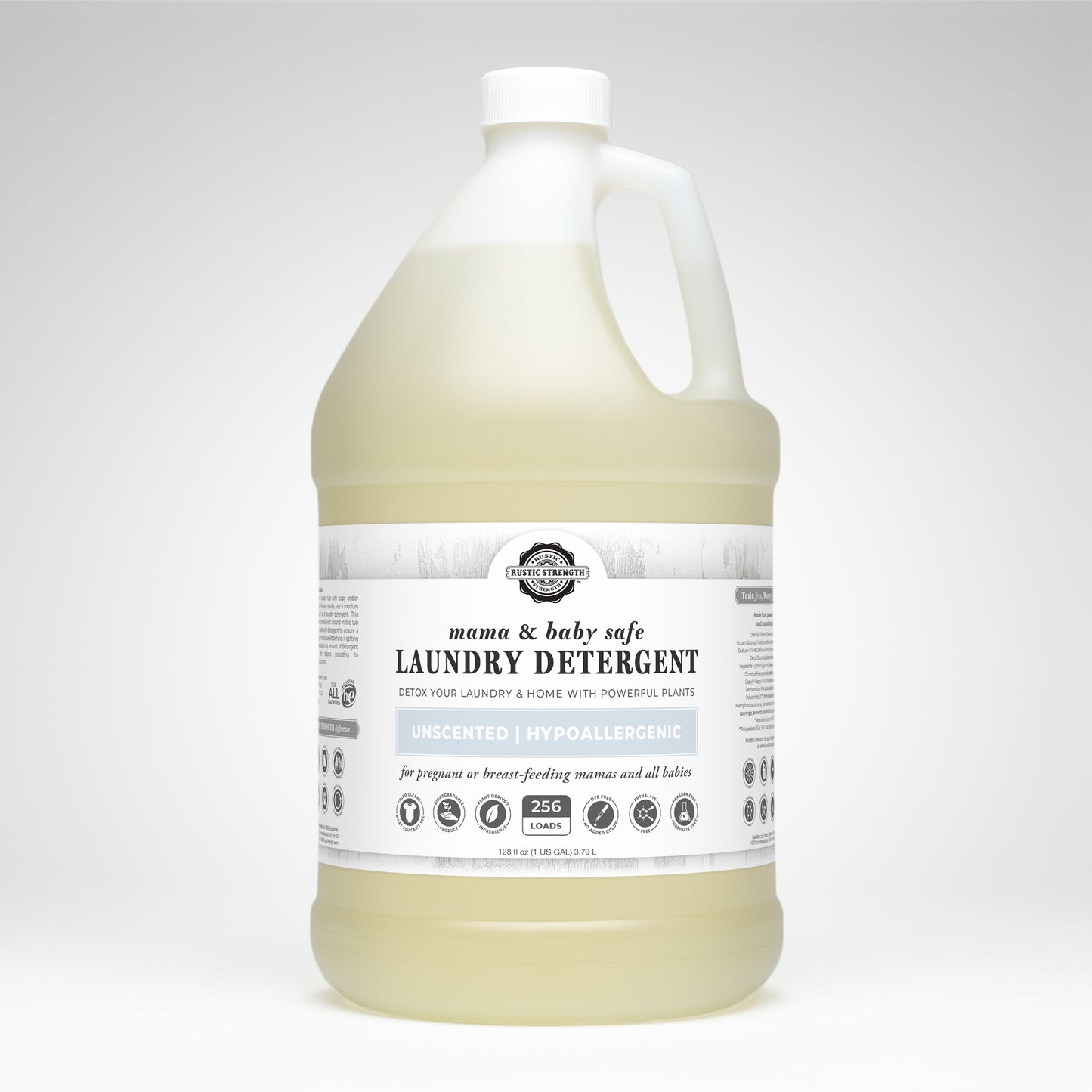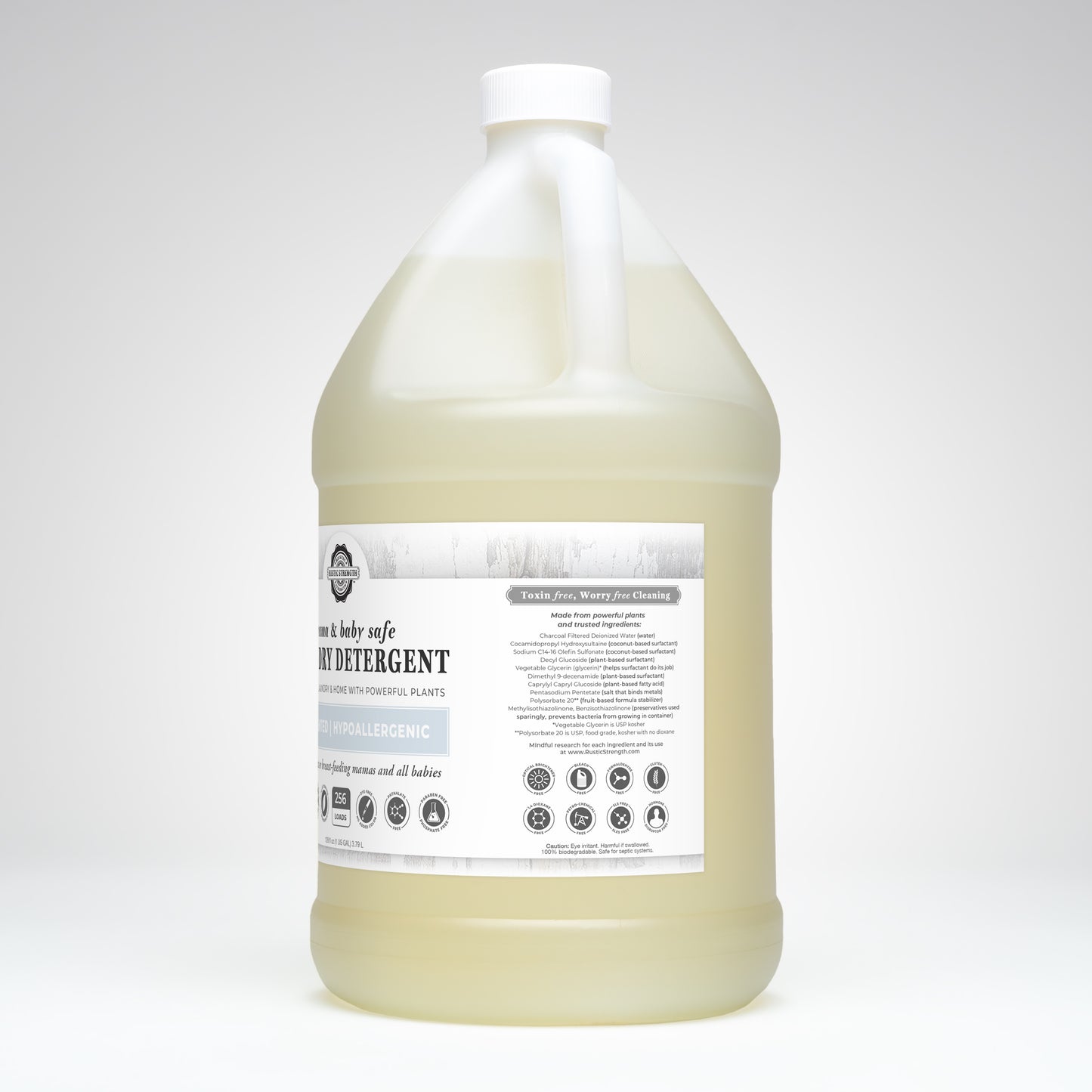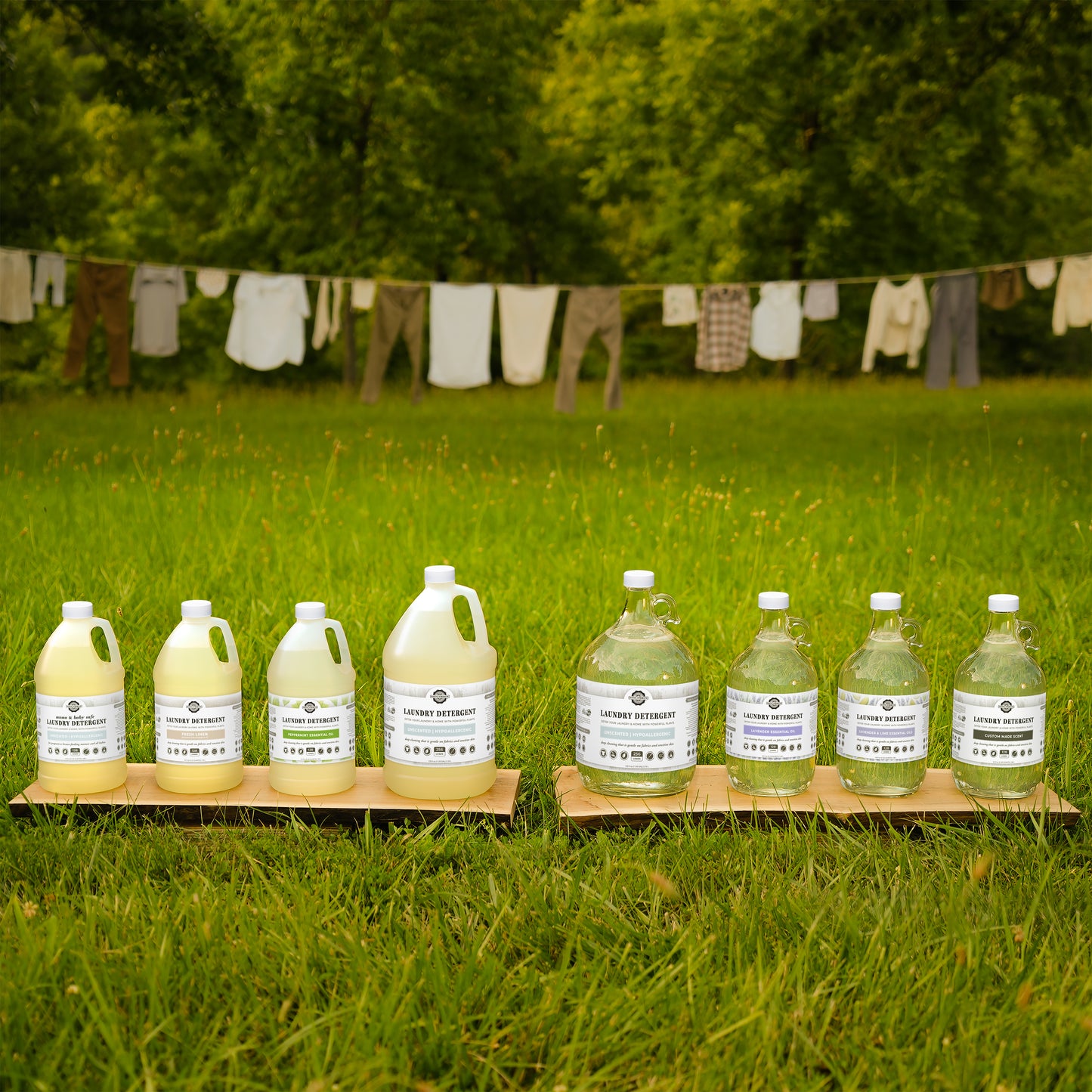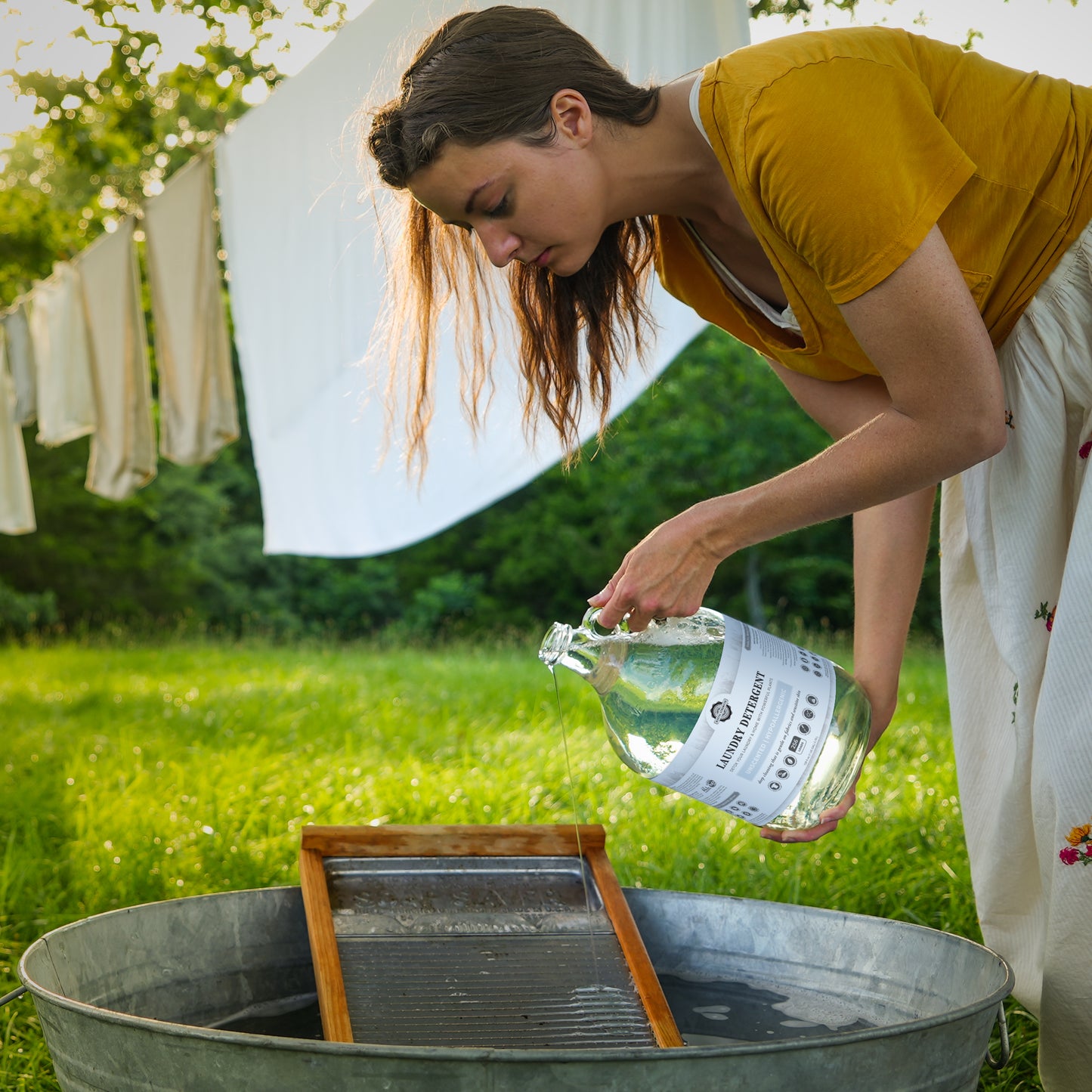 Wonderful Detergent
I have been searching for a cleaner alternative that provides a powerful wash. This is it! I love that it is safe for my sensitive skin and cleans my clothes well!
Love it!
Super clean clothing. Smells great!
Thankful for a Safe detergent
Love this detergent! I am thankful for a detergent that is safe for my babies and also for myself as a pregnant woman.
Love it!
Washes great, exactly what I wanted as a pregnant new mom looking for a non toxic detergent for my little one.
Great laundry detergent
I only use this mama and baby laundry detergent. I can't use other products which has bad chemicals, which hurt one's health.