Regular price
Sale price
$14.00
Unit price
per
Sale
Sold out
Gentle coconut-based cleansing Body Wash

pH balanced
Designed for sensitive skin
Made of gentle plant-based surfactants
Moisturizes skin to help retain your natural hydration
We avoided these popular Body Wash ingredients | SLS (sodium lauryl sulfate) and SLES (sodium laureth sulfate) are harsh surfactants used in most soaps that can strip the skin of its natural oils, resulting in dryness, irritation, and possibly allergic reactions. In addition, they can contain potentially toxic impurities that can irritate the skin, eyes, and other organs. So why then is SLS/SLES used in practically every soap on the market? Because they are effective at cleaning and very cheap. We strive to make products free of irritants and toxins, so steer clear of SLS and SLES (among other ingredients) in our body wash and instead only use premium plant-based cleansing, safe for sensitive skin!
Toxin + Irritant Free | Ditch the toxins and irritants found in most body wash. Our Body Wash is hypoallergenic and completely dye-free ∙ perfume-free ∙ SLS-free ∙ SLES-free ∙ sulfate-free ∙ paraben-free ∙ phthalate-free ∙ 1,4-dioxane-free ∙ ethoxylated alcohol-free ∙ formaldehyde-free ∙ triclosan-free ∙ filler-free ∙ petroleum-free ∙ gluten-free ∙ hormone disruptor-free ∙ carcinogen-free — and simply worry-free.
Small Batch Fresh | Our body wash is produced daily in small-batch, at our family-run factory in The Ozarks, USA — arriving to you made the same week.
Directions

With a nickle to quarter sized amount, lather and scrub gently all over body. Rinse suds off of body.
Ingredients

Charcoal Filtered Deionized Water • High purity water

Cocamidopropyl Hydroxysultaine • Naturally derived from coconut, palm-free, it is a biodegradable conditioning agent for the skin with high foaming and mild chemistry.

Sodium C14-16 Olefin Sulfonate • This mild-surfactant helps grab oil, dirt, and grease. It is also derived from coconuts, palm-free and is biodegradable.

Decyl Glucoside • A plant-derived, biodegradable surfactant. It is mild and safe for sensitive skin.

Vegetable Glycerin (glycerin)* • Derived from vegetables. It is a biodegradable, powerful moisturizer that can increase skin hydration. Food-grade & Kosher.

Sodium Chloride • Salt

Caprylyl Capryl Glucoside • A plant-based surfactant that increases lather potential with mild chemistry for sensitive skin.

Polyquaternium 7 • Gives skin soft feel. Formaldehyde-free.

Polysorbate 20 • Plant-based formula stabilizer. USP, food-grade, kosher quality, containing no dioxane

Sodium Benzoate & Potassium Sorbate • Food-grade preservatives used sparingly that prevent bacteria from growing in container

Citric Acid • Balances pH

Essential Oils • Scent
Scent

Unscented

Contains no essential oils or phthalate-free fragrance oils

Cherry & Lime

Prunus Amygdalus (Bitter Almond) Oil [Smells like Cherry] (Prussic Acid Free), Citrus Aurantifolia (Lime) Oil

Lavender Tea Tree

Lavandula Angustifolia (Common Lavender) Oil, Lavandula Hybrida (Hybrid Lavender) Oil, Lavandula Latifolia (Portuguese Lavender) Herb Oil, Lavandula Stoechas (French Lavender) Oil, Melaleuca Alternifolia (Tea Tree) Leaf Oil

Rosemary Mint

Rosmarinus Officinalis (Rosemary) Leaf Oil, Mentha Piperita (Peppermint) Oil
View full details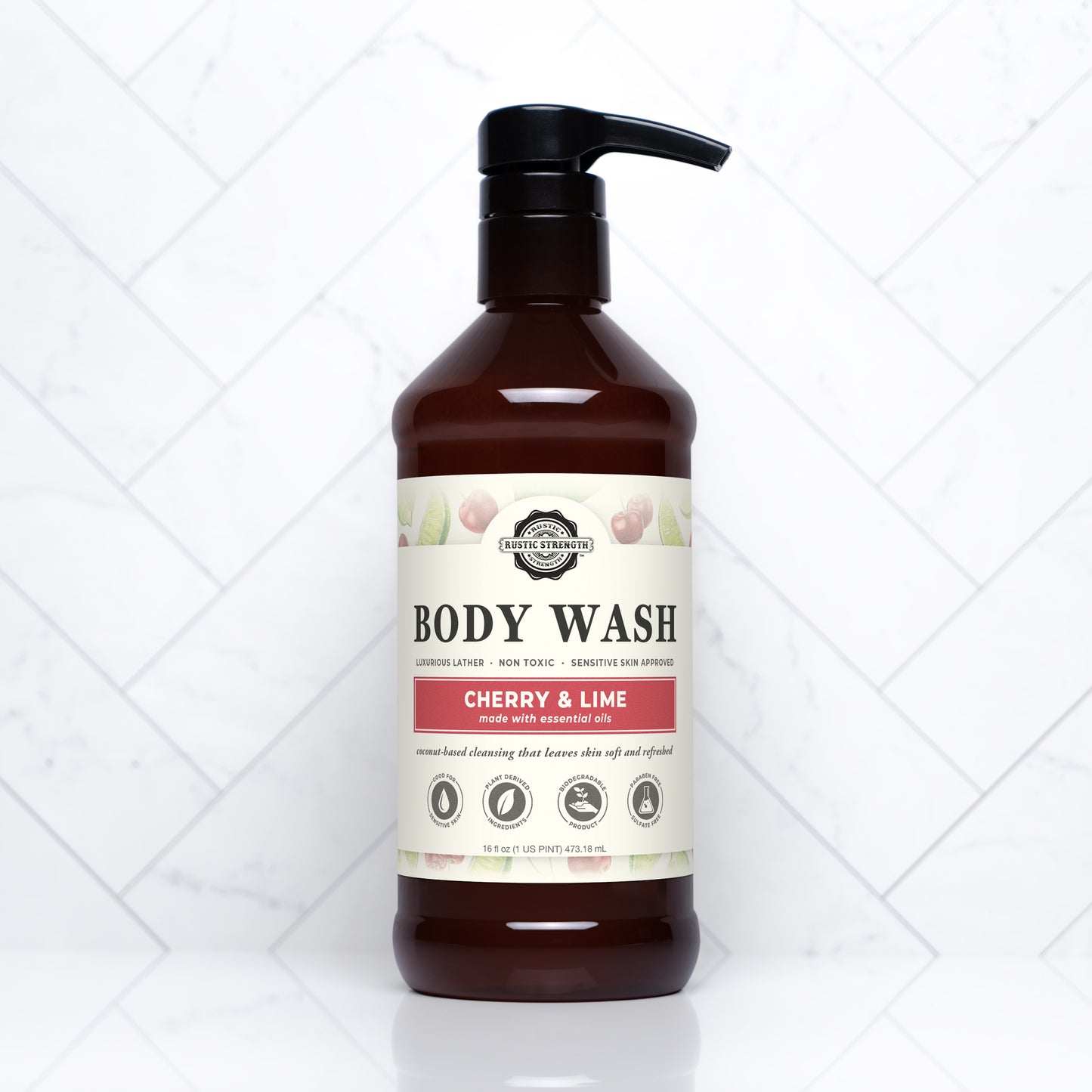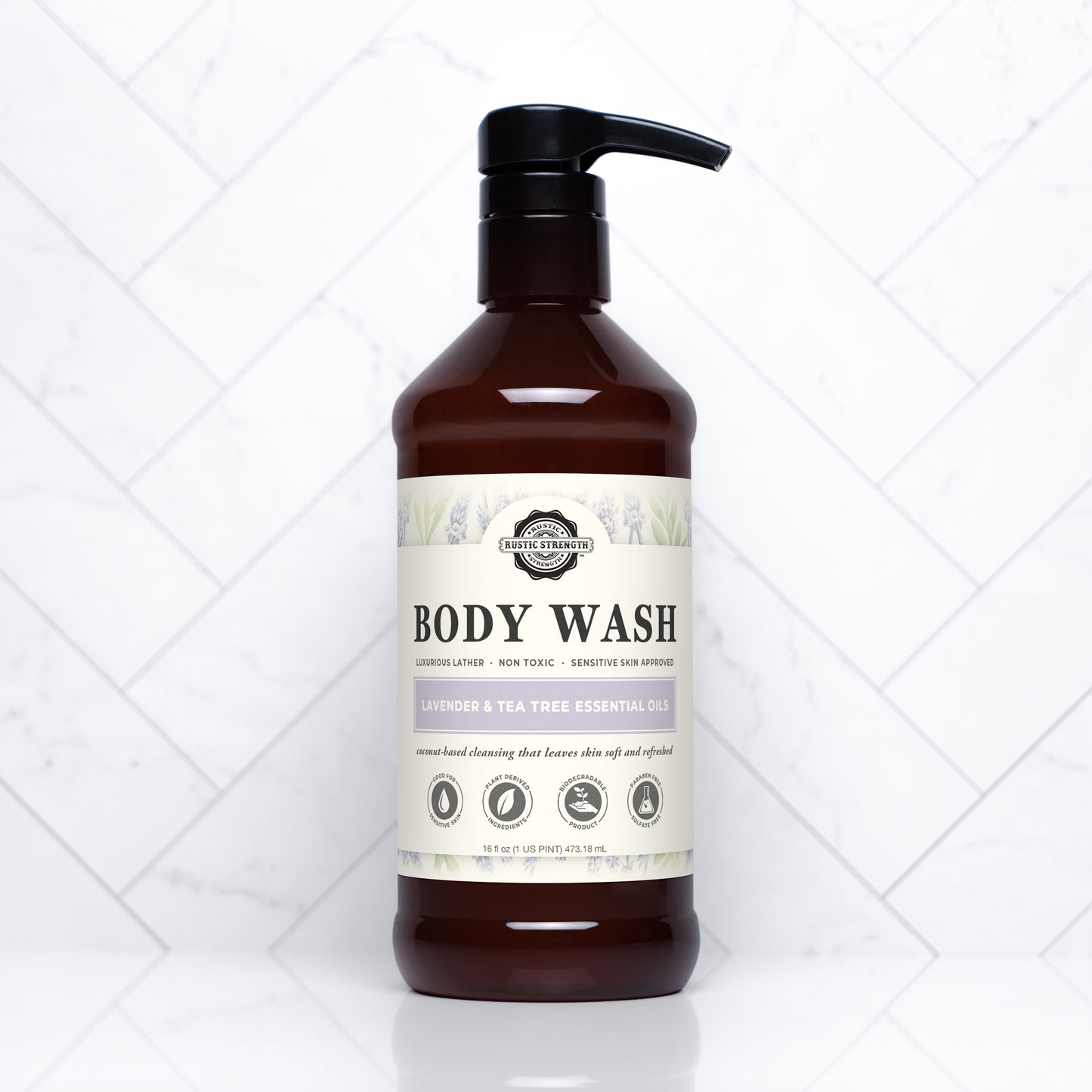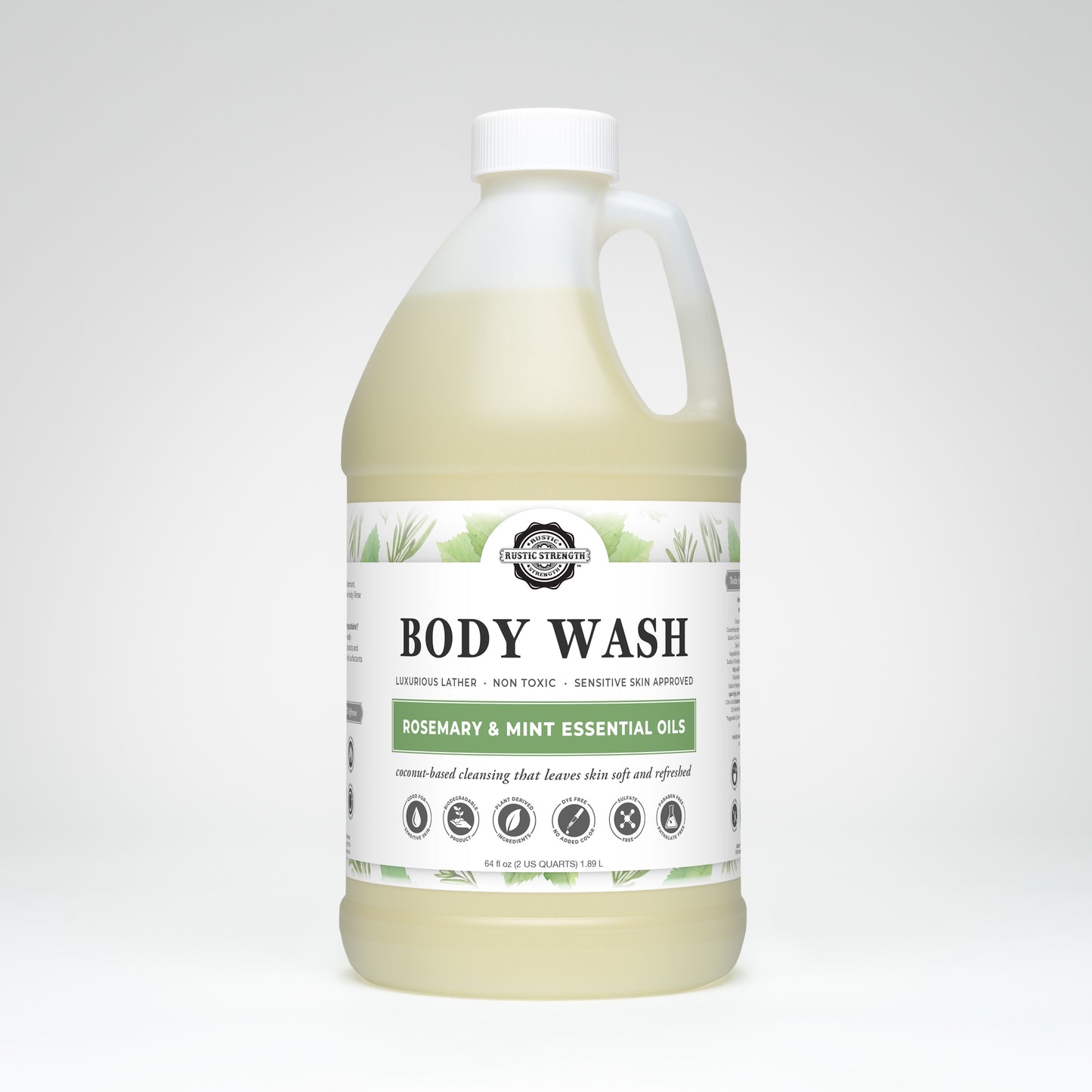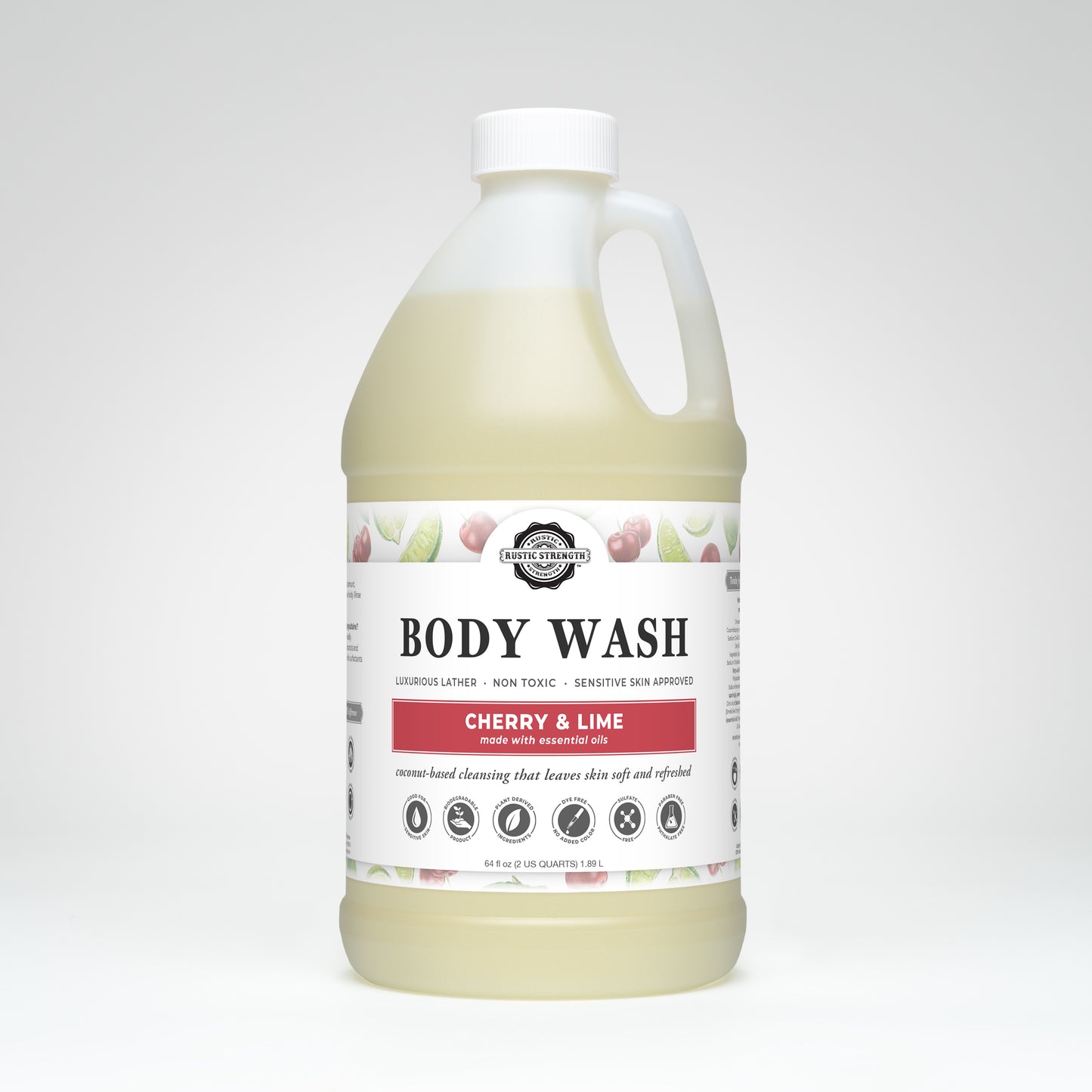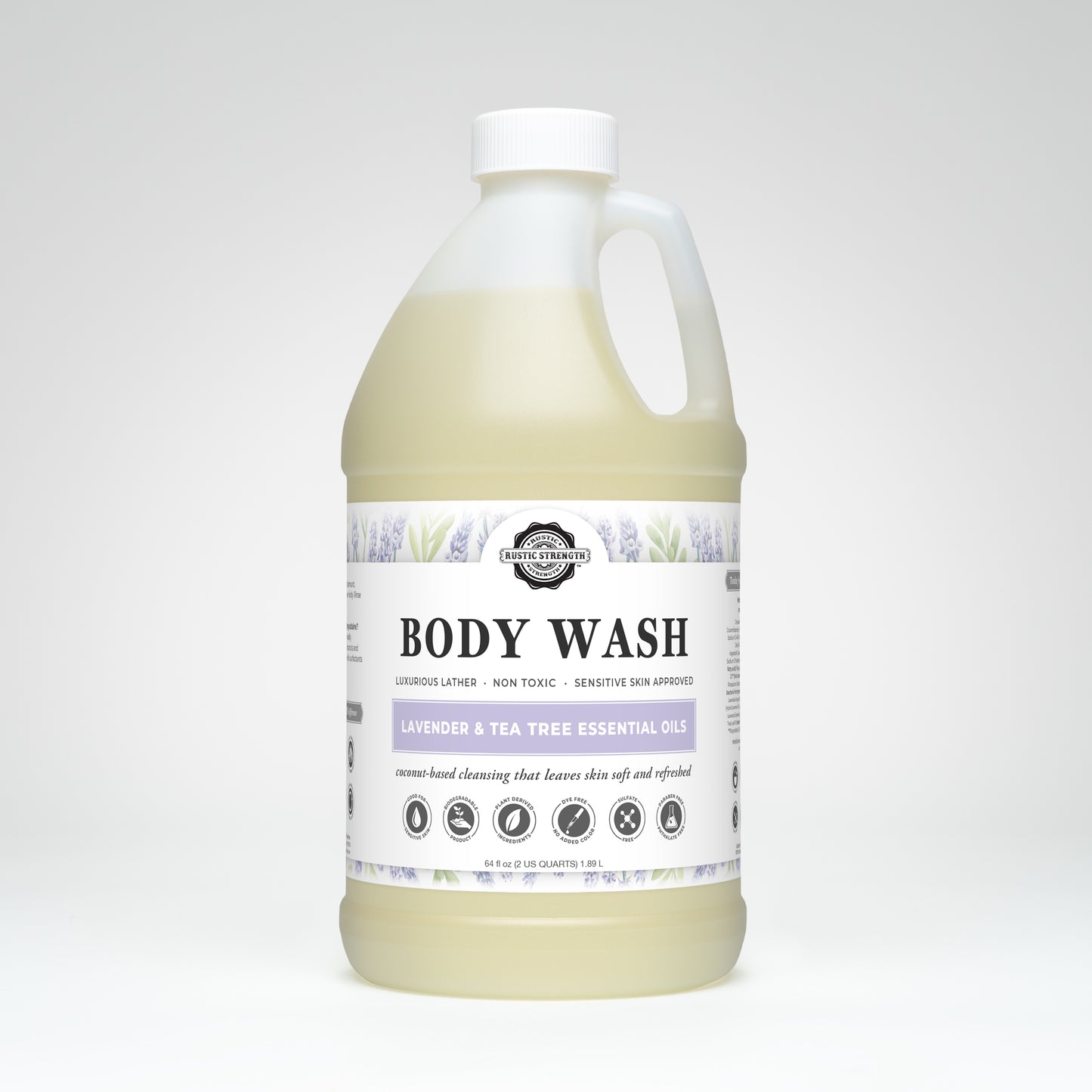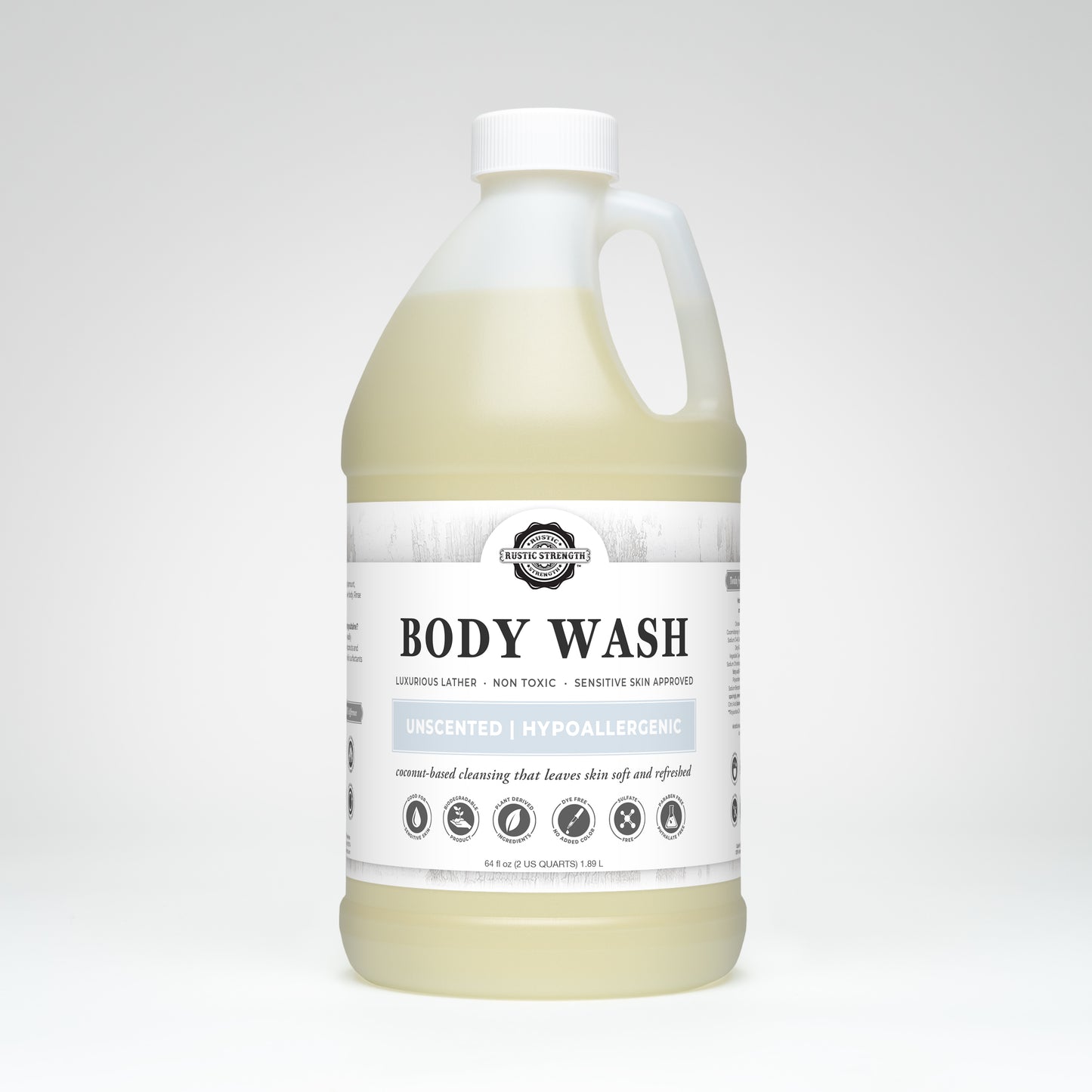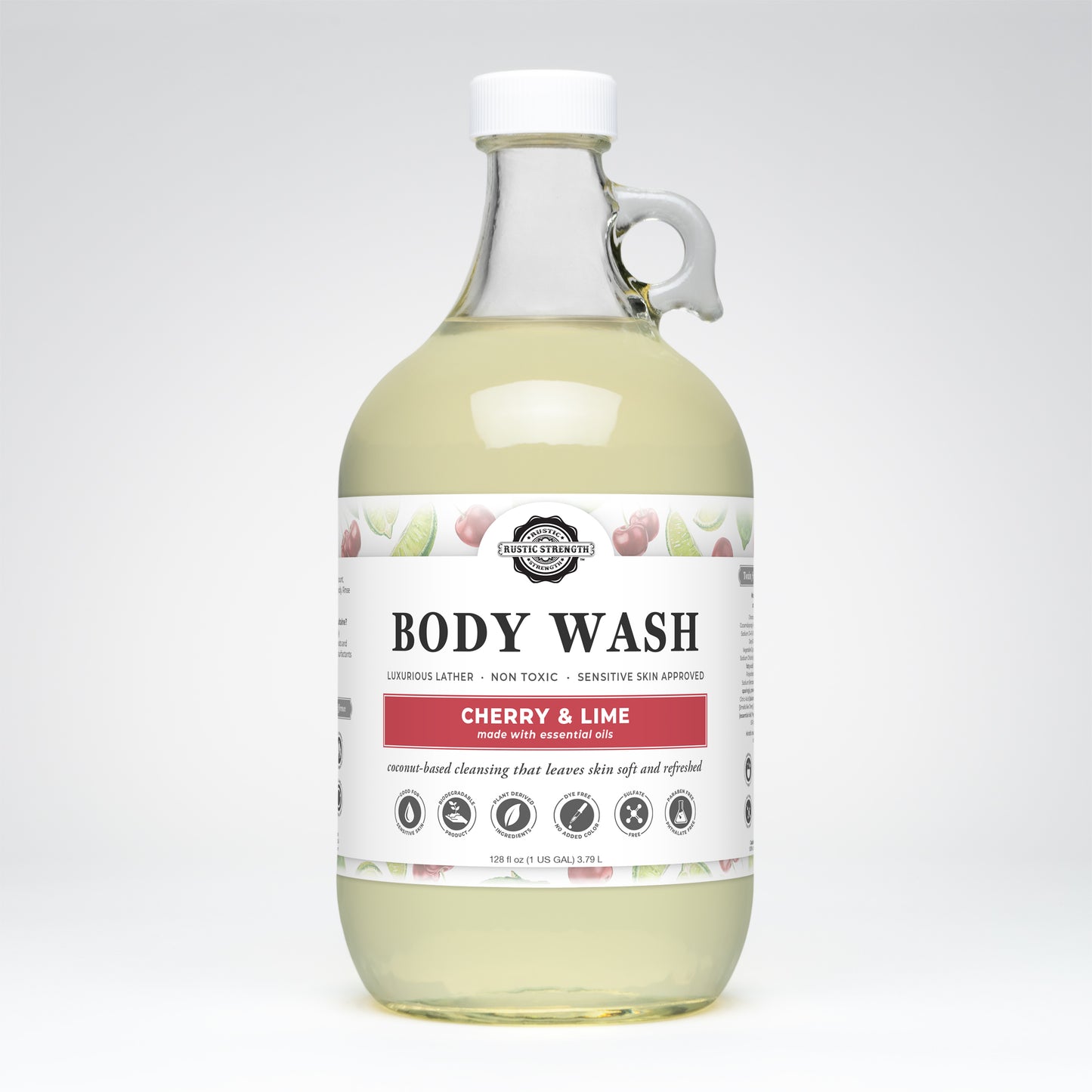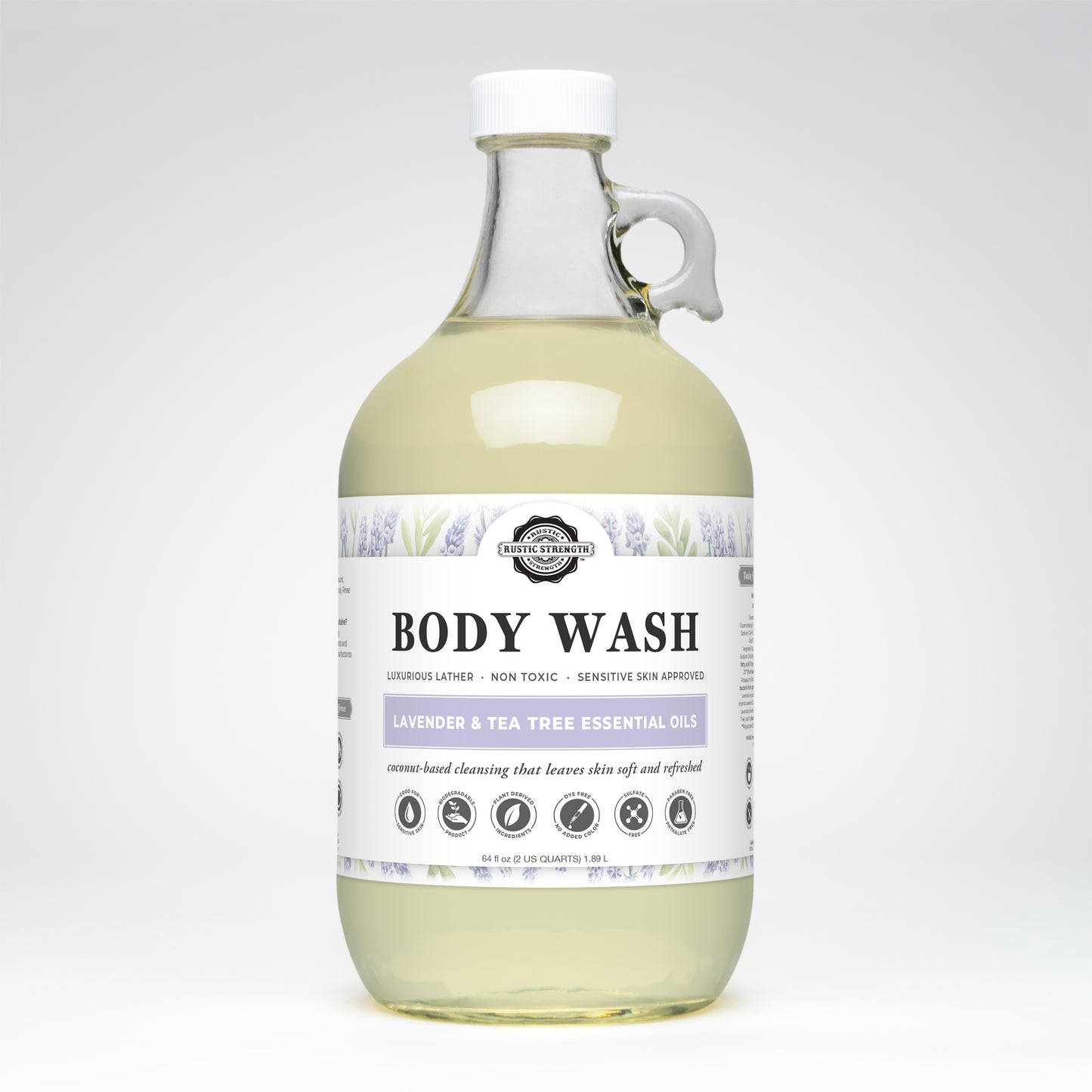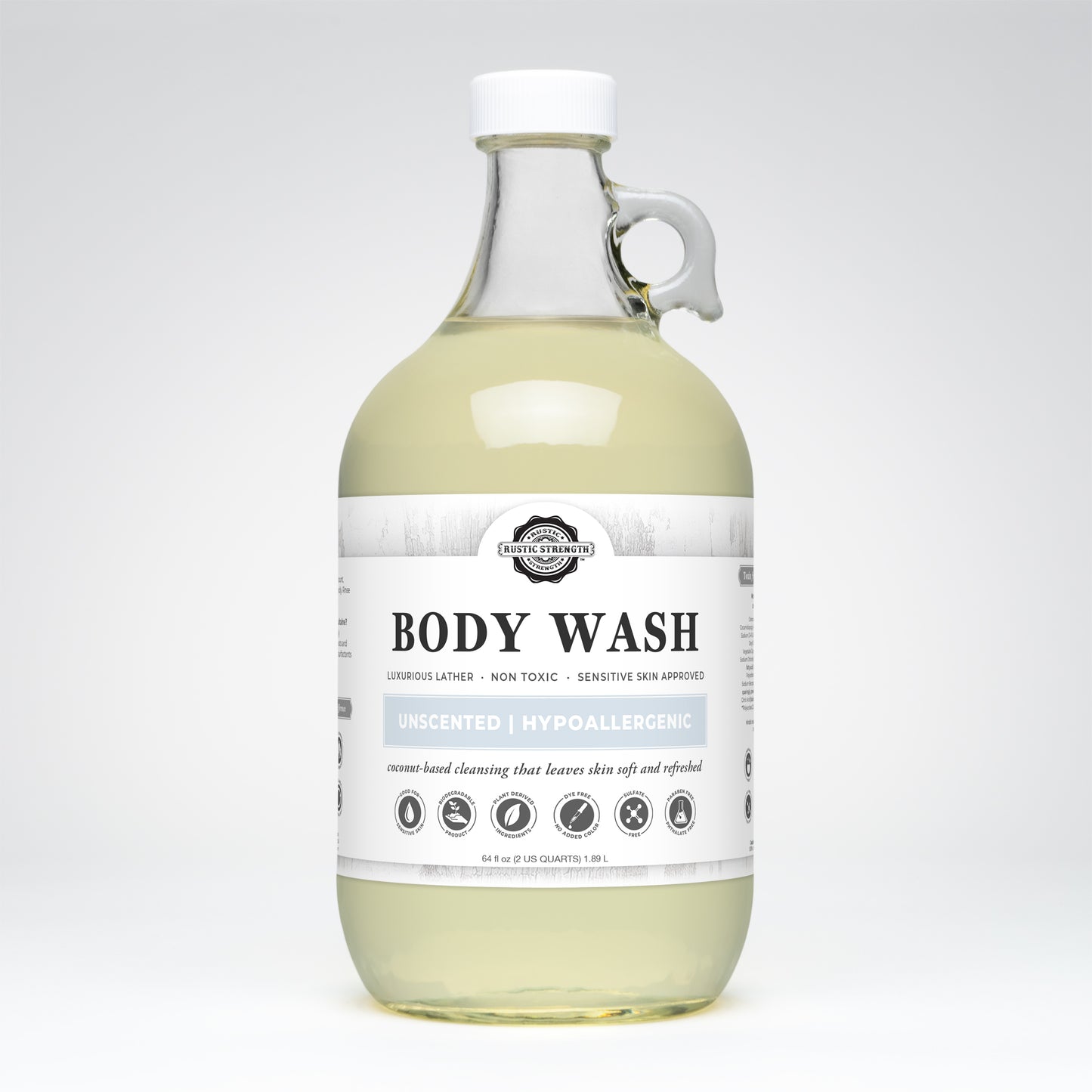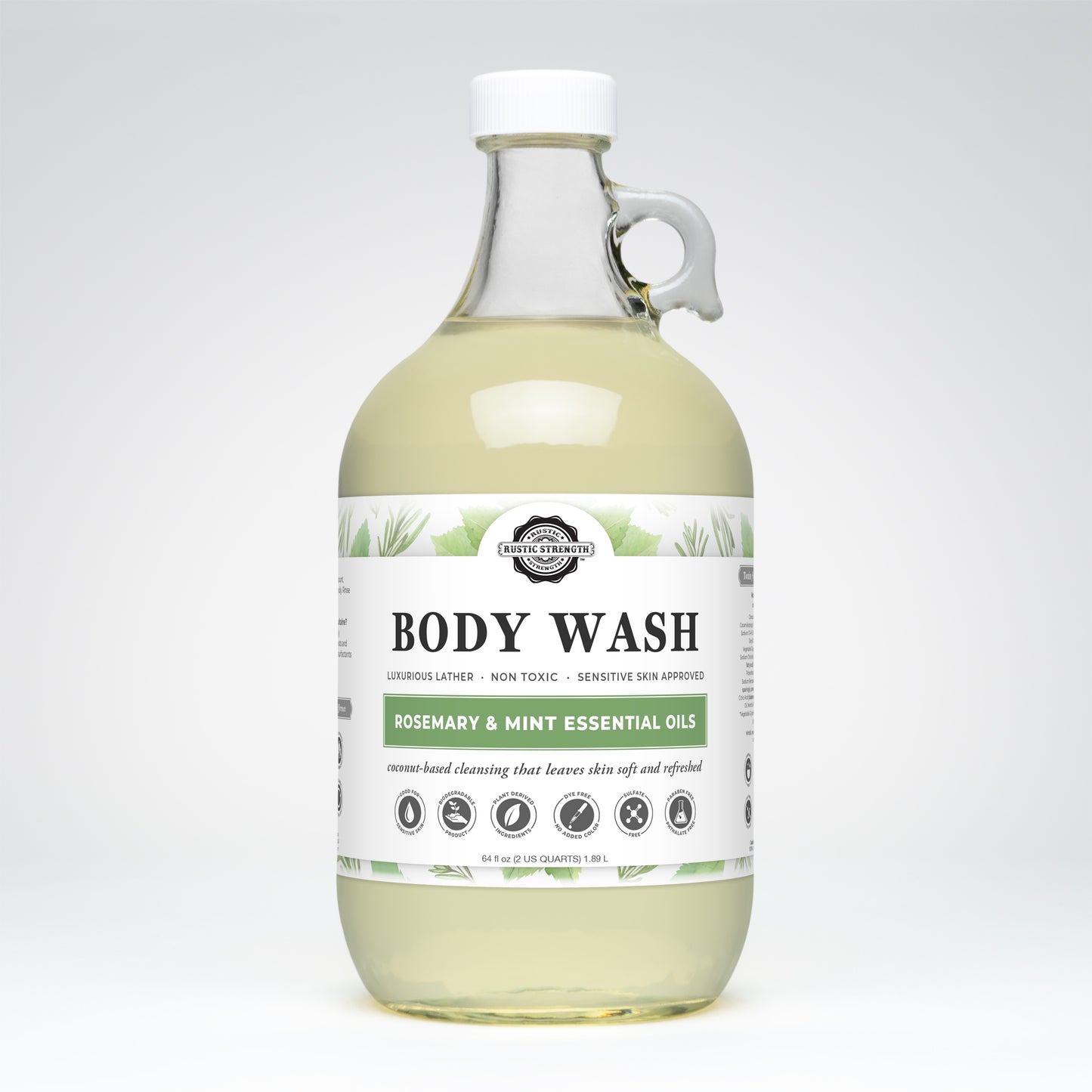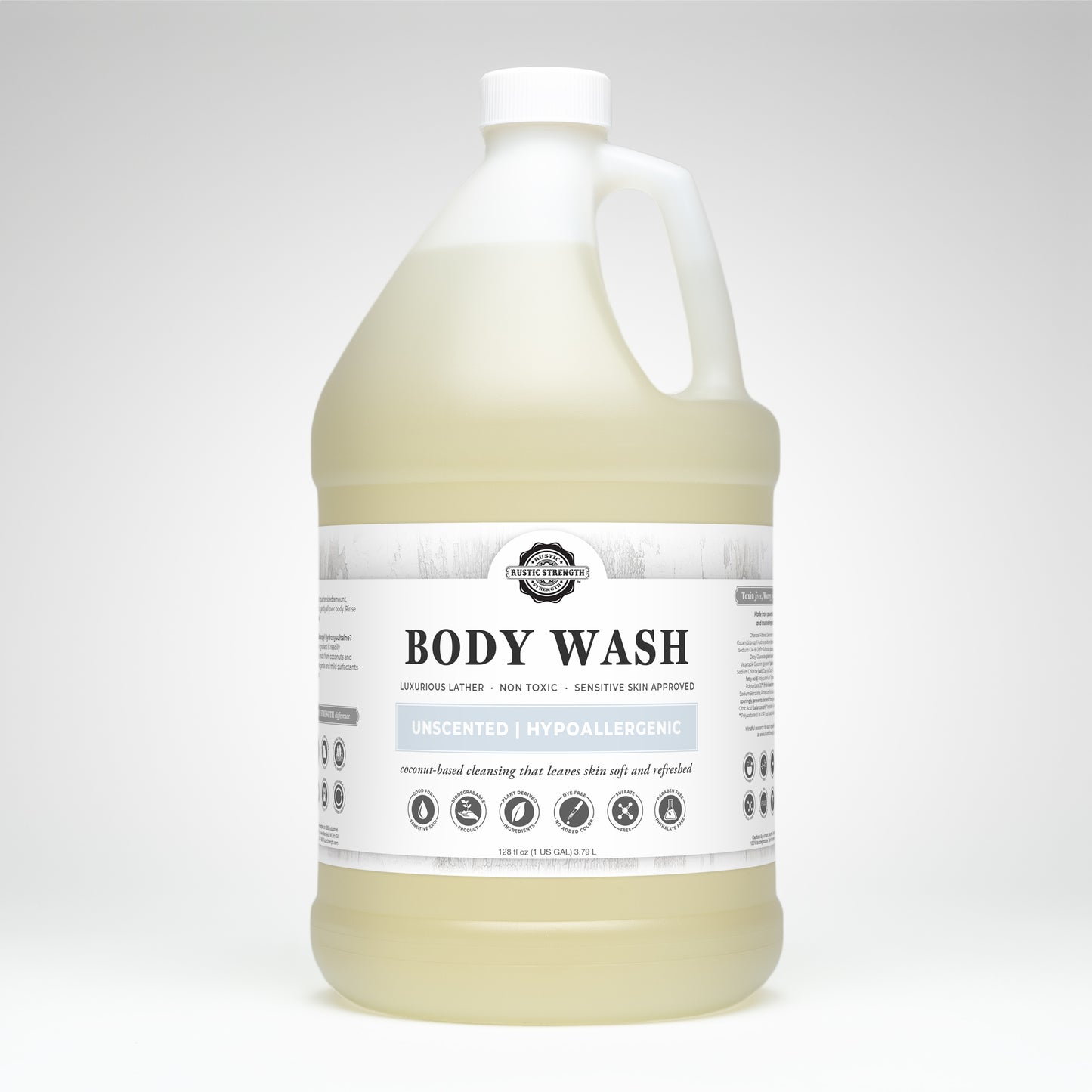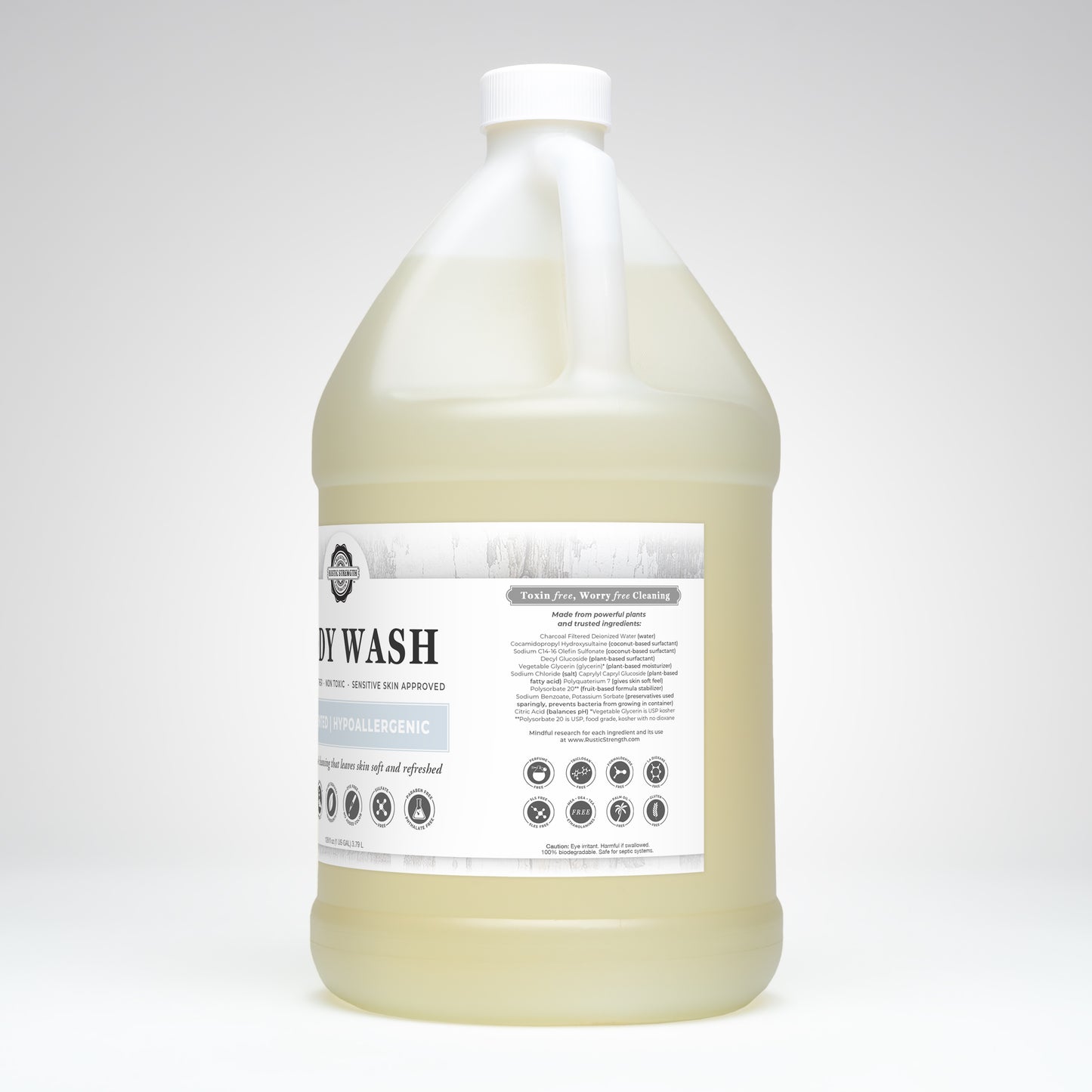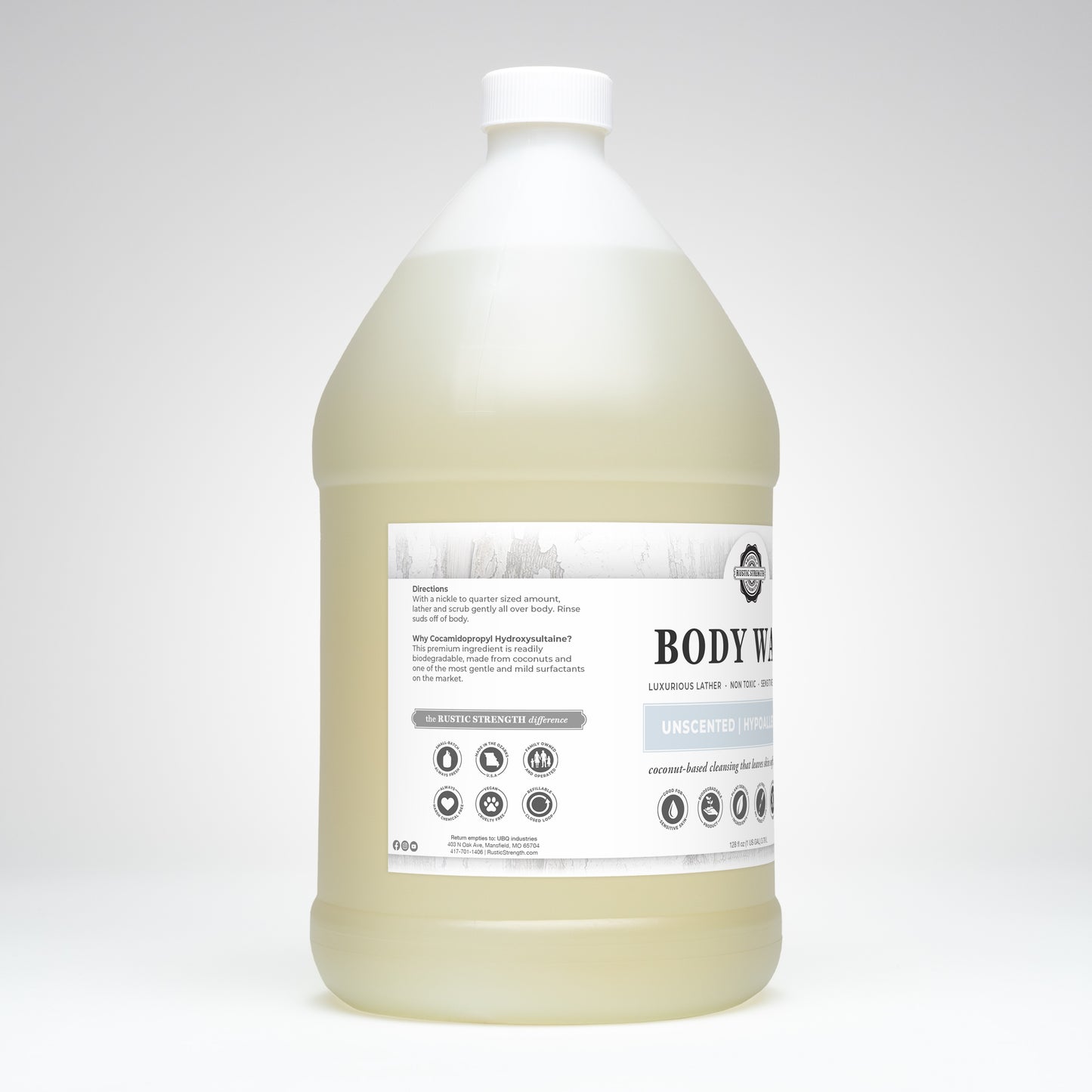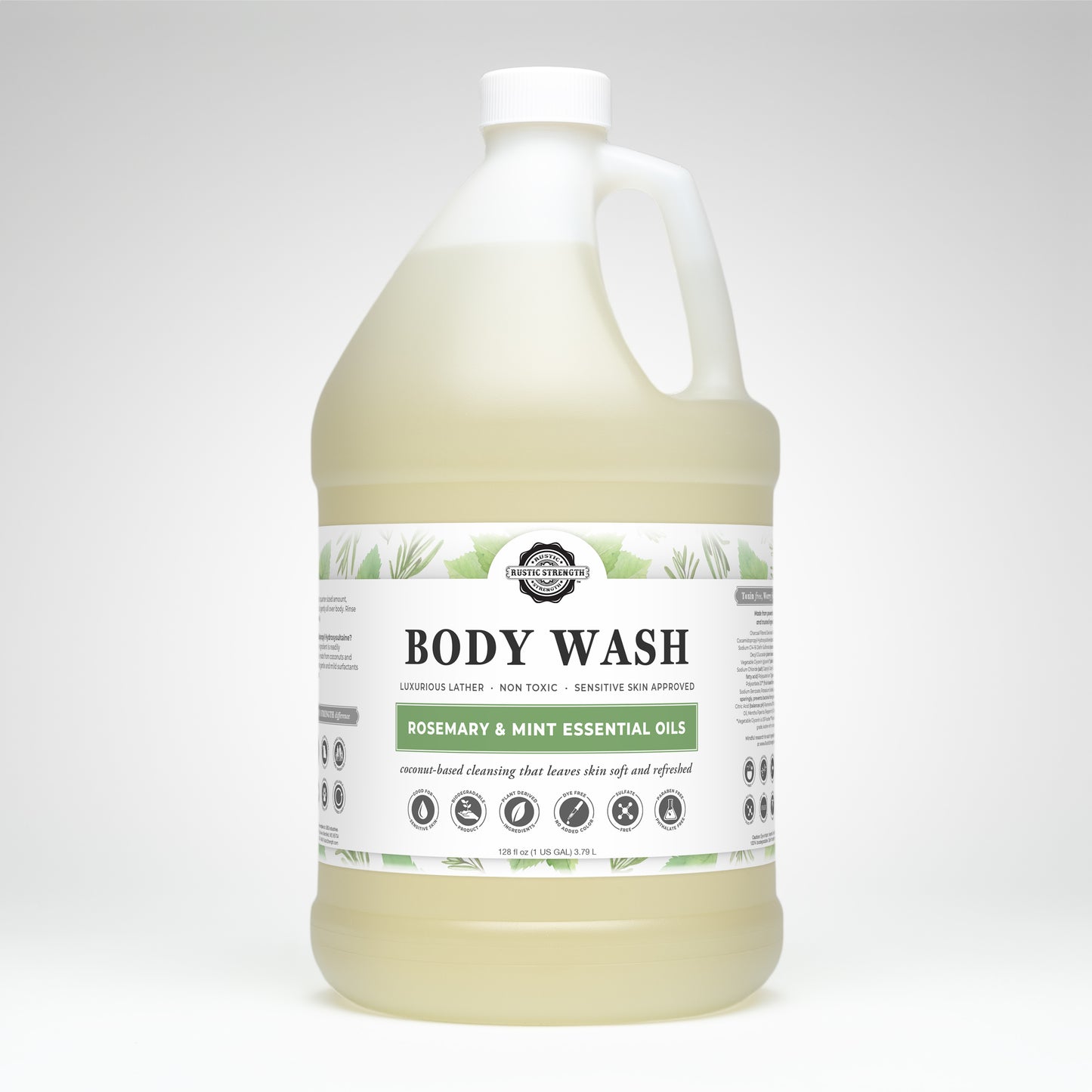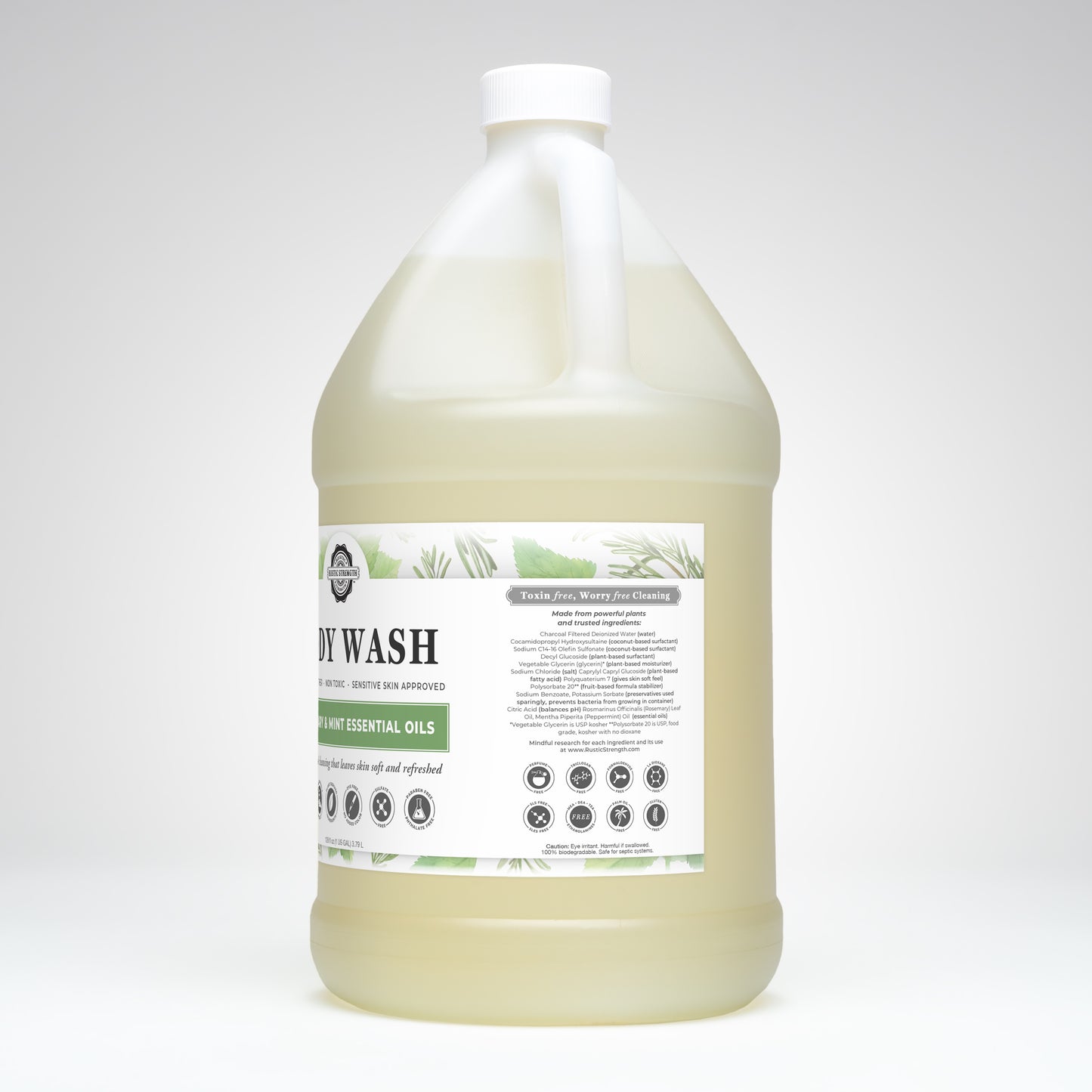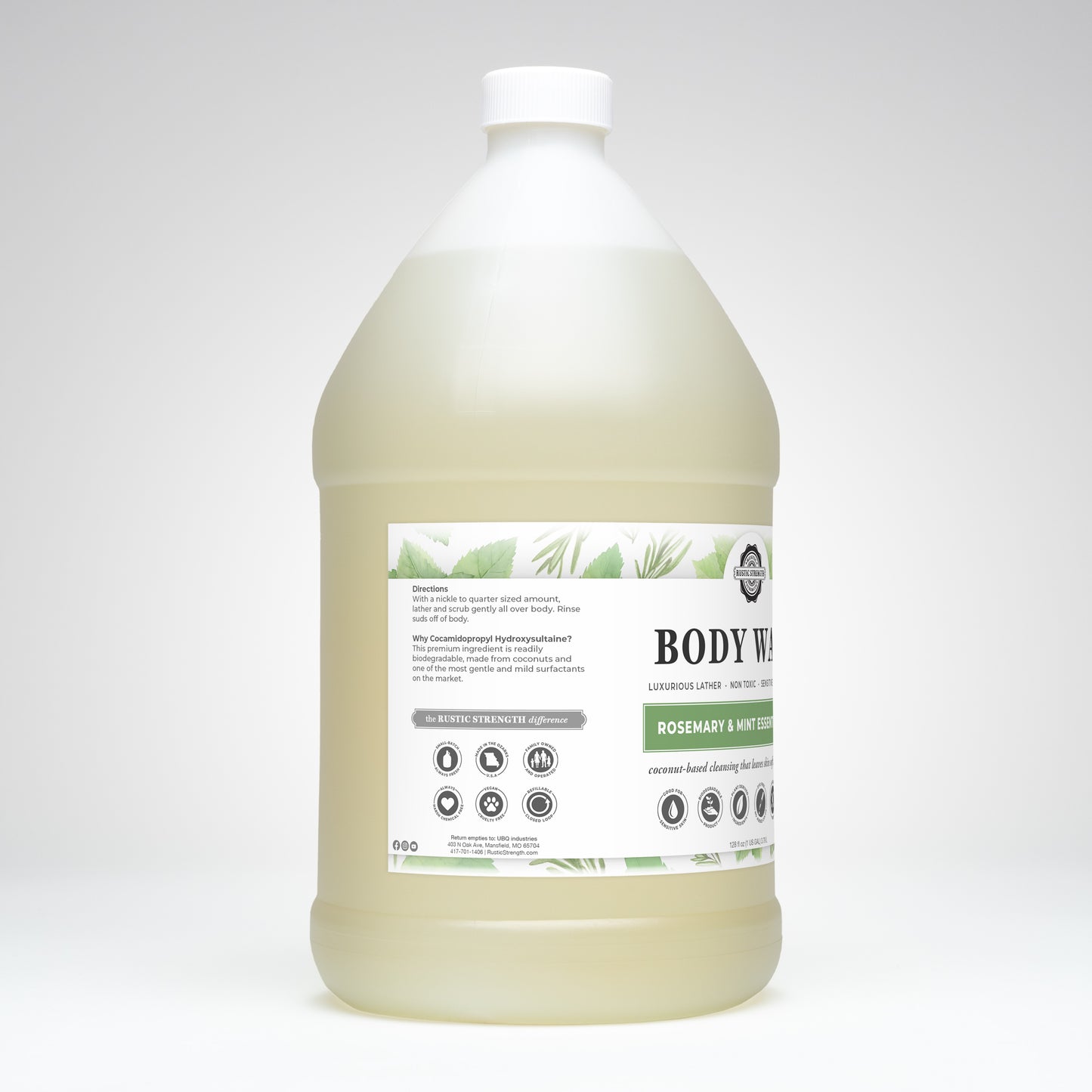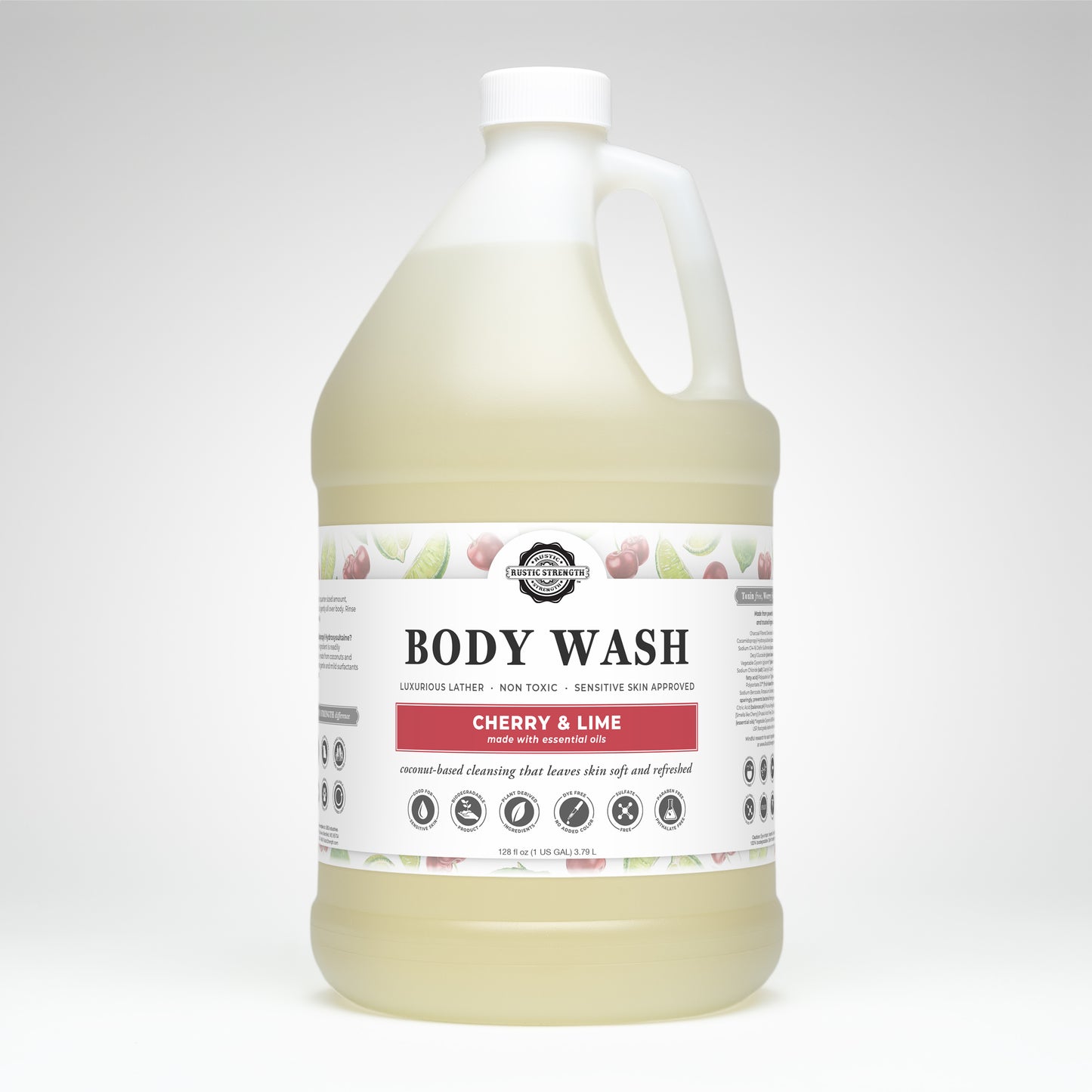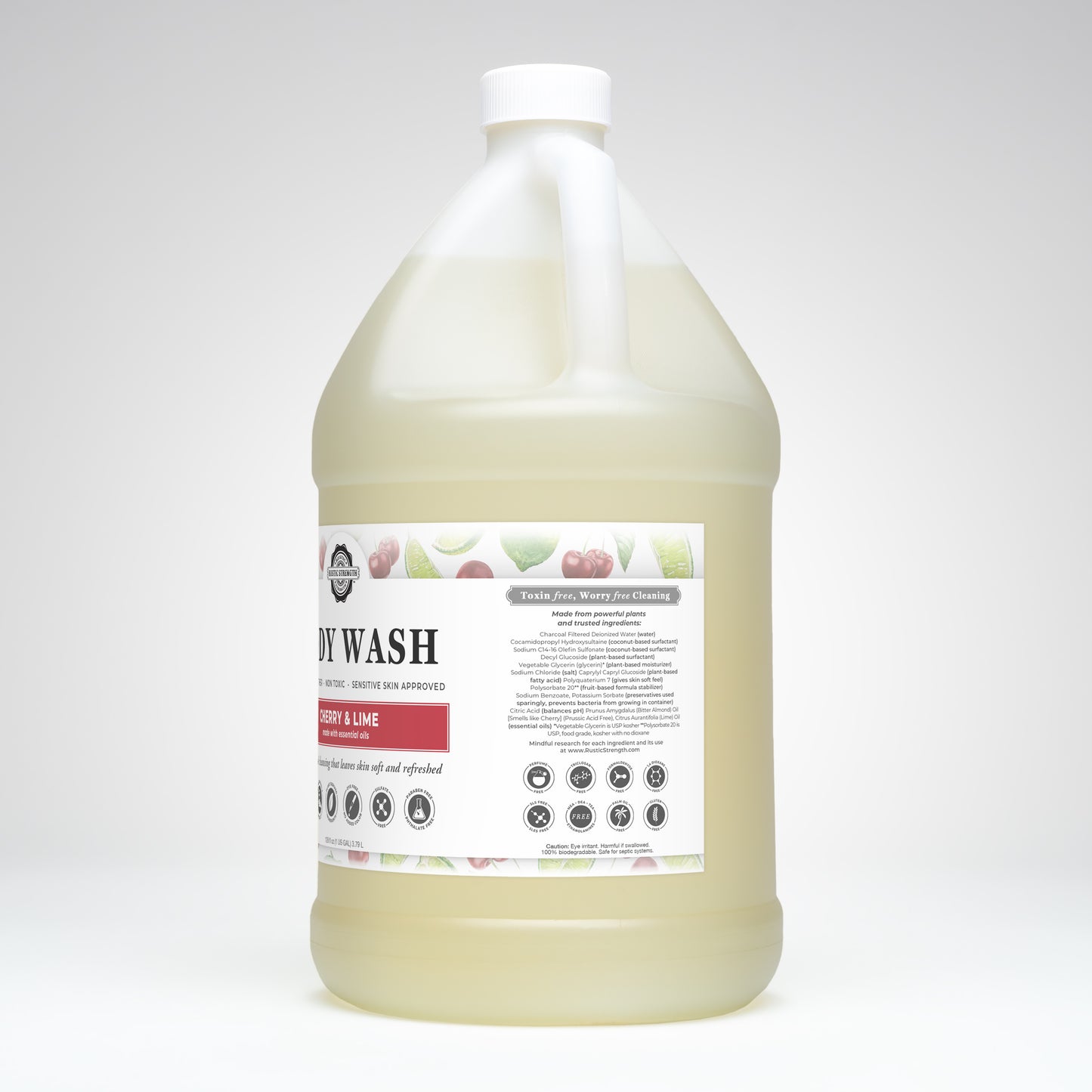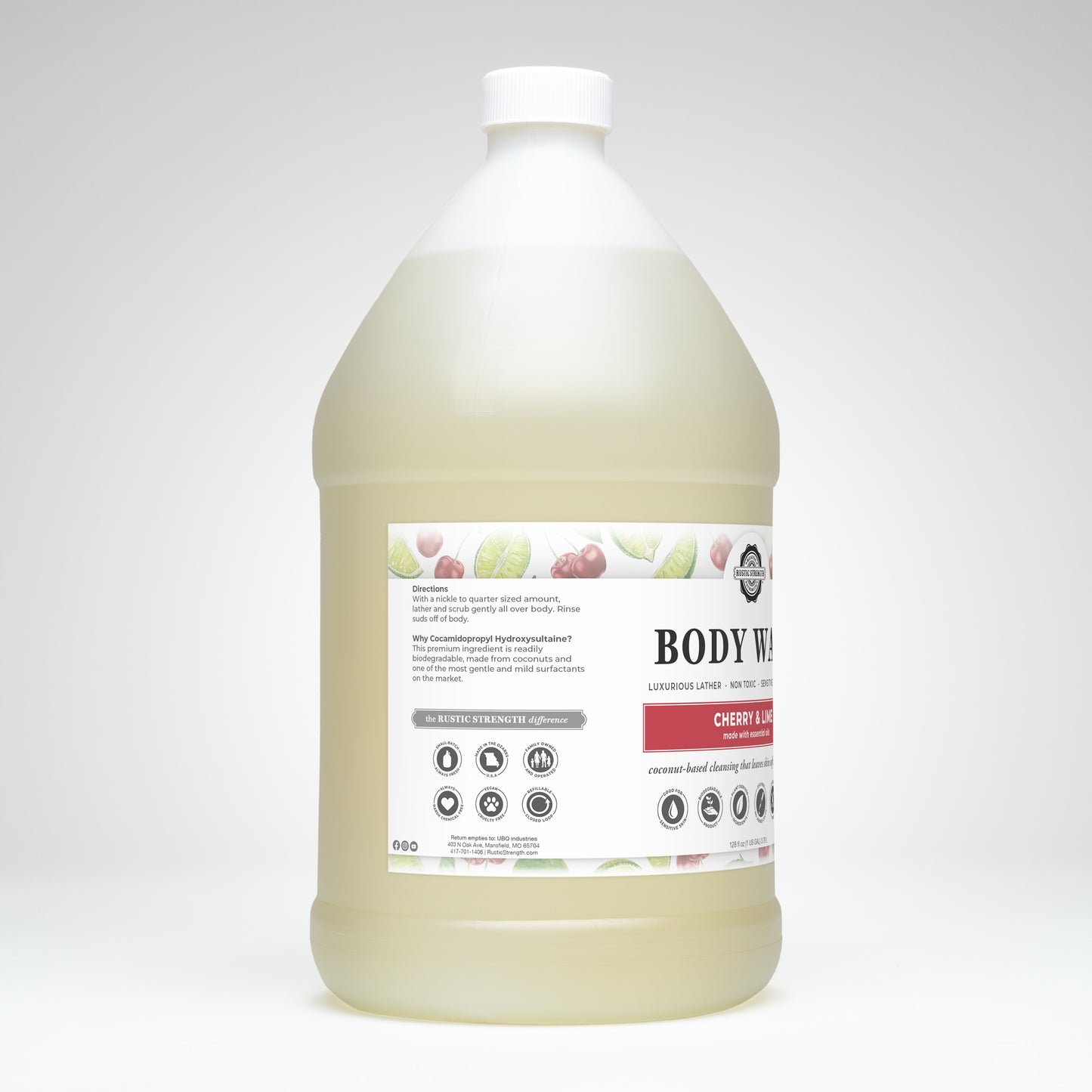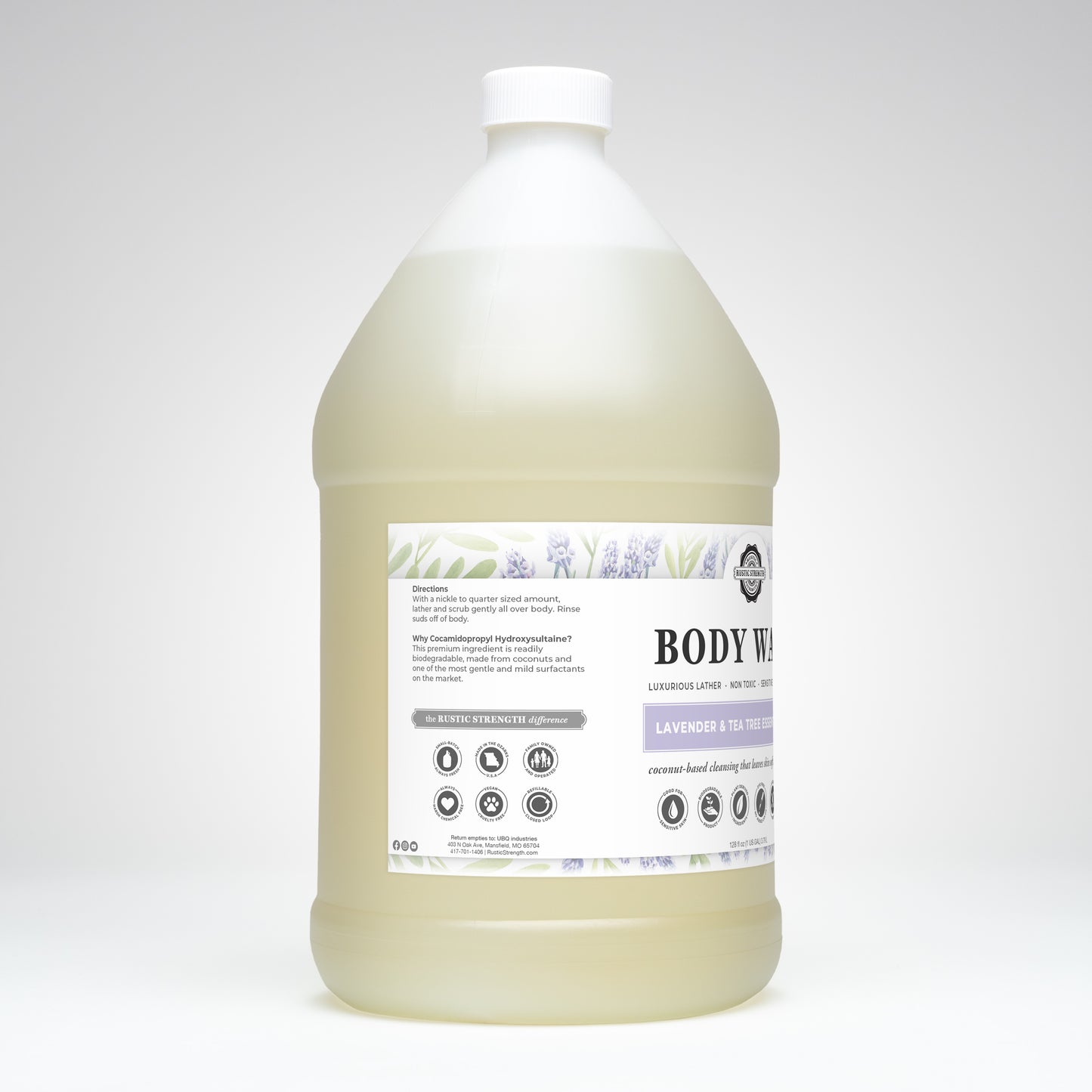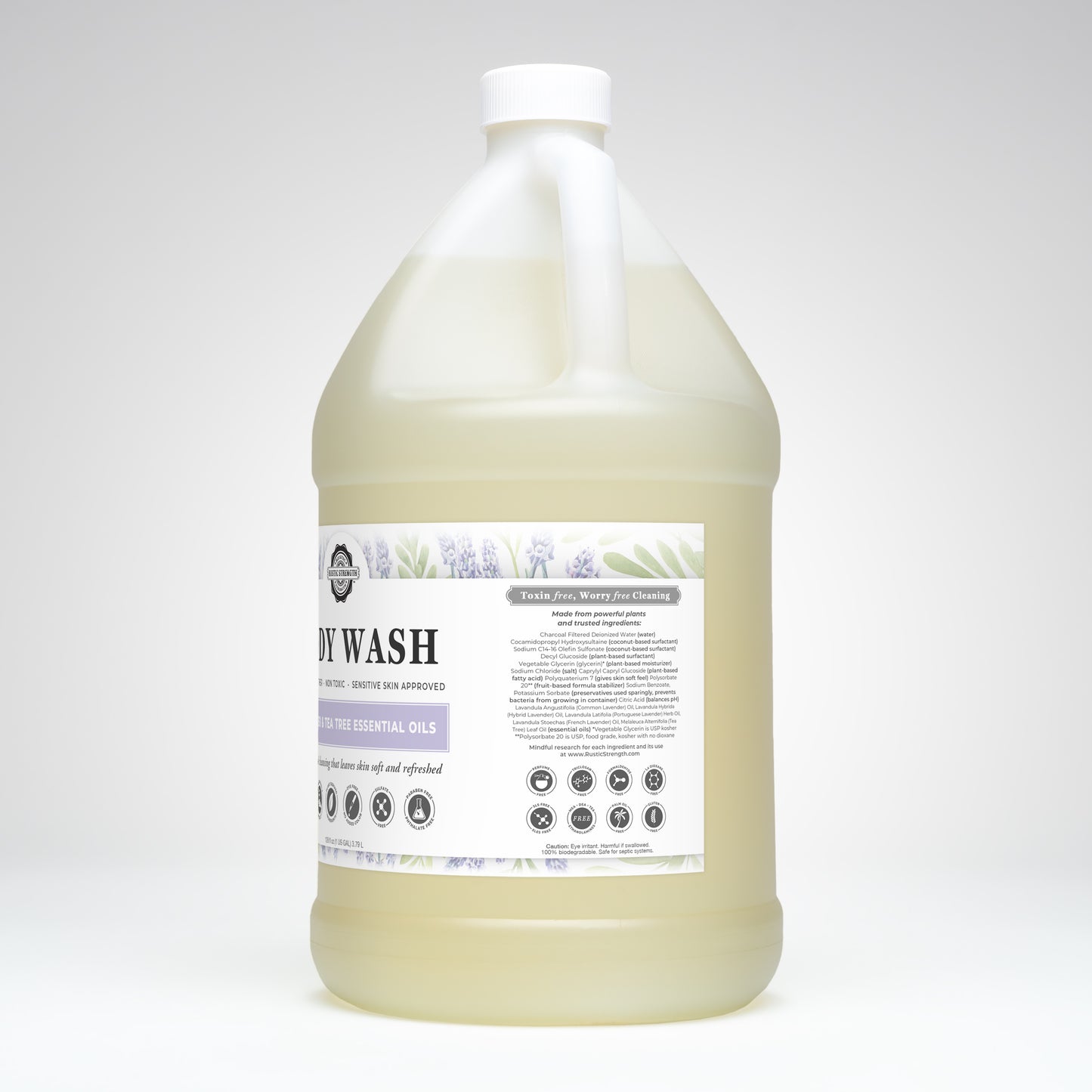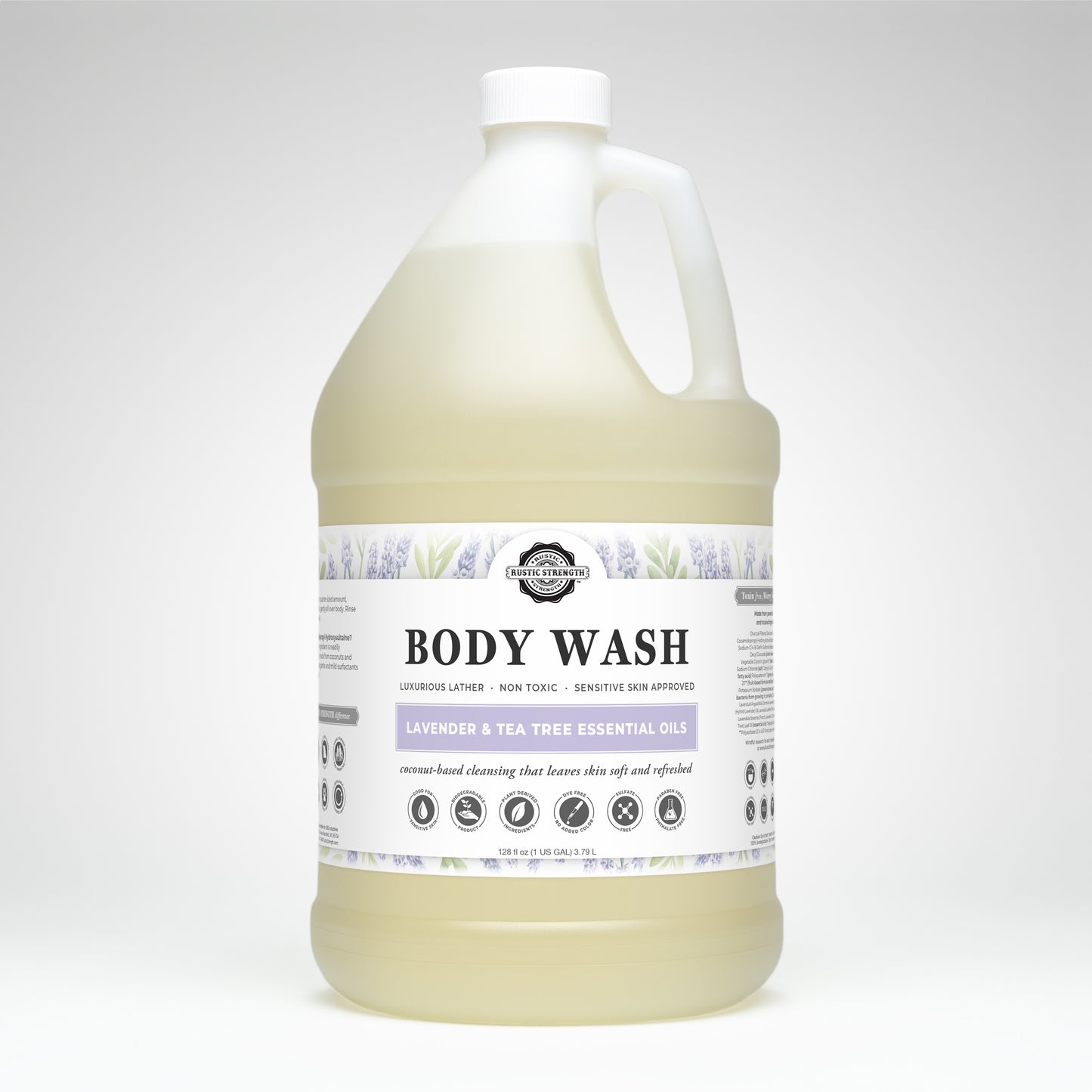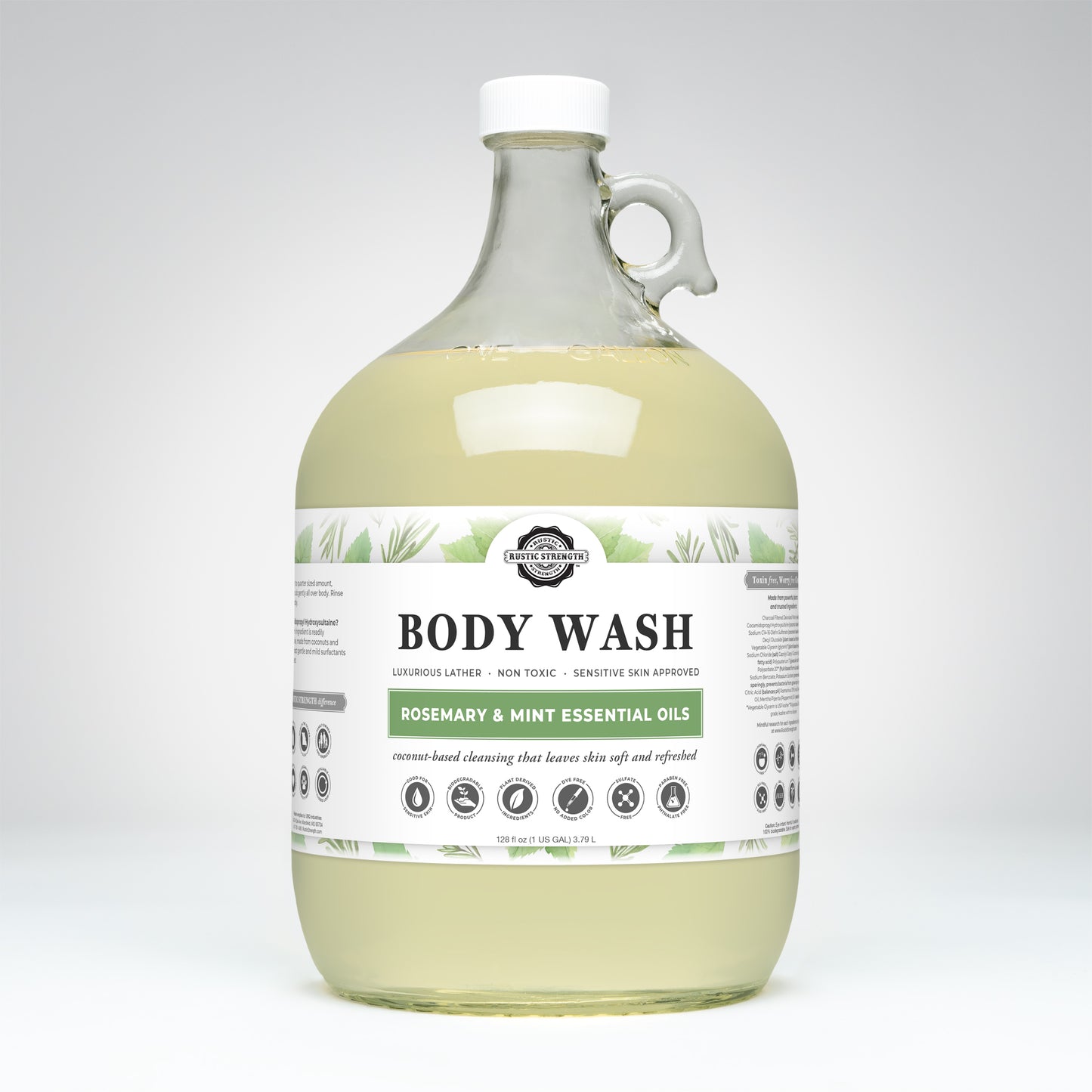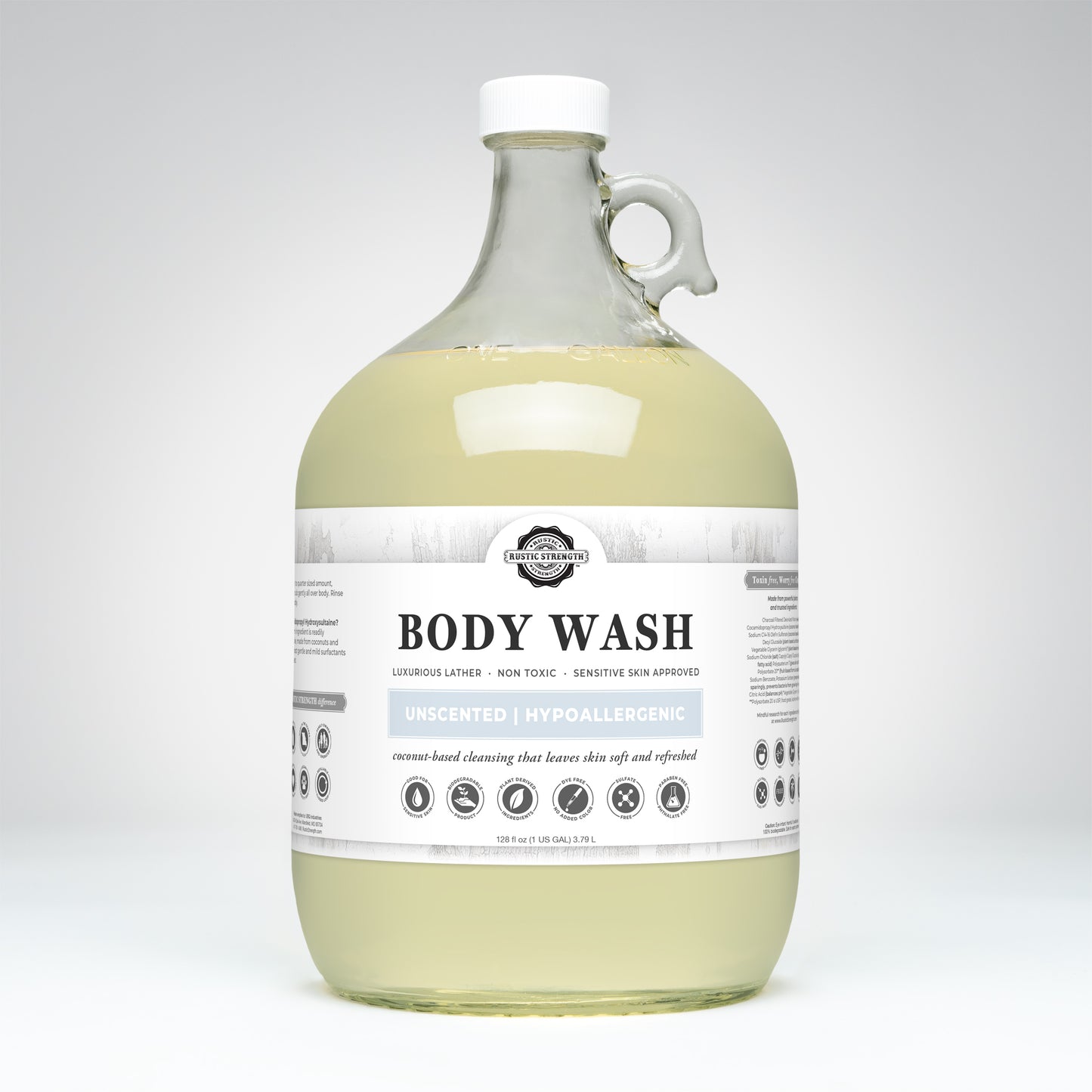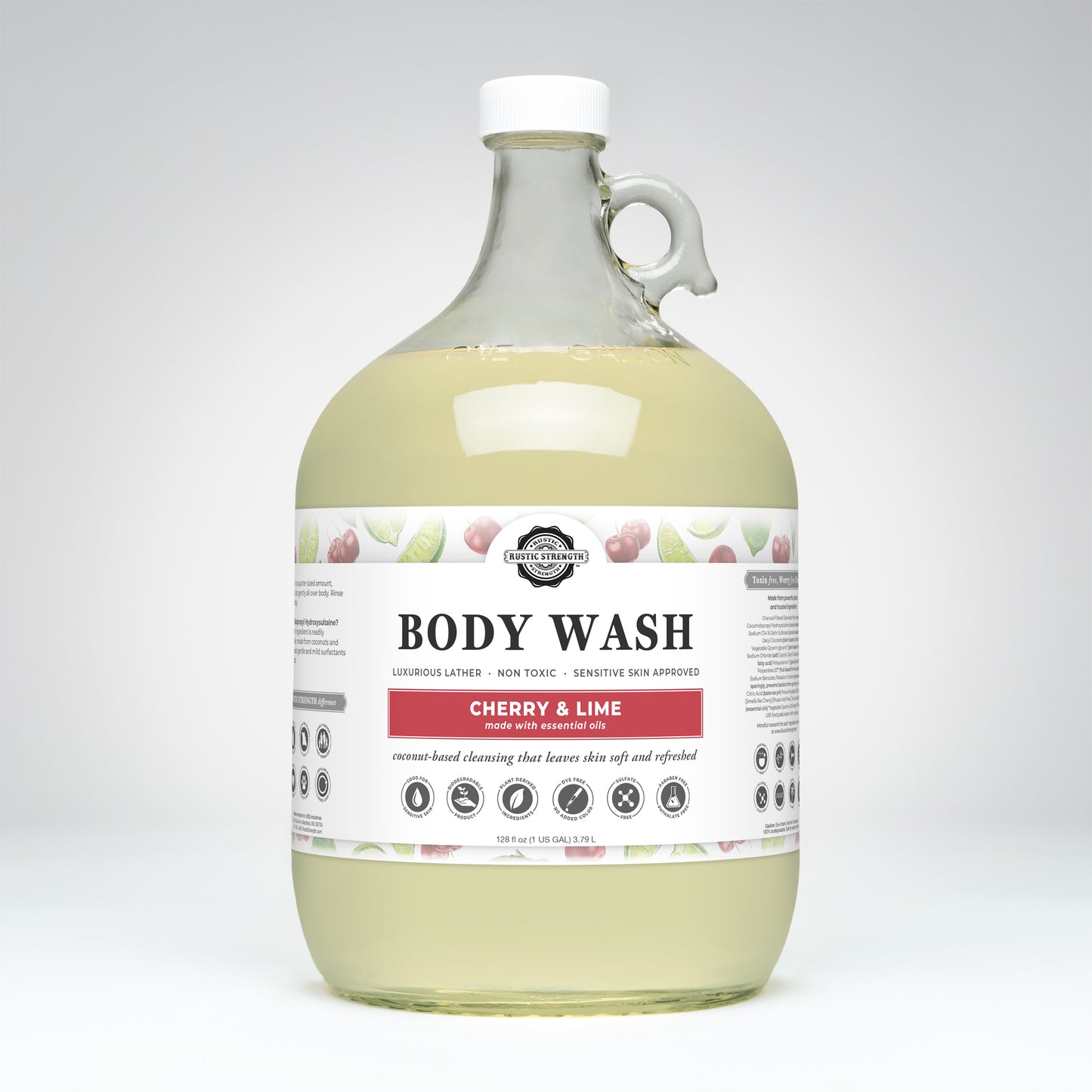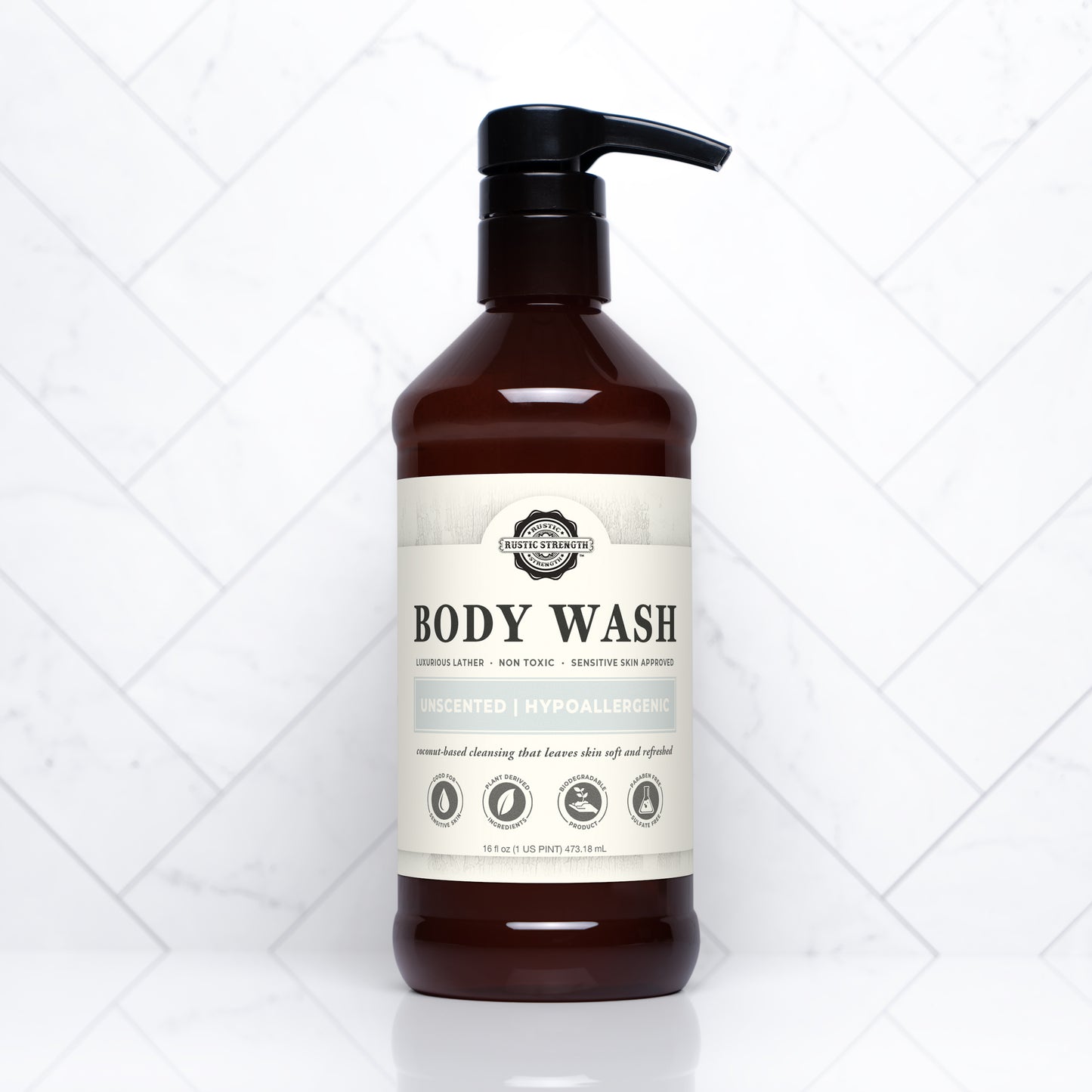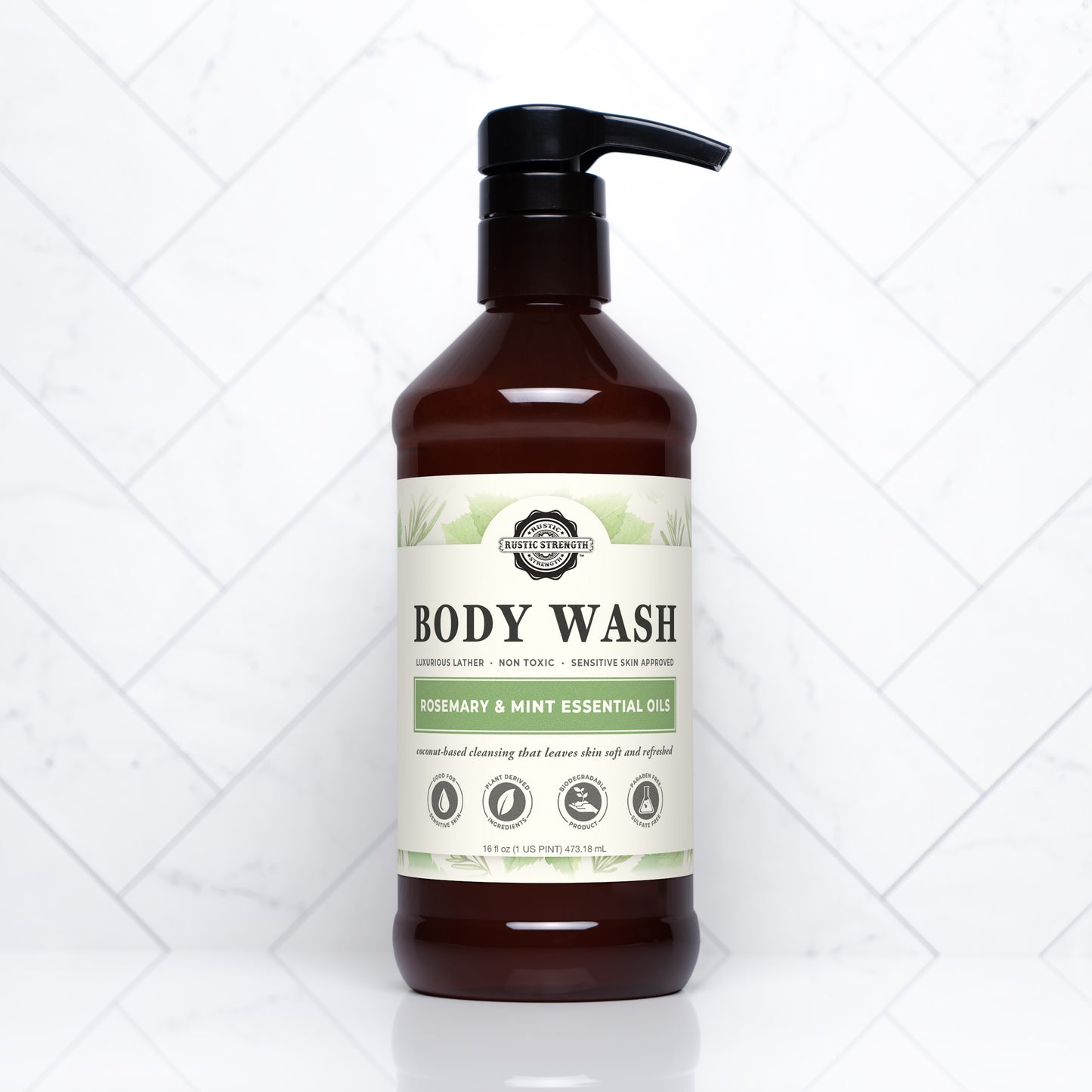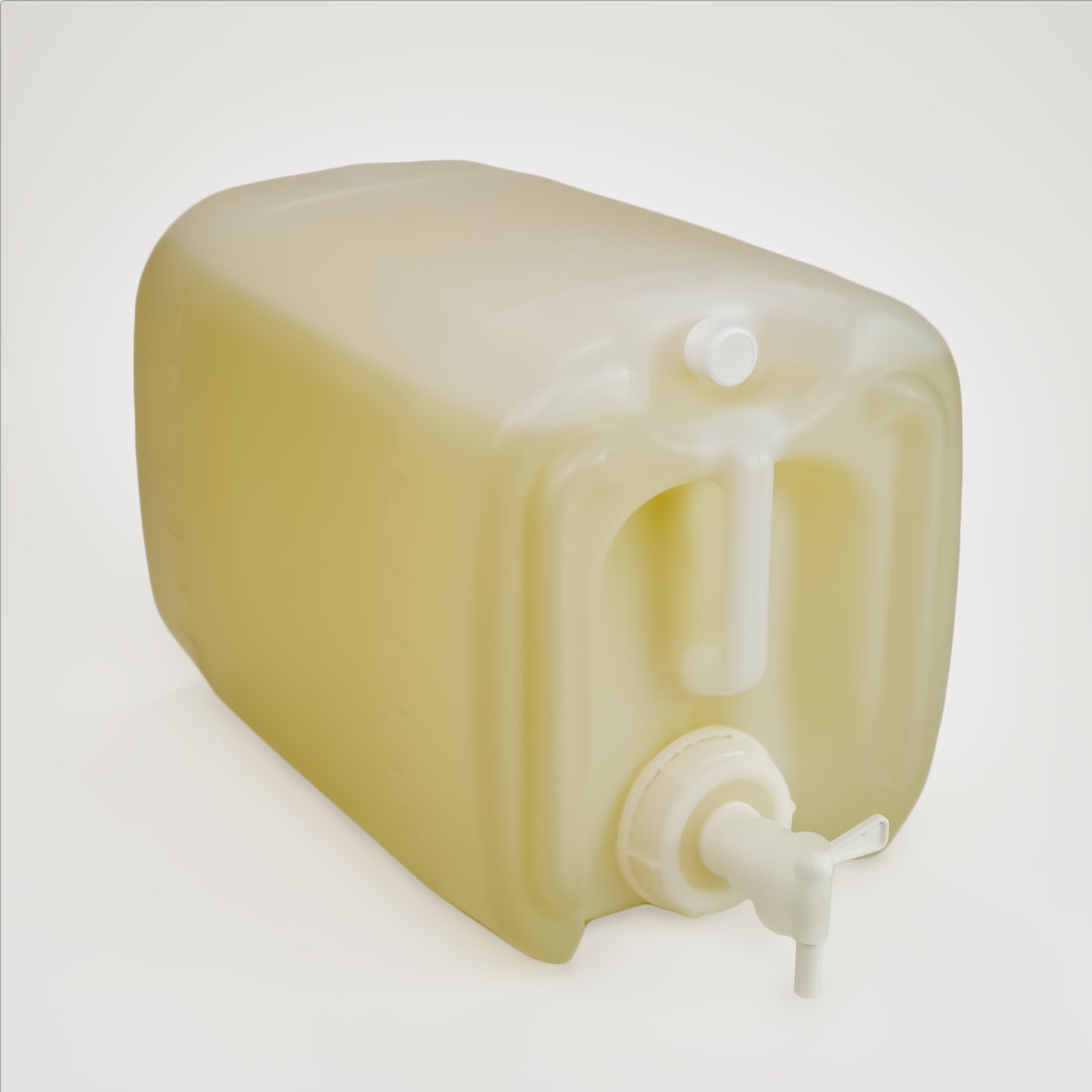 Smells wonderful!
I love this body wash, it suds up beautifully and a little goes a long way. The Lavender Tea Tree scent is delightful and calming.